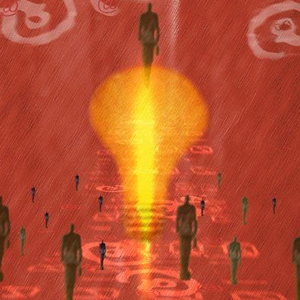 Commentary: African American Scientists and Inventors
by Black Kos Editor, Sephius1


Lloyd Albert Quarterman was born in Philadelphia on May 31, 1918. As a young boy he soon discovered his passion for science and spent many hours working with chemistry sets. When he was older during the 1930's, Quarterman went to college at St. Augustines in Raleigh, North Carolina. It was here that Quarterman not only developed a reputation for science, but also for his abilities on the football field. He earned his bachelors degree in 1943.
(con't.)
Immediately following graduation Quarterman was hired by the United States War Department. He was one of only six African Americans to be involved with research for the atomic bomb. His official title was an assistant to an associate research scientist and chemist. It is not known what his exact duties were because those who worked on the Manhattan Project were sworn to secrecy. Many different teams were involved with the building and completion of the atomic bomb. Quarterman worked on the teams at Columbia University in New York City and at the University of Chicago in Illinois.
It was on this team at the University of Chicago that the atom was first split, creating nuclear fission. Quarterman occasionally worked along side Albert Einstein to help create uranium isotopes. These were necessary for uranium gas, which made fission possible. This project was very secretive and also became known as the plutonium project. It was under this project that the first nuclear reactor, pile, was built. This is the most essential part of modern nuclear power plants. In 1945 when W.W.II ended, Quarterman was recognized with a certificate from the US War Department for helping to bring the war to an end.
This Chicago team became known as Argonne National Laboratories. This lab, funded by the University of Chicago, but no longer secretly, searched for peaceful uses for nuclear energy. Quarterman remained involved with this team for the next 30 years. During this time he also studied quantum mechanics. This helped to strengthen his ability as a scientist. In 1952, because of his dedication and hard work, he earned a Masters of Science from Northwestern University......Read More
~~~~~~~~~~~~~~~~~~~~~~~~~~~~~~~~~~~~~~~~~~~~~~~~~~~~~
News by dopper0189, Black Kos Managing Editor
~~~~~~~~~~~~~~~~~~~~~~~~~~~~~~~~~~~~~~~~~~~~~~~~~~~~~


~~~~~~~~~~~~~~~~~~~~~~~~~~~~~~~~~~~~~~~~~~~~~~~~~~~~~
Medical aid workers working in west Africa spoke to the Guardian about the risks of working in the pressure-cooker environment, and the patients fighting off the deadly disease. The Guardian: Doctors on the Ebola frontline: 'You can see the fear when they look at us'.
~~~~~~~~~~~~~~~~~~~~~~~~~~~~~~~~~~~~~~~~~~~~~~~~~~~~~
The fear hit Dr William Fischer hardest in the four or five days before he set off. A clinician from Chapel Hill, North Carolina, he told the Guardian that when he wasn't busy packing, he watched "gruesome" media portrayals of the Ebola outbreak he was going to fight. It consumed him. But when he arrived at Conakry, the capital of Guinea, West Africa, everything seemed rather low-key. Only a warning placard at passport control with "EBOLA" in frightening red letters hinted at what was to come.
On 28 May, he received his marching orders from the World Health Organisation to head to Guéckédou, near the border with Sierra Leone and Liberia, in the south-west of Guinea, an area which he described as the epicenter of the outbreak. He sent a brief email to friends and family that said "I love you all."
The WHO said the number of confirmed cases of Ebola now stands at 1,603, of whom 887 have died. Benoit Carpentier, the team leader for public communications at the International Red Cross, told the Guardian that there had never been an Ebola outbreak on this scale. "What makes it more complicated is that it's a regional outbreak," he said. "You have to coordinate in three countries."
The disease is currently spreading across Guinea, Liberia and Sierra Leone, and there are now cases in neighbouring Nigeria. Fischer was called in as a consultant; his area of
expertise is in clinical care in resource-scarce environments.
Medical aid workers work on a roughly three-week rotation, which for Fischer meant a week of consultation and two weeks on the front line at a treatment facility run by Doctors Without Borders. The time limit, he said, is important. "It gets emotionally taxing. You need a break."


Nurse Monia Sayah said that one of the most difficult things to deal with out there is the stigma attached to the disease. Photograph: Youssouf Bah/AP
~~~~~~~~~~~~~~~~~~~~~~~~~~~~~~~~~~~~~~~~~~~~~~~~~~~~~
The ethics of drug distribution. Washington Post: Why do two white Americans get the Ebola serum while hundreds of Africans die?
~~~~~~~~~~~~~~~~~~~~~~~~~~~~~~~~~~~~~~~~~~~~~~~~~~~~~
What should happen if a massive viral outbreak appears out of nowhere and the only possible treatment is an untested drug? And who should receive it? The two American missionaries who contracted the almost-always-fatal virus in West Africa were given access to an experimental drug cocktail called ZMapp. It consists of immune-boosting monoclonal antibodies that were extracted from mice exposed to bits of Ebola DNA. Now in isolation at an Atlanta hospital, they appear to be doing well.
It's an opportunity the 900 Africans who've died so far never had. Is there a case to suspend ethical norms if lives might be saved by deploying an experimental drug?
The reasons for different treatment are partly about logistics, partly about economics and, partly about a lack of any standard policy for giving out untested drugs in emergencies. Before this outbreak, ZMapp had only been tested on monkeys. Mapp, the tiny, San Diego based pharmaceutical company that makes the drug stated two years ago: "When administered one hour after infection [with Ebola], all animals survived…Two-thirds of the animals were protected even when the treatment, known as Zmapp, was administered 48 hours after infection."
But privileged humans were always going to be the first ones to try it. ZMapp requires a lot of refrigeration and careful handling, plus close monitoring by experienced doctors and scientists—better to try it at a big urban hospital than in rural West Africa, where no such infrastructure exists.


Nancy Writebol in Liberia, where she contracted Ebola before being brought to an Atlanta hospital. (AP Photo/Courtesy Jeremy Writebol)
~~~~~~~~~~~~~~~~~~~~~~~~~~~~~~~~~~~~~~~~~~~~~~~~~~~~~


~~~~~~~~~~~~~~~~~~~~~~~~~~~~~~~~~~~~~~~~~~~~~~~~~~~~~
Michael Arceneaux says the aspiring GOP presidential candidate is too inconsistent to be taken seriously. Ebony: You Don't Have the Answers, Rand Paul.
~~~~~~~~~~~~~~~~~~~~~~~~~~~~~~~~~~~~~~~~~~~~~~~~~~~~~
Case in point: Him essentially offbeat moonwalking away from the lunch table after he and immigrant-bashing Rep. Steve King were approached by two beneficiaries of the DREAM program.
While Paul and King dined during a fundraiser for King in Iowa (aka "the Mecca for the aspiring presidential candidate"), Erika Andiola said, "My name is Erika. I'm actually a Dreamer myself." Paul's aide Sergio Gor reportedly then nodded his head to Paul and Paul proceeded to shimmy on by Andiola and her friend and fellow dreamer. Paul was visibly chewing and left behind his half-eaten hamburger – suggesting that his exit was an abrupt decision. Now he did bring his to go cup with him. I suppose I would want to sip on something, too, after being put on blast in such fashion.
And yet, Gor got defensive about the idea of Paul ducking anyone, claiming that Paul simply had to go talk to the media. Uh huh. As Joan Walsh points out at Salon, if you're going to parade yourself as someone that is for immigration reform, you needn't shy away from relatively harmless debate over a hamburger. Others, like TIME's Michael Scherer, have argued that it was a smart choice, explaining: "His aide wisely advises him to leave his sandwich behind and clear out of the screen — and it's a good thing he does. King, whose role in the political debate over immigration is basically the opposite of a firefighter's role at a fire, does not disappoint."
Therein lies another problem with Rand Paul: him reaching out to groups in the name of widening the Republican electorate and then aligning himself with people and positions that have alienated them to begin with. You know, like Steve King who claim Latino immigrants have developed "calves the size of cantaloupes" as a consequent of functioning as a drug mule.
A few weeks ago, the New York Times published "Rand Paul Stands Out in Courting Black Voters," which celebrated Congressman Ron Paul's son for doing what any politician should do: try to reach as many people as possible. To be fair, Paul does deserve some credit for partnering with Eric Holder to work on an overhaul of the federal drug sentencing policy. The same can be said of partnering with Senator Cory Booker (D-NJ) to reform criminal background checks and certain aspects of the juvenile justice system.
But two months before that story ran, another one quoted the obviously running for president for Rand Paul criticizing his party's stance on voter ID laws: "Everybody's gone completely crazy on this voter ID thing. I think it's wrong for Republicans to go too crazy on this issue because it's offending people."
Not long after came the backpeddle in the form of: "At no point did Senator Paul come out against voter ID laws. In terms of the specifics of voter ID laws, Senator Paul believes it's up to each state to decide that type of issue."


~~~~~~~~~~~~~~~~~~~~~~~~~~~~~~~~~~~~~~~~~~~~~~~~~~~~~
What the U.S. can learn from West Africa. The Atlantic: How to Apologize for Slavery.
~~~~~~~~~~~~~~~~~~~~~~~~~~~~~~~~~~~~~~~~~~~~~~~~~~~~~
In June of 1961, Ambassador Malick Sow of the newly independent African nation of Chad was en route to Washington, D.C. to present his credentials to President John F. Kennedy and stopped for coffee at a diner on Maryland's Route 40. The diner's white female owner greeted him with the announcement that black people were not welcome there. When asked about the incident by Life magazine, she felt no need to apologize, explaining, "He looked like just an ordinary run-of-the-mill nigger to me. I couldn't tell he was an ambassador."
Sow's experience was not unusual even for an ambassador. A string of similar incidents had already occurred along Route 40 as Jim Crow rolled out the unwelcome mat for African ambassadors traveling between New York and the nation's capital. As the embarrassments accumulated, international observers saw duplicity in American claims of liberty and equality, as Cold War competition for influence in Africa made the continent a high priority for the U.S. and Soviet Union. Under the circumstances, the Kennedy administration was forced to offer an official apology to the many offended African ambassadors. Soon afterward, the president appointed a federal task force to enforce desegregation along Route 40.
But where international politics succeeded in securing an apology for the discrimination suffered by a handful of black African statesmen, more than 50 years later, black Americans still haven't received a state apology for subjugation and discrimination at the hands of their own country. This is not because of some national stance against apologies. In 1988, for example, President Ronald Reagan signed legislation, complete with reparations, extending a formal apology for Japanese-American internment on American soil during World War II. In 1997, President Bill Clinton offered a presidential apology for the infamous Tuskegee syphilis study that the U.S. Public Health Service launched in the 1930s, to study the disease in hundreds of infected black men while falsely claiming to be providing them proper treatment. By contrast, congressional resolutions apologizing for slavery, passed separately by the House in 2008 and the Senate in 2009, were never reconciled or signed by the president. Far from constituting a state apology, they carry all the weight of resolutions passed to congratulate Super Bowl victors.
From a Slate analysis of the Atlantic piece:

Specifically, Johnson looks at Ghana, Nigeria, and Benin. Ghana, Johnson writes, has made its apology into something of a tourism pitch:


The initiative, called Project Joseph after the biblical character sold into slavery by his brothers, sought to portray Ghana to black Americans as Israel presents itself to the Jewish diaspora. Ghanaian tourism companies even offer "ceremony of apology" packages that black Americans can purchase to accompany visits to ancient slave castles.

In contrast, a contrition initiative in Nigeria was not well-received:


...in declining to apologize, one elder told a Nigerian newspaper that his people were "not apologetic about what happened in the past," explaining that the slave trade was "very very legal" when his forebears were involved in it.

And Benin's apology was put in spiritual terms:



[President Mathieu Kérékou] and members of his government appealed to the religious conception of forgiveness to frame the act of reconciliation as a divine pursuit that would make whole the relationship between offending states and the victims' offspring. "We cry forgiveness and reconciliation," said Luc Gnacadja, Benin's minister of environment and housing, on a visit to Virginia in 2000.


Johnson suggests that Benin's model might appeal to America's spiritual sensibilities—but notes that even that even Benin's heartfelt-ish admission was part of a wider effort to repair its reputation amidst problems securing foreign aid.

~~~~~~~~~~~~~~~~~~~~~~~~~~~~~~~~~~~~~~~~~~~~~~~~~~~~~

~~~~~~~~~~~~~~~~~~~~~~~~~~~~~~~~~~~~~~~~~~~~~~~~~~~~~
The futility of fighting criminal justice racism with statistics. Slate: White People Are Fine With Laws That Harm Blacks.
~~~~~~~~~~~~~~~~~~~~~~~~~~~~~~~~~~~~~~~~~~~~~~~~~~~~~
When I want to emphasize a point on criminal justice reform, I lead with the data. There are huge racial gaps in arrests, convictions, and sentences. I'm shocked by the statistics and assume that's also true of readers.
But according to a new study from Stanford University psychologists Rebecca C. Hetey and Jennifer L. Eberhardt, the stats-first approach to issues of race and incarceration isn't effective—in fact, it's potentially counterproductive.
Hetey and Eberhardt conducted two experiments, one in San Francisco and one in New York City. In the former, a white female researcher recruited 62 white voters from a train station to watch a video that flashed 80 mug shots of black and white male inmates.
Here's where it gets interesting.
Unbeknownst to the participants, Hetey and Eberhardt had "manipulated the ratio of black to white inmates, to portray racial disparities in the prison population as more or less extreme." Some participants saw a video in which 25 percent of the photos were of black inmates, approximating the actual distribution of inmates in California prisons, while others saw a video in which 45 percent of photos were black inmates.
After viewing the mug shots, participants were informed about California's "three-strikes" law—which mandates harsh sentences on habitual offenders with three or more convictions—and asked to rate it on a scale of 1 ("not punitive enough") to 7 ("too punitive"). Then participants were shown a petition to amend the law to make it less harsh, which they could sign if they wanted.
The results were staggering. More than half of the participants who viewed the "less-black" photographs agreed to sign the petition. But of those who viewed the "more-black" photographs, less than 28 percent agreed to sign. And punitiveness had nothing to do with it. The outcome was as true for participants who said the law was too harsh as it was for those who said it wasn't harsh enough.
In which case, Hetey and Eberhardt hypothesized, there must be another explanation. Hence the New York City experiment, which tested the role of fear in driving support for harsh law enforcement policies. There, they found similar results using a variation on the San Francisco test.


Some of these criminals may make you more likely to back punitive measures than others.
Photo illustration by James Emmerman. Photos courtesy of Wikimedia Commons, Oregon DOC, and Galerie NE
~~~~~~~~~~~~~~~~~~~~~~~~~~~~~~~~~~~~~~~~~~~~~~~~~~~~~
Welcome to the Black Kos Community Front Porch!
Pull up a chair and sit down a while and enjoy the company.