My fellow 99Risers and I dropped a banner over the 5 freeway at Olive in Burbank today. As we said we would.
We "freeway blogged" last week on in the same location.
99 Rise is all about money out of politics, overturning Citizens United and along the way full disclosure. I joined to help with the March for Democracy. The California Disclose Act should be voted in committee today in Sacramento. Assemblyman Gatto is the chair and his office is down the street in Burbank. His staffers came to say Hi! last time.
But today at about 8AM after 1 hour the California Highway Patrol and the Burbank PD came to make us take the banner down.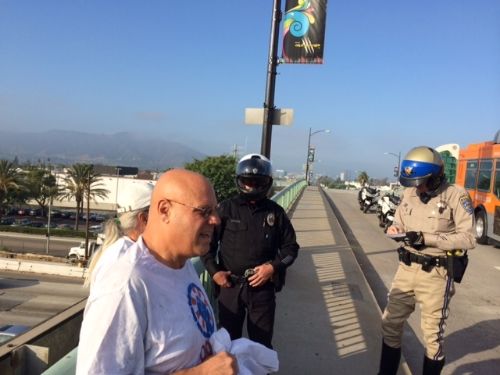 CHP Officer Larson said that we were "disrupting traffic" and we were going to cause an accident.
I guess Burbank PD was there to arrest us if we didn't go along.
Unprecedented!
So speech disrupts traffic? Riiiiggggghhhtt!
Has any other freeway blogging been banned before elsewhere?
Last week we disrupted traffic for hours too;