Greetings!
and welcome to another fuzzy-headed Friday open thread with your-- um, scratch that.
Welcome to another fuzzy-headed Friday open thread without your host, Marko.
Yeah, I'm hopefully still off running around somewhere when this posts on Friday, August 15th. I might just make it back in time to rec a few comments this time around. Like last week's diary that will post a day after I write this-- I'm just posting from the misty depths of time at you good folks from the amazing future. Do you finally have those hoverboards?
This is the last installment of my series of diaries on Warsaw. I just had a few pictures that I'd found entertaining left over that I wanted to share.
But it's more than that; it's a community open thread so get to socializing in the comments, post your pics, your causes, your diary links and promotions. Post your news and your menus-- it's all good to share.
I thought I'd start off with a park. Who doesn't like parks?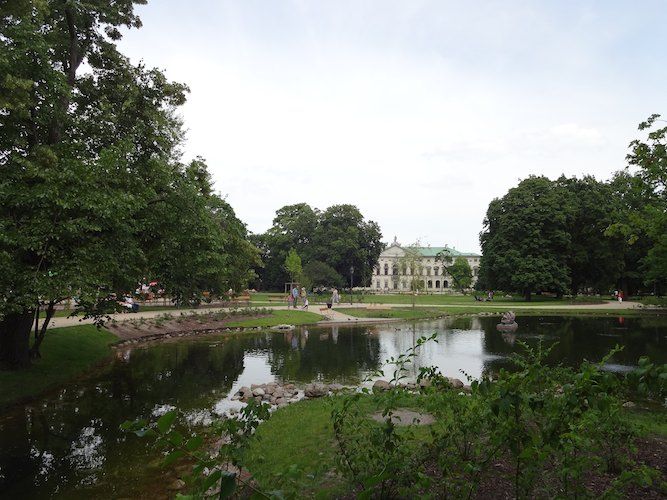 Warsaw was a real fairytale town full of fantastic creatures: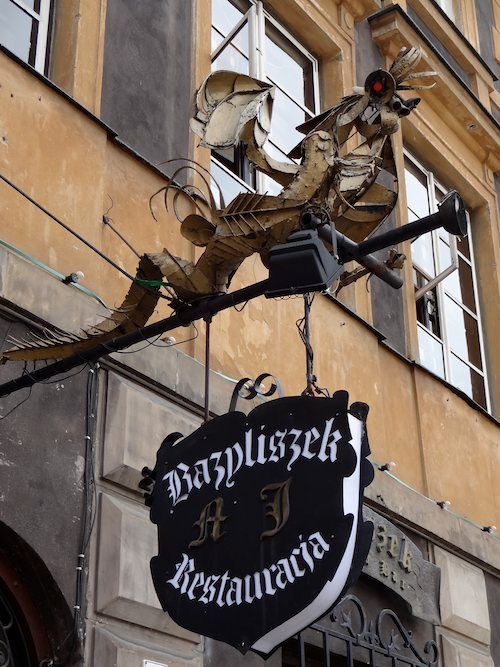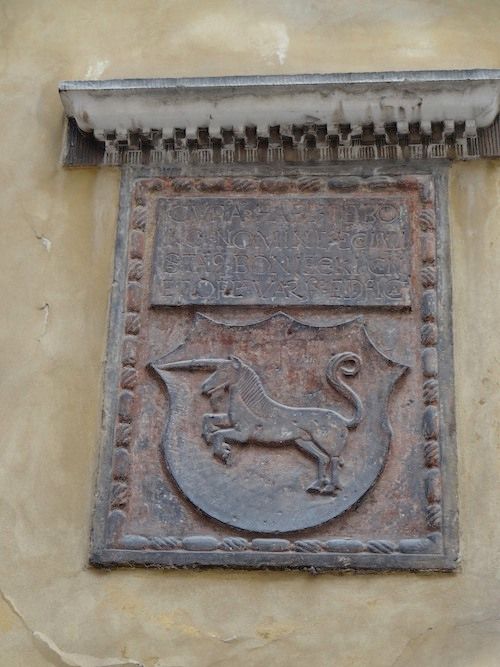 Some of the creatures were stranger than others: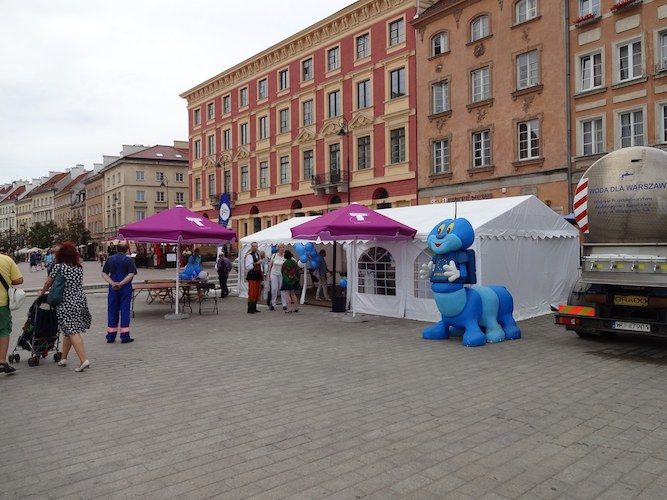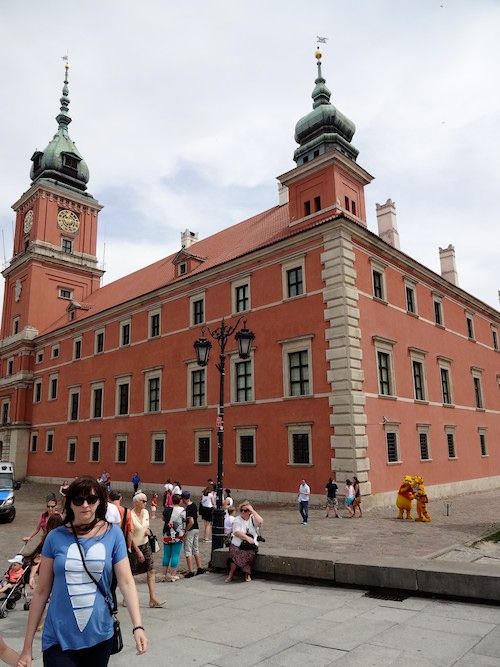 And only got stranger when they stepped out of the light: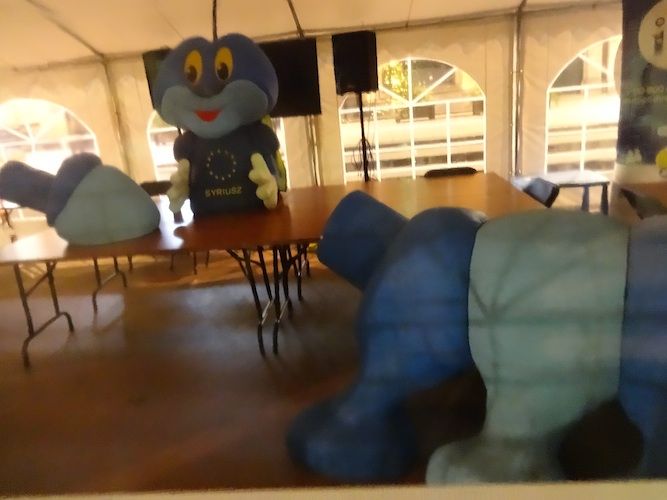 I wasn't sure what was going on with the blue caterpillar. The tent stayed set up in Palace Square the weekend we were in Warsaw. At night they took the caterpillar apart and stored it in the tent. Not sure what they were promoting or selling, but the guy in the traditional outfit encouraged passers-by to sing old, Polish folk songs with him on his microphone.
I saw Winnie the Pooh and Tigger too approaching the square and recalled the stories I'd heard about the drunk and vulgar beggars who dressed up as Disney and Pixar characters in New York City. I later caught the Warsaw beggars taking a break in a shady entry passage of the palace with their heads off. They turned out to be a young man and woman of perhaps college age. How did you earn money while in college?
I liked the name of this wax method, hair-removal salon: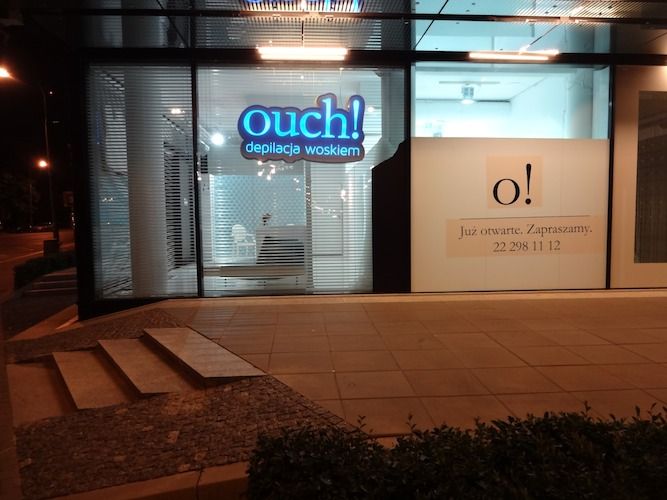 Honesty in advertising is a rare thing that should be appreciated wherever you find it.
I'm not exactly sure why, but this is one of my favorite pictures. It shows the trio that played at my brother-in-law's wedding getting their instruments out of their cases in the cloakroom of the hall where civil ceremonies are performed.

And this little detail says something about the new old face of Warsaw.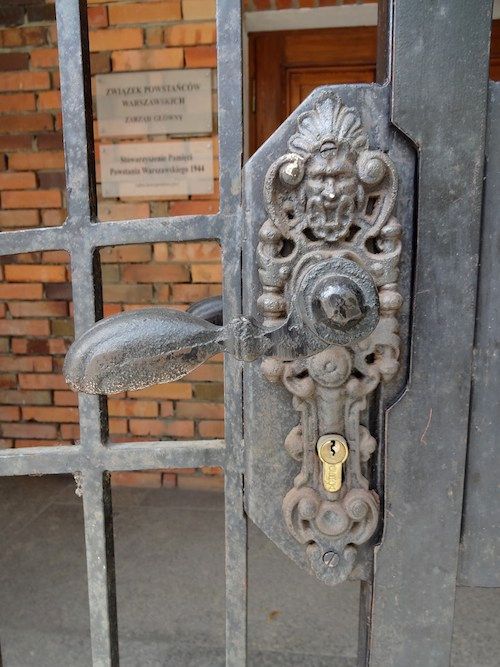 Maybe you can help me decide what it's saying.
I wish I knew what this said:


But it is obviously a relief map of the Old Town in bronze that was placed on a short pedestal in Palace Square. I remember learning some Braille in elementary school-- I don't remember the Braille itself though.
There was a fair amount of bronze about the place. And reminders that Pope John Paul II was Polish seemed to be all over Poland.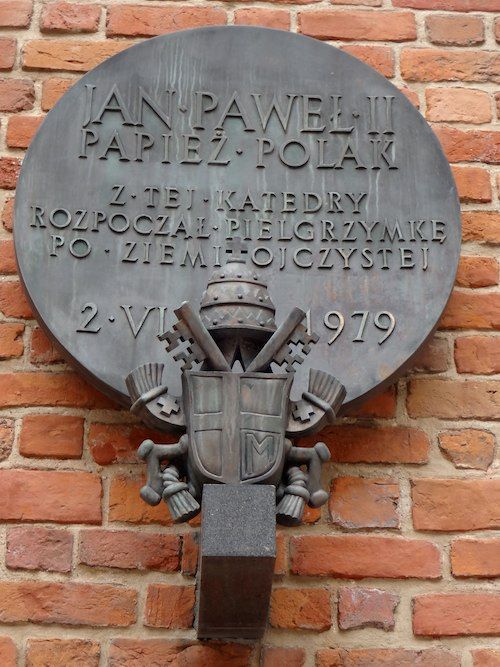 I'm a sucker for decorative metal work:

Warsaw had some lovely displays of art in public places.


And families of busking beggars with accordions. I think these are the kids of the families of accordion players that were working downtown Prague about 20 years ago. I'd wondered where they'd disappeared to...
I was glad that I had a chance to walk through the downtown by day and late at night: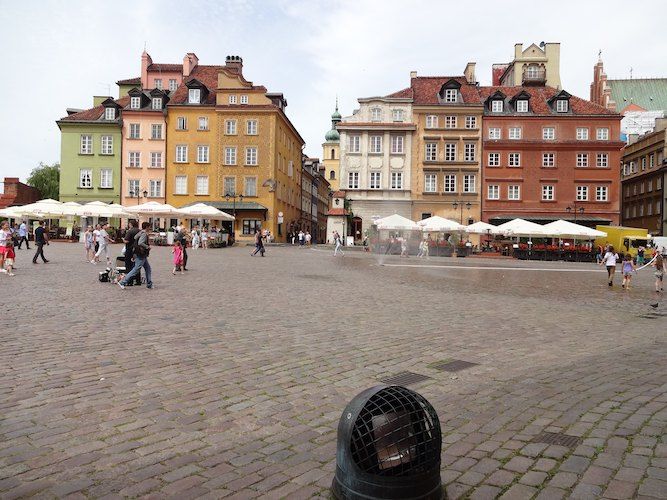 Around 3 in the morning on the weekend downtown Warsaw was quite interesting. From Palace Square south to where Copernicus has his own square the city is teeming with taxis and pedestrians and noisy with folks sitting and shouting and laughing outside clubs and cafés. But past Palace Square into the Old Town quarter things were quiet, practically asleep. In fact there was only one loud club still going on Palace Square at that hour. Things got livelier as you headed south. But by that hour I was leaving the wedding reception down south and heading north to the hotel. I noticed a side street, a little pedestrian zone that was packed with people at about 2:30. Warsaw is a party town it seems. I was pretty much partied out and the sleepy streets of the new Old Town were just the halfway point to my bed.