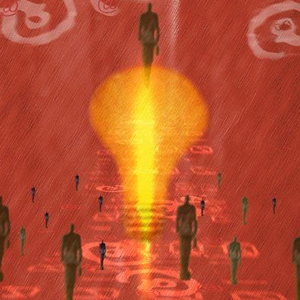 Commentary: African American Scientists and Inventors
by Black Kos Editor, Sephius1


In 1947 Marie Maynard Daly became the first African-American woman to earn a Ph.D. in the field of chemistry. She then built a career in research and teaching at such prestigious academic institutions as the Rockefeller Institute, Columbia University, and Yeshiva University. Daly's research focused on protein structure and human metabolism. Among other things, she contributed greatly to an understanding of the causes of heart attacks and lung disease.
Marie Maynard Daly was born on April 16, 1921, in Corona, Queens, New York. She was the oldest child and only daughter of Helen Page Daly and Ivan C. Daly. Her two younger brothers were fraternal twins. Her mother was a homemaker who grew up in New York, although her family was from the Washington, D.C., area. Her father, Ivan, was a postal worker who was born in the British West Indies and moved to the United States as a young man.

(con't.)
Ivan Daly aspired to be a chemist and received a scholarship to study at Cornell University in Ithaca, New York. However, neither he nor his parents were able to pay for his room and board, so Ivan Daly had to stop attending school after only one semester. As Marie Daly told Contemporary Black Biography (CBB), "My father wanted to become a scientist but there weren't opportunities for him as a black man at that time." However, Ivan Daly's interest in science spread to his family. His daughter recalled that she had always been interested in science. "My parents didn't discourage me because I was a woman," Daly proudly declared in an interview with CBB. Her parents encouraged her to pursue her education, and her mother regularly helped her with homework. Daly also enjoyed reading as a child. One of her favorite books was Paul DeKruip's Microbe Hunters, a very popular book at the time that chronicled the lives and accomplishments of the early microbiologists such as Antony van Leeuwenhoek, Louis Pasteur, and Robert Koch. The book was published in 1926 when Daly was just a child.
Daly's supportive environment extended to her schools as well. She recalled to CBB that her teachers encouraged her scientific interests. She attended Hunter College High School, which at that time was an all-girls school with an all-female faculty run by Hunter College in Manhattan. Daly went on to attend college at Queens College in Flushing, New York, so that she could remain close to home. This was a fairly new college with a small student body and a beautiful campus. Daly told CBB that her education at Queens College was memorable because of the small classes and the high quality instruction. Daly decided to study chemistry, like her father, even though she was not really aware at that time of the various career options in the field. Daly earned a bachelor of science degree, magna cum laude, in 1942. She was also named a Queens College Scholar for her academic achievements and was inducted into the Phi Beta Kappa and Sigma Xi honor societies.....Read More
~~~~~~~~~~~~~~~~~~~~~~~~~~~~~~~~~~~~~~~~~~~~~~~~~~~~~
News by dopper0189, Black Kos Managing Editor
~~~~~~~~~~~~~~~~~~~~~~~~~~~~~~~~~~~~~~~~~~~~~~~~~~~~~


~~~~~~~~~~~~~~~~~~~~~~~~~~~~~~~~~~~~~~~~~~~~~~~~~~~~~
Studies suggest what many people already suspected. The New Republic: Police Officers Are More Likely to Shoot Black Men, Studies Suggest.
~~~~~~~~~~~~~~~~~~~~~~~~~~~~~~~~~~~~~~~~~~~~~~~~~~~~~
There are two very different accounts of what prompted a Ferguson, Missouri police officer to shoot and kill Michael Brown on Saturday. The unnamed police officer who shot the 18-year-old claims he was "physically assaulted." Witnesses said Brown had his hands in the air to show he was unarmed, and the officer fired from 35 feet away.
Before Brown, there was 16-year-old Kimani Gray, 19-year-old Kendrec McDade, and countless other unarmed African Americans killed by police gunfire. We don't need to know the outcome of the FBI's investigation and the Department of Justice's separate "fulsome review" into civil rights violations to recognize the racism in our justice system.
But racial bias also factors into officers' split-second decision to shoot a suspect.
Social science research shows that, in video simulations, people are more likely to shoot black men. The participants—often undergraduate students, both black and white—play a simulation where they press "shoot" if they think the white or black suspect holds a gun. Consistently, psychologists have found the students more likely to shoot the unarmed black person over an unarmed white person.
For example, a study published in 2002 from the University of Colorado at Boulder and University of Chicago found that white undergraduates had higher error rates when it came to unarmed African American suspects (1.45 per 20 trials compared to 1.23 for unarmed white suspects).


~~~~~~~~~~~~~~~~~~~~~~~~~~~~~~~~~~~~~~~~~~~~~~~~~~~~~
Michael Brown. Eric Garner. Debra Harrell. And that's just the latest. Slate: Why I Don't Call the Police.
~~~~~~~~~~~~~~~~~~~~~~~~~~~~~~~~~~~~~~~~~~~~~~~~~~~~~
I've been thinking about something related but different: Why writing about legal issues for 20 years has taught me that black people are at risk from the police in a way that the rest of us are not—and how that shapes my own choices.
Maybe the unfairness I'm talking about is obvious to you, whatever your race. There is plenty of evidence that black men, in particular, bear the brunt of arrests, convictions, and long sentences, out of proportion to their crime rate. The divide opens early in life: Black kids are far more likely to be suspended, expelled, and funneled into the juvenile justice system than nonblack kids. Again, the disparity can't be explained by their behavior: It reflects the heavy hand of systemic bias. There are incredibly depressing studies suggesting that "racial bias also factors into officers' split-second decision to shoot a suspect," as Rebecca Leber lays out in the New Republic. It does not help that police officers tend to be white more than the communities they serve (especially outside of large cities). In Ferguson, for example, two-thirds of the residents are black, and 50 of 53 police officers are white.
In covering the law, I've had more chances than I want to remember to watch these patterns play out in people's lives. It's become pretty much a given for me that if the criminal justice system gets a hold of a black person, especially if he is poor, there is a terrible, heightened risk that it will try to crush him. I know we need law enforcement. I know most cops are good people who are trying to do their jobs. But the police have so much power. And often, they are not made to answer when they abuse it—even when, as it appears in Garner's case, they broke their own rules.


A police officer conceals his or her identity while standing watch as demonstrators protest the shooting death of teenager Michael Brown on Aug. 13, 2014 in Ferguson, Missouri.
Photo by Scott Olson/Getty Images
~~~~~~~~~~~~~~~~~~~~~~~~~~~~~~~~~~~~~~~~~~~~~~~~~~~~~


~~~~~~~~~~~~~~~~~~~~~~~~~~~~~~~~~~~~~~~~~~~~~~~~~~~~~
Roosevelt Institute Fellow Andrea Flynn looks at racial disparities in access to health care in the U.S. in light of the U.N.'s periodic review of countries' work to dismantle racism. The Hill: Racial discrimination alive and well in reproductive healthcare.
~~~~~~~~~~~~~~~~~~~~~~~~~~~~~~~~~~~~~~~~~~~~~~~~~~~~~
This week, U.S. experts from the Center for Reproductive Rights (CRR) and SisterSong Women of Color Reproductive Justice Collective will testify before the United Nations' Committee to End Racial Discrimination in Geneva, sharing a report that describes the experiences of American women of color and immigrant women who pay with their health and even their lives for the race and gender discrimination that tirelessly persists in our health system.
The meeting is part of the U.N.'s periodic review process that evaluates how signatories to the International Convention on the Elimination of All Forms of Racial Discrimination (ICERD) are progressing in addressing and dismantling racism. The United States ratified ICERD in 1994 and during its last review in 2008, the U.N. committee expressed concern about the continued disparities in sexual and reproductive health. Unfortunately, not much has changed in the last six years.
Racial and socioeconomic inequities are driving a maternal health crisis for women of color and immigrant women, many of them poor. While the U.S. as a nation has been sliding backwards on maternal health — and is in fact one of only seven countries in the world to see increasing maternal mortality rates (MMR) over the past decade — the situation is particularly dire for women of color and immigrant women. Washington, D.C.'s population, which is 50 percent black, has an MMR of 41.6 per 100,000 women, compared to the national average of 28. African-Americans in Fulton County, Ga., home to Atlanta, have an MMR of 94, and for women of color in Chickasaw County, Miss., it is 595 — higher than Kenya and Rwanda.
Similarly, immigration status dictates women's ability to access to healthcare. Non-citizens are three times as likely as U.S.-born citizens to lack health coverage, and immigrant women are 70 percent more likely to not have coverage. This is not surprising, given a five-year waiting period for Medicaid eligibility for documented immigrants and laws that bar undocumented immigrants even from purchasing private insurance with their own money on the newly created exchanges. This leaves immigrant women reliant on publicly funded clinics for affordable reproductive health services. This is particularly problematic in states like Texas, where even immigrants who have fulfilled the five-year waiting period are barred from accessing Medicaid and publicly funded clinics are being closed left and right.
The report — a collaborative effort of CRR, SisterSong and the National Latina Institute for Reproductive Health — lifts up the all too often-unheard voices and experiences of women from Atlanta, Jackson, Miss., and the Rio Grande Valley in Texas.






~~~~~~~~~~~~~~~~~~~~~~~~~~~~~~~~~~~~~~~~~~~~~~~~~~~~~


~~~~~~~~~~~~~~~~~~~~~~~~~~~~~~~~~~~~~~~~~~~~~~~~~~~~~
Black politicians are responding to the killing of Michael Brown—some forcefully, some cautiously. The Root: What Are Black Politicians Doing—or Willing to Do—About Police Killing Black Folks?.
~~~~~~~~~~~~~~~~~~~~~~~~~~~~~~~~~~~~~~~~~~~~~~~~~~~~~
t's the question bound to come up when an unarmed black person gets gunned down, choked or beaten by a power-tripping white cop with a loose trigger: What are black politicians gonna do about it?
And, to the consternation of folks asking, the answer is not as black and white as they'd like it.
Although protest continues on the streets of Ferguson, Mo., activists look to African-American elected officials for some perspective. "Will the Congressional Black Caucus hold a press conference and push for justice on this string of unarmed black folks killed by cops?" groused veteran hip-hop commentator Davey D. Good question. And he teased it with an Operation Ghetto Storm analysis, exposing the "extrajudicial killing of 313 black people by police, security guards and vigilantes."
Unfortunately, Congress is on a five-week recess. That includes the 43 black members who don't reconvene in Washington, D.C., until their annual late-September CBC Foundation extravaganza (which many disgruntled "revolutionaries" love to slam but end up attending anyway). When Congress goes on break, so does the rest of Washington—along with the President Barack Obama, vacationing in Martha's Vineyard, who quickly issued a statement on the death of beloved comedian actor Robin Williams but who took near three days before public "reflection" on events sparked by the death of a random college-bound black teen.
CBC members were tight-lipped over the weekend as smoke started rising from the working-class St. Louis suburb. A joint statement finally emerged on Monday from CBC Chair Marcia Fudge (D-Ohio), House Judiciary ranking member John Conyers (D-Mich.) and Mound City-area Rep. William Lacy Clay (D-Mo.), publicly nudging the Justice Department to probe the Michael Brown incident—which it has. But updates from @OfficialCBC and the CBC's website didn't get going until a spate of tweets later the same day. If you looked to Clay's Twitter timeline for real-time assessment, from the tone of the tweets, you'd think he was in another district than the one he represents—right where Ferguson is.


St. Louis Alderman Antonio French discusses the killing of unarmed teenager Michael Brown by police and subsequent protests in Ferguson, Mo., on Aug. 12, 2014.
SCREENSHOT FROM MSNBC'S ALL IN WITH CHRIS HAYES
~~~~~~~~~~~~~~~~~~~~~~~~~~~~~~~~~~~~~~~~~~~~~~~~~~~~~

~~~~~~~~~~~~~~~~~~~~~~~~~~~~~~~~~~~~~~~~~~~~~~~~~~~~~
Don't be shocked but National Review once again is being openly racist, but don't worry I'm sure the writer's best friend is black. Talking Point Memo: Conservative Writer: I Wasn't Racist When I Described 9-Year-Old Black Kid As A 'Primate'.
~~~~~~~~~~~~~~~~~~~~~~~~~~~~~~~~~~~~~~~~~~~~~~~~~~~~~
Conservative writer Kevin D. Williamson defended a passage he wrote in a recent issue of National Review in which he described a young African-American boy he estimated to be about 9 years old making the "gesture of primate territorial challenge."
In a piece that is otherwise about the decrepit nature of Illinois Gov. Pat Quinn's (D) hometown, East St. Louis, Ill., Williamson opens with some local color:

'Hey, hey craaaaaacka! Cracka!White devil! F*** you, white devil!" The guy looks remarkably like Snoop Dogg: skinny enough for a Vogue advertisement, lean-faced with a wry expression, long braids. He glances slyly from side to side, making sure his audience is taking all this in, before raising his palms to his clavicles, elbows akimbo, in the universal gesture of primate territorial challenge. Luckily for me, he's more like a three-fifths-scale Snoop Dogg, a few inches shy of four feet high, probably about nine years old, and his mom — I assume she's his mom — is looking at me with an expression that is a complex blend of embarrassment, pity, and amusement, as though to say: "Kids say the darnedest things, do they not, white devil?"
~~~~~~~~~~~~~~~~~~~~~~~~~~~~~~~~~~~~~~~~~~~~~~~~~~~~~
The Fox host argued the unarmed teenager's supporters should trust the authorities. Then Ben Carson went off script. Salon: Bill O'Reilly's Ferguson disgrace: Host spews sick lecture to Michael Brown's family.
~~~~~~~~~~~~~~~~~~~~~~~~~~~~~~~~~~~~~~~~~~~~~~~~~~~~~
On Tuesday night's "O'Reilly Factor," the angry host addressed "Unrest in St. Louis." But he didn't merely rail against looters and rioters, as might have been expected. Instead, he took on Michael Brown's parents for claiming their son had been wrongly killed. He showed a snippet of Don Lemon's interview with Michael Brown Sr. and Leslie McSpadden, in which McSpadden collapses in tears and Brown says solemnly that if there is no justice for his son, there will be no peace.
In conversation with Carson, O'Reilly uncharacteristically expressed "100 percent confidence" that Attorney General Eric Holder – normally a Fox piñata — would make sure justice is done in the Brown case, and Carson agreed. O'Reilly even praised the local NAACP for condemning the looting, but blamed Rev. Al Sharpton for coming in and "agitating"; of course, Sharpton had immediately denounced the violence and asked for peaceful protest, as did Brown's family and friends.
But it didn't matter that Michael Brown Sr. had asked that looting and rioting stop. O'Reilly just couldn't get over that clip of him referencing an old civil rights slogan, "No justice, no peace." He went off:

Do we as a society — what do we do? Do we weigh in as the boy's father — and if it were my son, I probably would have said same thing, but he's obviously talking through an emotional prism. His son is dead. He believes, probably — I know he believes — that it was an injustice, that it was done for nothing, it was a murder. And many, many African-Americans believe that without knowing the facts. Do we criticize them, or do we remain silent?
Remaining silent is never an option for O'Reilly, so you know the answer already.
Now, there was a touch of empathy there. "If it were my son, I probably would have said the same thing." Stay with that, Bill! Why not leave it there?
But no. Empathy is dangerous. Because Michael Brown's father doesn't know all "the facts." He's "talking through an emotional prism." And "many, many African-Americans" agree with him. So O'Reilly and Carson must "criticize them," or else.
Or else what, you might ask?
Or else "many, many African-Americans" will continue to believe something very different from what O'Reilly does.
But then, weirdly, Ben Carson goes off script. After blandly insisting conservatives must let the Brown family know "we feel their pain" while making clear "police are individuals too, they have feelings also," Carson tells O'Reilly, "We must hear from this police officer."
That's interesting: That's exactly what the Brown family wants too, but the Ferguson Police Department won't even release his name, let alone allow him to face public questions. Carson went on: "You know, they are trained to shoot to kill, or shoot to stop. We need to hear why he decided to shoot to kill."
O'Reilly literally harrumphed and cut him off. "Yes [clears throat] … well … I don't think that's going to happen. So you're going to have the one side that's suffered a terrible loss, and the other side's not going to say anything, and that's what we have to process." Then he thanks Carson, who has apparently failed to help him "process" the right way, and abruptly ends the segment.


~~~~~~~~~~~~~~~~~~~~~~~~~~~~~~~~~~~~~~~~~~~~~~~~~~~~~~~~~~
Welcome to the Black Kos Community Front Porch