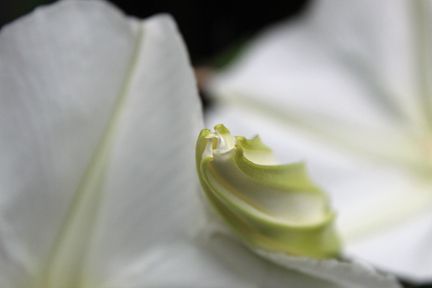 It's that time of the season and the moonflower vines are blooming in my garden here in the northeast. For anyone who has never had the pleasure of growing a moonflower vine, I highly recommend it. You'll fall into a drunken state of euphoria as they bloom!
I cheat and purchase already sprouted and well grown vines (a foot to two feet high) from a local garden center that I know always supplies plants because they have regular customers who seek it every spring. It's a heat loving vine, so if you plant it too early in the ground, it will stall and not grow, will look sickly and like it's about to die! But once the ground is warm, it will take off. I've found that for buds to form, you do need a good amount of heat, and you must remember to water the vine. They love getting a good amount of sun! I have never had any type of insect damage on these plants, not on the flowers or the leaves. But if it's good and hot through the summer, the vines will take off and grow where you probably don't want them. You really have to be on top of them to keep them trained up to grow where you want them to be. One year I had them growing up the fence about 15 feet from the original plant. I missed that one stray vine growing up from the base of the plant!
To bloom they need a good long growing season, but during the bumper crop of blooms year, I had them growing and blooming even through October. It was the only time that I began to see the leaves getting spotted and mottled as the cooler weather was arriving.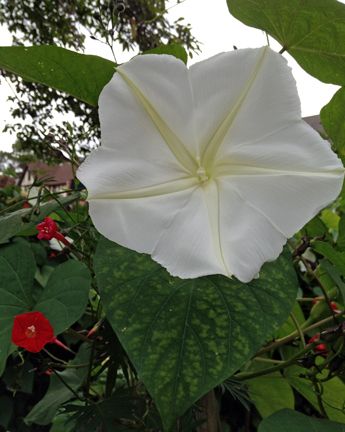 oh, and by the way! The photos are not stop action photos. Depending on the humidity and temperature, I've watched blossoms open before my eyes - from swollen bud to full moon in about 10-15 minutes. It's quite amazing to watch.
So - How are your gardens growing? :-)
disclaimer: This is a reprise of photos! These photos were taken a couple of years ago when the vines grew and bloomed to such an extent that the entire backyard was constantly engulfed in scent at dusk. This year, while I have a vine blooming at this moment, it's been one flower every few evenings.... a paltry number in comparison! It's the weather. Cooler than the couple of years back, both days and nights, and moonflower vines do best with the heat.