This is a diary for crafters, no matter what the project whether you craft for yourself or others (and you are most likely not getting rich off your work) but you like to share your results. Let's face it, there is a certain pride in the finishing of a project, no matter how small or large. So all you crafty people out there, share your efforts so the rest of us won't feel so lonely, especially when the frustration sets in and the project isn't exactly turning out as you hoped.
Things have been a little off-setting for me...my vision was getting worse and I had a great deal of difficulty reading and doing anything that required seeing. Driving was an adventure! I am now in my third week of retina surgery recovery and I can see much better already! My eye is still dilated but I can read and do my crafts.
Last year I said I was going to enter the County Fair and so I did. I was beginning to think that I couldn't because doing things just took so long and I was making a tremendous number of mistakes and had to pull rows out and redo them.
I have my entries below the Irish knot.
My husband had to encourage me...because I didn't think I could finish my works.
I entered A lacy crocheted shawl and got a first place!
It took me over a month of crocheting to finish this on time.
Mainly because i really like to do doilies and not the larger, more practical items.
My collar got a third.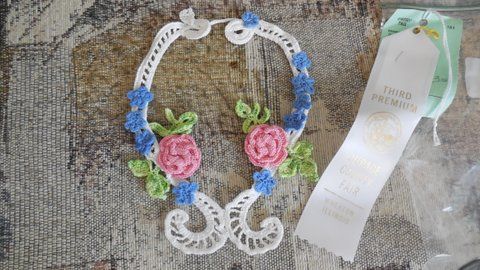 It was actually very easy and took relatively little time.
The category was for fashion/wearable items/crocheted and one could enter only two things in each category.
For household items/crocheted I entered two doilies:
This one which asked for a bullion stitch but I couldn't get mine to look right so I did popcorn stitches instead. And this one:
Which had intricate split trebles and popcorns but took a second. I had thought this one was more of a first but I guess the judges liked the colorful doily better.
So I was four for four entries which made me very happy. I have to thank Mr. Temmoku for encouraging and and also predicting that I would sweep the ribbons.
The Grand Prize entry was an American flag afghan in the crocheted category. It was very nicely finished and deserved to win. The stars were great. I wish I had taken a photo of it.
I revisited the hummingbird doily I had done quite a while back...still unhappy with the yellow butterflies and redid them. I like these better, a softer yellow and smaller than the others I had done before. The ones in the pattern I did not like at all.
Now that I can finally see and am not so depressed, I have started throwing pots once more....It has been a couple of months and I was really happy to be able to throw something worthwhile.
And
So, share what you have been working on, planning, or refinishing. We all love to see the many varieties of crafts.
Next week I'll be picking Elderberries for juice and jelly so my fingers will be purple!