This last week Mr.eJ and I have been painting our kitchen. I wanted to last Summer, but Mr. eJ squawked in such pain that I relented and said: "OK, next Summer, then." After all, by Summer 2014 we'd be ready for it and positive! Right?

As you can see by Itzl's concerned look, this group is for us to check in at to let people know we are alive, doing OK, and not affected by such things as heat, blizzards, floods, wild fires, hurricanes, tornadoes, power outages, or other such things that could keep us off DKos. It's also so we can find other Kossacks nearby for in-person checks when other methods of communication fail - a buddy system. Members come here to check in. If you're not here, or anywhere else on DKos, and there are adverse conditions in your area (floods, heatwaves, hurricanes, etc.), we and your buddy are going to check up on you. If you are going to be away from your computer for a day or a week, let us know here. We care!
IAN is a great group to join, and a good place to learn to write diaries. Drop one of us a PM to be added to the Itzl Alert Network anytime! We all share the publishing duties, and we welcome everyone who reads IAN to write diaries for the group! Every member is an editor, so anyone can take a turn when they have something to say, photos and music to share, a cause to promote or news!
OK, we do have a diary schedule. But, when you are ready to write that diary, either post in thread or send FloridaSNMOM a Kosmail with the date. If you need someone to fill in, ditto. FloridaSNMOM is here on and off through the day usually from around 9:30 or 10 am eastern to around 11 pm eastern.
Monday:
BadKitties
Tuesday:
ejoanna
Wednesday:
Caedy
Thursday:
art ah zen
Friday:
FloridaSNMOM
Saturday:
Dave in Northridge
Sunday:
loggersbrat
Follow me below the orange paint splotch to find out what happened.
Welllllll, no surprise here. When I brought up the subject of painting a few weeks ago, the Mister started squawking all over again! Surprise! But logic (or something) prevailed and we launched into not only a re-paint for the kitchen, but clearing and cleaning out cabinet drawers and shelves, some of which had not had their inky depths explored in decades (or so it seems. I'd swear I never ever had seen some of that stuff. Honest!)
What with trying to do a few other things to carry on a semi-normal life (e.g., eating, sleeping, garden watering, collapsing in exhaustion, cleaning up paint boo-boos, fighting over what dishes-potandpans-coffee cups to keep--and keeping the cat from going crazy) it has taken a bit longer than planned. But that's what always happens.
Guess who hates paint projects more than me and the Mister eJ?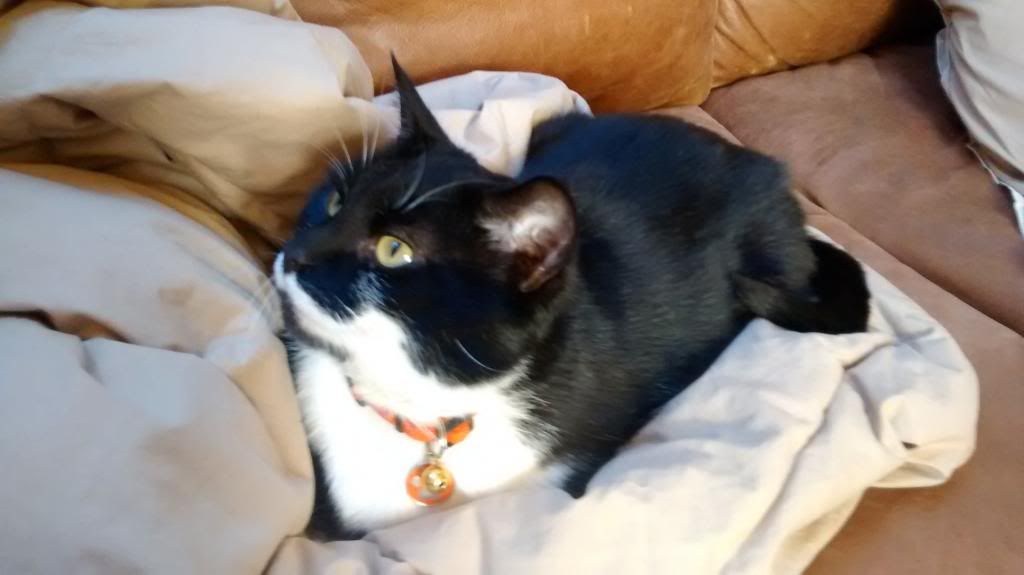 "Did sum-wun sai paintin'?"

Not my kitchen chaos, but close: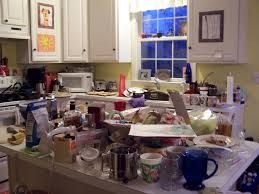 This helped: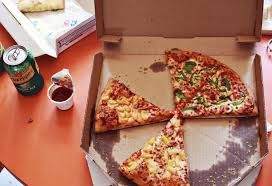 It has been 10 days. I see a light at the end of some tunnel. . . but that might just be a mirage.
HAHAHAHAHA!!! If Only!!
Anyone wanna share their painting stories? And pain? (Wait! I just noticed that embedded in the word painting is. . . omg.) Or triumphs? I know that when we put the kitchen back together we'll agree it was all worth it.
PS Mr. eJ doesn't like the gleam in my eye as I muse about our next painting project! Summer 2020 anyone?