For those of you who are fascinated by historical election results, I've created a Google spreadsheet (and excel version) of all the presidential election results by state going back to the first widely regarded popular presidential election of 1828. You can find it here in Google Sheets for viewing on the web: https://docs.google.com/... Or here for the downloadable excel version: https://drive.google.com/...
Each year lists the vote share for each major candidate along with important 3rd party candidates (such as Ralph Nader, Ross Perot, etc) with the winner highlighted and the single-year PVI (comparison to national result) is calculated. For some years with massive distortion from 3rd parties like 1860 there's no PVI, but for more stable 2-party elections like the Whigs vs Dems I calculated a PVI as well. There's a page for the overall vote share, along with one that's 2-party only for years where that makes sense (so 2012, but not 1912).
Candidates are listed last name first with their party noted as it appeared on the ballot and incumbents are shaded gray. If a candidate received no votes in a state (not being on the ballot) the cell for their vote share is left blank, while states like South Carolina that assigned their electoral votes via the legislature pre-Civil War have the winner's party noted.
Here's a preview: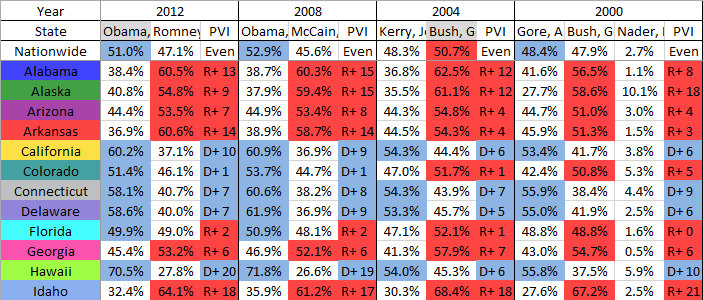 The state name column and the top three rows are frozen so they're always visible.
The data itself is from Dave Leip's Atlas, so it includes write-in votes under the grand total which some sources do not (if you find errors please let me know).
As a reminder, the link in my comment signature is a folder with all partisan statewide elections in a similar format for every state by county, plus several elections by the current congressional districts, legislative districts, state board districts, etc. There is also a spreadsheet with the 2012 presidential and congressional results by district and state complete with a pronunciation guide for every member of the 113th Congress.
Enjoy!