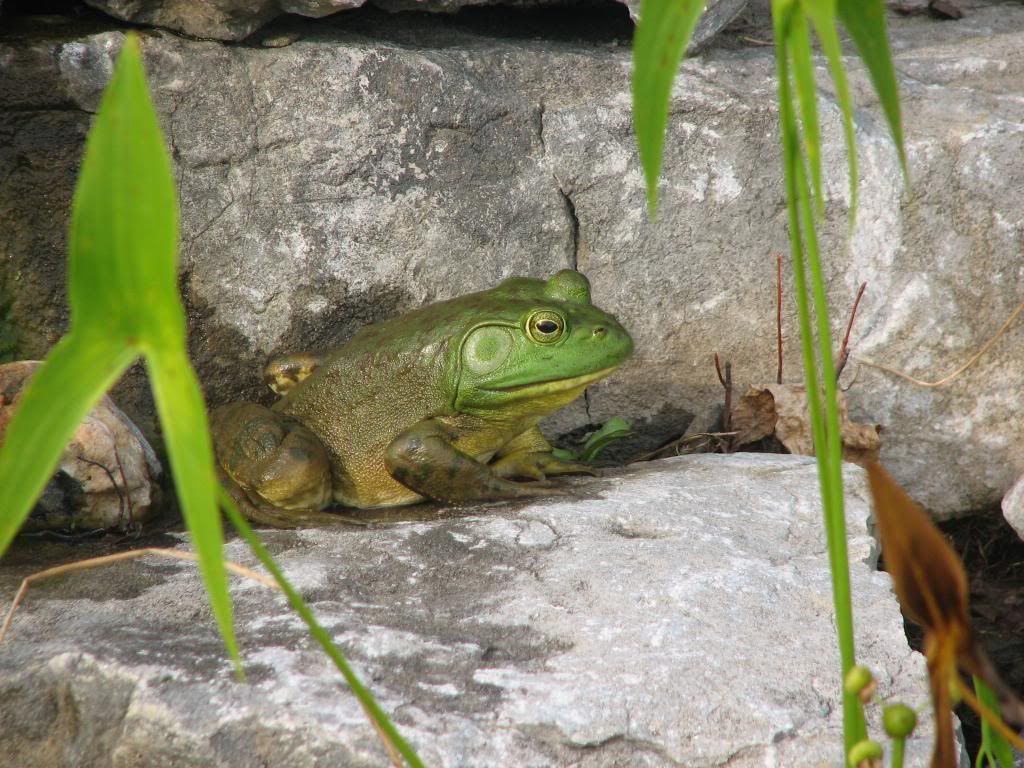 The Backyard Science group regularly publishes The Daily Bucket, which features observations of the world around us. Insects, weather, meteorites, climate, birds, flowers and anything natural or unusual are worthy additions to the Bucket and its comments. Please let us know what is going on around you in a comment. Include, as close as is comfortable for you, where you are located. Each note is a record we can refer to as we try to understand the patterns that are unwinding around us.
After reading Redwoodman's frog remediation update yesterday, I was reminded of some of the consequences of inviting frogs into your living space. Follow me below the clump of orange frog eggs to explore the potentials.
Frogs are adorable when they first grow their legs and start hanging out where you can see them. They perch on the edge of rocks or on lily leaves, looking just as cute as a kitten. Makes you want to pick them up and snuggle them.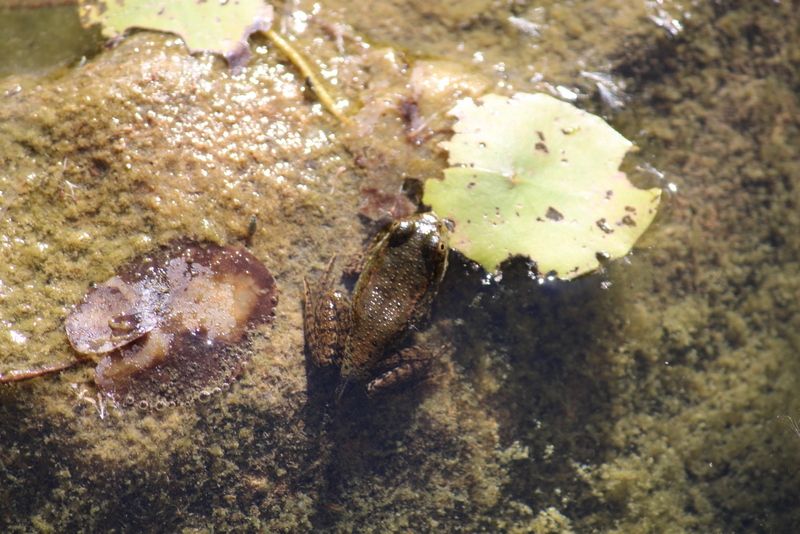 This little guy is only about an inch long.
As time goes on, they grow to their full size, becoming less cute but, perhaps, more interesting. Larger frogs will eat their younger brethren if they can catch them, a practical exercise in survival of the fittest.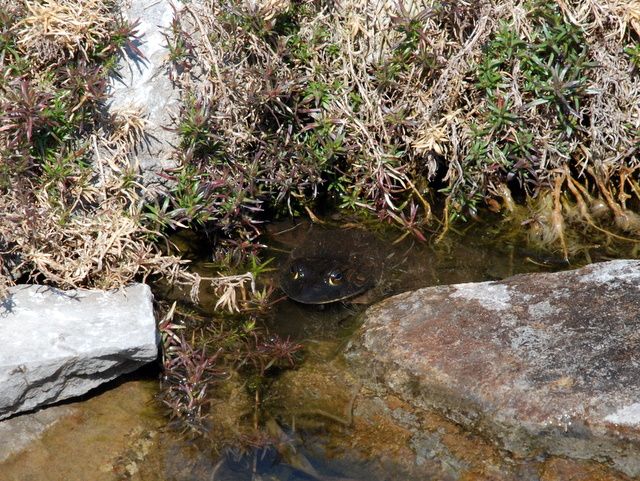 Ambush frog is ready to ambush
One thing you will almost certainly NOT end up with is just one frog.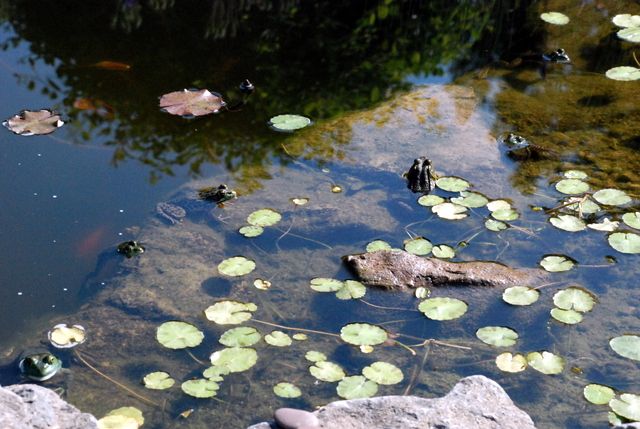 And other critters enjoy frog-friendly environments, too.
Eventually, your ecosystem will reach an equilibrium of predators and prey, unless you have a really ambitious bullfrog. One of those can clear the remaining critters out of a small pond in short order. This one was truly mammoth and disappeared before we had a chance to relocate it to the river.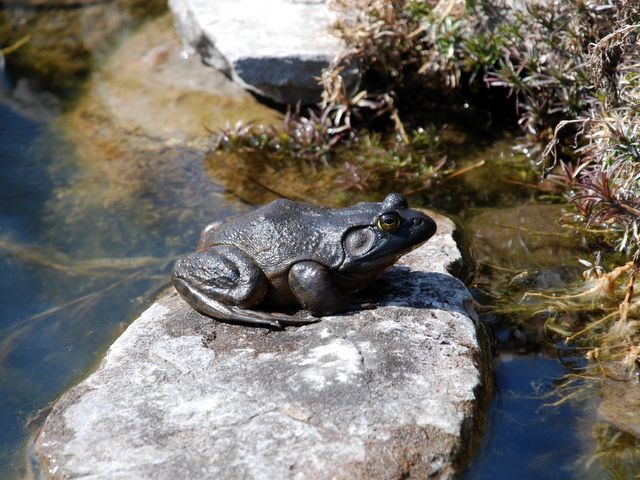 With luck though, you will end up with a stable population. That's when the fun begins because relative safety from being eaten usually leads to the urge to procreate. The trouble with this urge is finding a mate who has the same urge and is willing to cooperate.
The first thing to do, if you're a male frog, is sing as loud as you possibly can so they notice you. Do this for hours, possibly days, at a time, making sure everything in a two mile radius knows you're horny. Other frogs and even the toads will join you in your efforts. Remember, if the windows in the human's house nearby are not rattling, you're not singing loud enough.
Once a potential mate or three has shown up, you must have a bower to invite them into. Don't let any other frog of your type invade your area. If they do, it's on! Hug the stuffing out of them!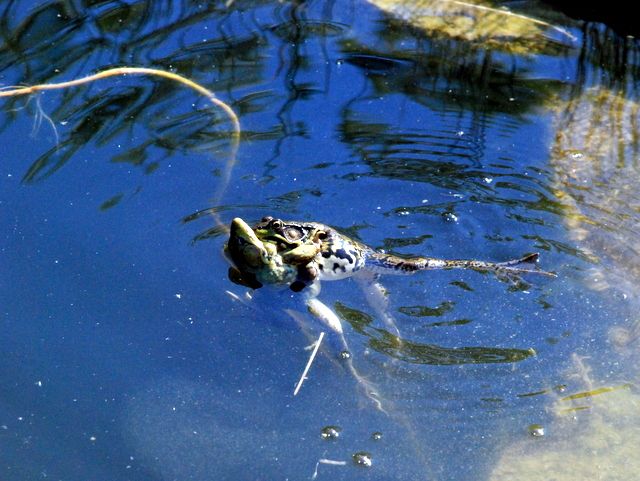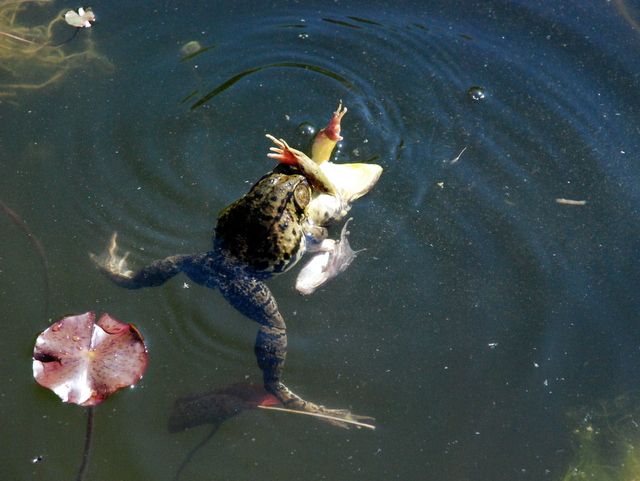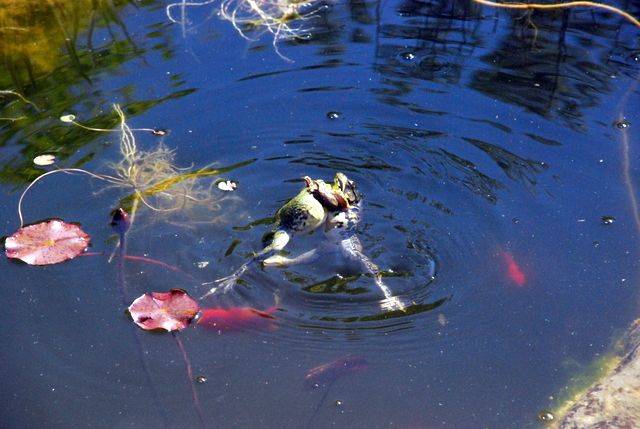 Once the interloper is dealt with, you may continue singing. For the rest of the summer.
Redwoodman, are you SURE you want to risk frog war in your backyard? As you can see, it gets ugly. :)
"Spotlight on Green News & Views" will be posted every Saturday and Wednesday at 1:00 pm Pacific Time on the Daily Kos front page. Be sure to recommend and comment in the diary."