What's being described as "the most important document produced by the UN about global warming" has an urgent warning meant for the eyes of world leaders (so as not to panic the rest of us) that the damage our carbon fueled industrial economies are making to our planet's atmosphere and oceans will soon be irreversible creating their own momentum for even more drastic change as a number of feedback loops become the dominant drivers of Global Warming accelerating the destructive changes to the environment.

Damage from global warming will soon be irreversible, says leaked UN report

By Alex Morales

Humans risk causing irreversible and widespread damage to the planet unless there's faster action to limit the fossil fuel emissions that cause climate change, according to a leaked draft United Nations report.

Global warming already is impacting "all continents and across the oceans," and further pollution from heat-trapping gases will raise the likelihood of "severe, pervasive and irreversible impacts for people and ecosystems," according to the document obtained by Bloomberg.

"Without additional mitigation, and even with adaptation, warming by the end of the 21st century will lead to high to very high risk of severe, widespread, and irreversible impacts globally," the UN Intergovernmental Panel on Climate Change said in the draft.

The study is the most important document produced by the UN about global warming, summarizing hundreds of papers. It's designed to present the best scientific and economic analysis to government leaders and policymakers worldwide. It feeds into the UN-led effort drawing in more than 190 nations for an agreement on limiting emissions.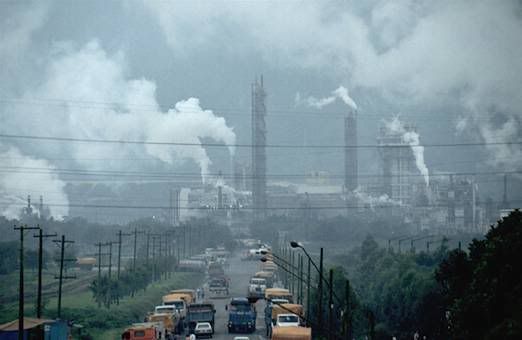 The Road to Ruin
UN Panel: Global Warming Human-Caused, Dangerous

By SETH BORENSTEIN AP Science Writer

The report says if the world continues to spew greenhouse gases at its accelerating rate, it's likely that by mid-century temperatures will increase by about another 3.6 degrees Fahrenheit (2 degrees Celsius) compare temperatures that are about 6.7 degrees warmer (3.7 degrees Celsius).

"The report tells us once again what we know with a greater degree of certainty: that climate change is real, it is caused by us, and it is already causing substantial damage to us and our environment," Pennsylvania State University climate scientist Michael Mann wrote in an email. "If there is one take home point of this report it is this: We have to act now."
Humans are approaching the climate's point of no return. How will national leaderships respond to this dire warning meant for their eyes only?
We're already seeing disturbing indications that we've already passed the point of no return.

Underwater methane gas plumes erupting along Atlantic coast

In an unexpected discovery, hundreds of gas plumes bubbling up from the seafloor were spotted during a sweeping survey of the U.S. Atlantic Coast.

Even though ocean explorers have yet to test the gas, the bubbles are almost certainly methane, researchers reported Aug. 24 in the journal Nature Geoscience.

"We don't know of any explanation that fits as well as methane," said lead study author Adam Skarke, a geologist at Mississippi State University.

Surprising seeps

Between North Carolina's Cape Hatteras and Massachusetts' Georges Bank, 570 methane seeps cluster in about eight regions, according to sonar and video gathered by the National Oceanographic and Atmospheric Administration ship Okeanos Explorer between 2011 and 2013. The vast majority of the seeps dot the continental slope break, where the seafloor topography swoops down toward the Atlantic Ocean basin. [Gallery: Amazing images of Atlantic Methane Seeps]

The Okeanos Explorer used sound waves to detect the methane bubbles and map the seafloor. The technique, called multibeam sonar, calculates the time and distance it takes for sound waves to travel from the ship to the seafloor and back. The sonar can also detect the density contrast between gas bubbles and seawater.
How can we be more persuasive to prompt our hopelessly self-centered elites to take urgent action?