Twenty-four years later: a look at the city of Berlin, Germany just before reunification, after the jump ....
But first: Top Comments appears nightly, as a round-up of the best comments on Daily Kos. Surely you come across comments daily that are perceptive, apropos and .. well, perhaps even humorous. But they are more meaningful if they're well-known ... which is where you come in (especially in diaries/stories receiving little attention).

Send your nominations to TopComments at gmail dot com by 9:30 PM Eastern Time nightly, or by our KosMail message board. Please indicate (a) why you liked the comment, and (b) your Dkos user name (to properly credit you) as well as a link to the comment itself.
From my twenties until early fifties, I ran several 5-k and 10k races a year. Never a good runner (I always finished in the last quartile for my age group) but it was a great incentive to stay-in-shape, plus I enjoyed the scenery, camaraderie and the chance to visit new towns and cities.
In the 80's I ran two marathons, including the NYC Marathon in 1985. Both were spectacles I was glad to have run ... yet having done them had no desire to do so again, as the amount of training needed was too much for me. And I would not have ..... but for a historical event I couldn't pass-up five years later. This was the running of the 1990 Berlin Marathon in Germany ... which for the first time in its history: would run into East Berlin.
The previous autumn of 1989, millions around the world had watched the Berlin Wall breached ... a sight many had not thought they would live to see happen.
And, I believe, history will say to his credit: George Bush the Elder decided that the reuniting of Germany was time to restore full sovereignty to that nation ... which Margaret Thatcher (and, somewhat secretly) François Mitterand opposed. Reunification was set for midnight of Tuesday, October 3rd, 1990 ... and the Berlin Marathon was held on Sunday, September 30 (just before it).
Yet I probably would not have entered had I not been a subscriber to New England Runners magazine. The then-publisher of the magazine (John McGrath) and his sports nutritionist wife Nancy Clark were hosts of a trip sponsored by Marathon Tours to run this marathon. While the Berlin Marathon normally drew 15,000 runners, interest was so high in this race they had to cap registration at 25,000.
But thanks to a deal arranged by Marathon Tours: any North American who signed-up (and paid) for this trip by June - including airfare, one common evening meal and either hotel or B&B accommodations - were guaranteed a place. The magazine ran several full-page ads for it and the more I thought about it .... the more I wanted to go. This was a chance to see history being made.
Alas, for an accountant: the beginning of the month is normally a no-go-zone (especially at the small office I was then working at, where we had to report results fairly quick). I could see that I could not stay for the actual reunification itself .... but I wanted to run in this event badly. So my boss agreed to do some of my early work for me, if I was back at work on October 2nd.
We took Pan Am out of JFK ... as Lufthansa was not allowed to fly into Soviet airspace before reunification. I stayed with a middle-aged woman named Erika Petzhold, who spoke serviceable English (and put-up with my feeble attempts at German). She cooked breakfast for me, even got me a day ticket for the subway (both the U-Bahn as well as the S-Bahn, which stopped near her home). She had an elderly father, whom I helped bring in his groceries ... and made a friend. Weeks later I wrote her a thank-you note and got back a reply, saying if I ever returned, she'd give me a nice price-break ... which I never availed myself of, alas.
At the Friday night dinner sponsored by New England Runners I got to meet John McGrath and Nancy Clark, plus runners from across North America. And they were able to clear-up something I saw earlier that day: buses with Polish lettering (as the Polish border is only about 40 miles away) with people bringing many electronics boxes (VCR's, receivers, etc.) onto the bus with them. Apparently, the old Soviet system did not have "customs" as we knew it (paying duties). But once reunification took place: they would have to pay duties crossing a border .. so this was their "last chance" for duty-free purchases.
I lost some of my photos years ago ... but here are some I still have:
Here is the Kurfürstendamm (aka Ku-damm), the main commercial street of West Berlin.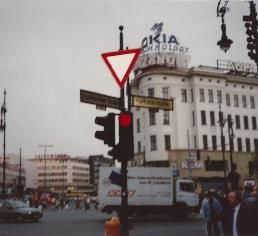 Helmut Kohl was in a (ultimately successful) re-election campaign as Chancellor for the Christian Democratic Union (CDU) Party. The words "Freiheit, Wohlstand, Sicherheit" translate as "Freedom, Prosperity and Security". Kinda bland by our standards today, huh?
Many familiar musical acts were appearing at the time.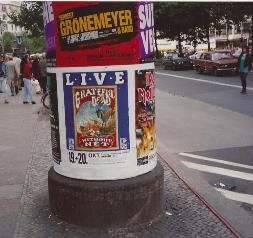 The Unter den Linden – "Under the Linden Trees" – a wide boulevard in East Berlin (not unlike Park Avenue in New York or Commonwealth Avenue in Boston).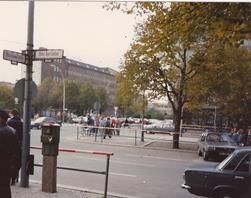 Here is the Brandenburg Gate – a national landmark in Germany. Note the barriers around its base: it was on the edge of East Berlin and after the fall of the East German state it underwent renovation (as it had fallen into neglect) that was nearly complete when I took this photograph on September 28th. Normally, there is a horse-and-chariot on top: it was taken down for cleaning, and was later restored to it (a few weeks later).

On race day, September 30th – we were the first people (other than the workers and dignitaries) who were allowed to cross underneath the Brandenburg Gate, after renovation was complete. Runners who were wearing jerseys with the red/white/black colors of Germany (2/3 of the runners were natives, the program said) clapped their hands with sheer joy as they passed underneath. I have no such ancestry .... yet I did feel a moment of awe as we crossed into East Berlin.
Below is the Kaiser Wilhelm Church – one of the few structures in Berlin to survive the Allied bombing campaigns, and it was left as intact as possible … to serve as a reminder of the effects of war.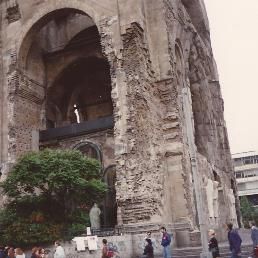 Most of the Wall (Die Mauer) had been taken down by the time of my arrival – but a few sections remained at the time of my arrival (note the strands of steel- reinforced concrete). There were plenty of folding tables set-up, with people selling parts of The Wall (along with surplus uniforms from East Germany's hated secret police, The Stasi). I made no purchases; it would probably have been cheaper to just buy a claw hammer and pound away.
Below is the Museum of Checkpoint Charlie – the main crossing point from West to East Berlin. Many exhibits told the tale of those who tried to escape, and also spoke of persecution world-wide (in several two languages). Worth seeing if you ever go to Berlin. By the way, on the East Berlin side there was a large security office … whose windows were all broken at the time I arrived there.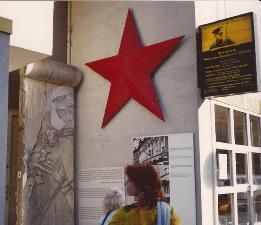 A memorial site to those who attempted to cross The Wall … and didn't survive.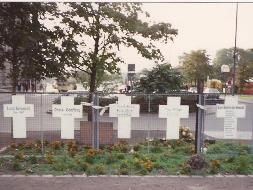 The day before the race, there was a Frühstück Lauf – (Breakfast Run) – a short 2k (1-1/4) mile run from the Charlottenburg Palace to the old 1936 Olympic Stadium (shown below). We were allowed onto the field, where some rolls, coffee, hot chocolate, etc. awaited us. Quite a nice touch.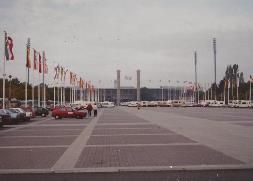 The address of the venue is Jesse-Owens-Allee (Avenue): honoring the African-American US track star who captured four gold medals while Adolf Hitler and Hermann Goering were in the stands. And his name is also inscribed onto one of the outside walls.
Today this venue is used mainly for soccer matches (the 2006 World Cup final between France and Italy took place there). But standing at mid-field: I was glad I had lost contact (in the rush) with not only some fellow American runners, but also the Danish runner I had spoken with on the last street before entering the stadium. I could not have shared my thoughts with anyone, wondering at the history of this stadium (imagining Hitler in the reviewing stand) .... and how the world was now about to change … once again.
You may not be able to see it well – but in the middle-center of the photo below) was the base of the old Olympic torch … and it was lit for us that day!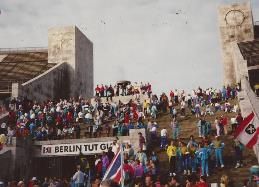 Later that day, there was a pasta party (sponsored by the Barilla firm of Italy) for athletes seeking to carbo-load before the next morning's race. And like the breakfast that morning, all included in our entry fee.
Race-day morning photo, taken just after I got off the U-Bahn stop at Ernst Reuter Platz to get to the check-in area. The day started off drizzly, yet dried-up soon enough. Good day for a race, cool and a tad overcast … and a relatively flat course.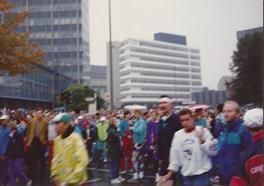 Alas, I could not break the 5-hour mark (as I had on a much more difficult course crossing many bridges in New York five years earlier). After I fetched my gear, I went to see some of the really, really late runners cross the finish line.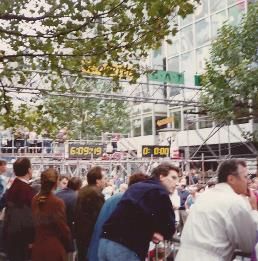 Here was the medal anyone who finished the race received: the flip side was dedicated to the Maine runner Joan Benoit Samuelson - who won the inaugural women's marathon at the 1984 Olympic Games.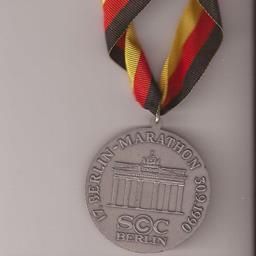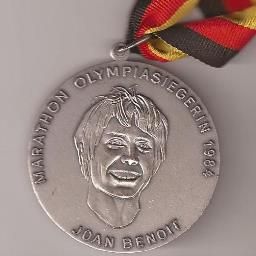 Incidentally, they set-up makeshift showers in the finish area: basically running garden hoses into large field tents. And as befits the different mind-set of Europeans: they did not segregate by gender, as one saw men and women showering near each other, handing bottles of liquid wash to each other. On the flight home, I recall more than one American or Canadian woman express trepidation over that. I didn't even shower (as it was cool out, just needed a towel to mop-up and I was just a subway ride away from a hot shower) ... but I could have assured them that - while there were a lot of things on my mind after the race - gawking would not have been among them.
Meanwhile, Wertheim Bank had this sign: "We salute all Marathon competitors".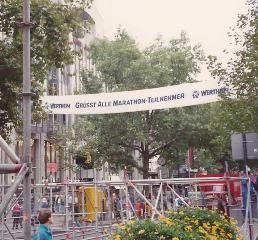 Although I could not stay for the actual reunification itself ... I felt like I had been close-enough. One truly felt the winds of change blowing ... and even as an American, the spirit touched me in a way that I still recall, lo these many years later.
Finally, this was not a photo, but a postcard I purchased. This references the long-time East German Communist leader Erich Honecker with these words:
"Erich, take the key out!" (Indeed)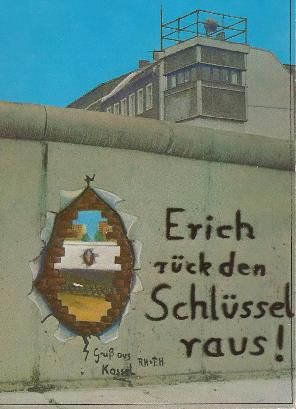 Let's close with a tune that is quite apropos for this story. At about the 5-mile mark, the race went into East Berlin for the first time in its history .... although it was only for a few minutes, I heard more cheering there than at any other part of the race. This was old hat to West Berliners .... but not there.
And going down one side street: I saw someone had placed their stereo speakers out the window so we could hear them. And wotta choice: playing an old Spencer Davis Group song (with a then-seventeen year-old Steve Winwood singing). I caught a glimpse of someone standing in that window, and just as the song's title came up: I raised my arms and shouted Keep on Running to him ...... quite an apt choice for a historic day.
Now, on to Top Comments:
-------------------------------------
From peregrine kate:
In the diary by Lollardfish about Living While Black - this comment by Onomastic could be posted in almost any diary, every day. Racism and its implementation, genocide, really are at the base of American culture - the original sin underlying all others since.
From
Avilyn:
In the diary by Vita Brevis about the upcoming book (including allegations of sexism) by Sen. Kirsten Gillibrand - this comment by kenwards is an excellent analysis of why complaints of sexism or white privilege are dismissed out of hand by the people holding said privilege - one of the best I've seen.
And from
Ed Tracey
, your faithful correspondent this evening ........
In the diary by teddywolf about the happy resolution of the power struggle here in northeastern New England of the Market Basket supermarket chain:

When Ekaterin says that "They just don't make CEOs like Artie T. anymore", up steps Samer to clarify the point very well.

And fat old man made the point succinctly (that many of us in the region had observed): that the new management brought in might have been able to crush the workers - but there was another group they could not simultaneously defeat.
TOP PHOTOS
August 27, 2014
Next - enjoy jotter's wonderful PictureQuilt™ below. Just click on the picture and it will magically take you to the comment that features that photo.


(NOTE: Any missing images in the Quilt were removed because (a) they were from an unapproved source that somehow snuck through in the comments, or (b) it was an image from the DailyKos Image Library which didn't have permissions set to allow others to use it.)


And lastly: yesterday's Top Mojo - mega-mojo to the intrepid mik ...... who rescued this feature from oblivion:

1) What a terrible first day of kindergarten to ha... by navajo — 224
2) This is what totalitarian states look like. by Richard Lyon — 156
3) Ok, I went through the by gchaucer2 — 143
4) My oldest child would have been devastated by voracious — 127
5) Jeeze Louize. by One Pissed Off Liberal — 120
6) yes, it IS a privilege and honor by Patriot Daily News Clearinghouse — 97
7) "Unacceptable" is putting it mildly by sfbob — 95
8) What. The. Hell. by voracious — 91
9) Yeah, one minute of dead air makes one by commonmass — 87
10) Nah, just a night owl by Rei — 87
11) Indians being raised as Indians, as Malachi... by Meteor Blades — 85
12) I get it entirely. by corvo — 84
13) Such a bizarre process by Joan McCarter — 83
14) Darien is part of the by gchaucer2 — 81
15) Another "Good guy with a gun"? eom by CrnkyOldMan — 81
16) As I commented just now elsewhere here by kovie — 80
17) Agreed by Big River Bandido — 80
18) Is there anything at all other than these by enhydra lutris — 79
19) How totally cool! Shanikka accidently let it by commonmass — 78
20) F*CK the police nt by a2nite — 76
21) Bad actions cloaked in a false populism by Dallasdoc — 75
22) Oh the kid's getting an education alright by sfbob — 74
23) No, this is not good. by Rei — 73
24) Nobody hits the reclist as fast as Rei these by Timaeus — 72
25) His very first lession was in racism by Puddytat — 71
26) Woot! What a wonderful birthday surprise by Denise Oliver Velez — 69
27) I Don't Get Why by Superpole — 67
28) As a Seminole, I have a few other issues... by Meteor Blades — 67
29) Hillary's silence is deafening. by TomP — 66
30) IIRC, after the February vote, VW made it clear by AJayne — 65