For the benefit of a national audience, Minnesota's Republicans won the state house in 2014. The Democrats hold the senate and we have a Democratic governor. The legislative session just ended stalemated on several issues including tax cuts. We're projected to have a $1.9 billion surplus. Cross-posted at MN Progressive Project.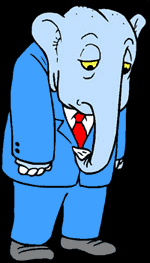 There's some schadenfreude to be sure in the self-inflicted problems some Republican state governments are having with budget shortfalls, but there's also a need to think and fact-check before speaking it aloud. Why start an "we told you so" sort of post with a "maybe not" sort of warning? Because as true as it is that Republicans caused some shortfalls with ill-advised but ideologically correct tax cuts, this is partly fallout from the precipitous decline in oil prices.
Plus it's not fun to think about the problem getting even worse and Republicans taking the opportunity to inflict even more dysfunction on government than they have already. From an AP review of state budgets:
Alaska relies heavily on oil revenue and projects a $3.2 billion budget shortfall for the coming fiscal year. A special legislative session has been called after lawmakers failed to agree on a way to fund the budget, even though the state has plenty of money in reserves to cover the gap.

That's not the case in Illinois, where lawmakers are trying to figure out how to close a $6 billion projected shortfall for the next fiscal year, due largely to the expiration of a temporary tax increase.

Republican Gov. Bruce Rauner, who campaigned against the tax plan, has suggested cuts to health care, local governments and other areas. But lawmakers in the Democratic-led General Assembly say spending cuts alone will not close the gap.

In Kansas, the Republican governor and GOP-dominated Legislature now confront budget deficits after aggressive tax cutting that prompted them to reduce school funding this spring.

Districts across the state have cut staff and programs such as summer school, and at least eight are ending the current school year early to save money.
Illinois, what were you thinking electing Gov. Ideologically Rigid Rich Guy With No Prior Political Experience? You just loved how that worked out in other states? Kansas has been the poster child of conservative ideologically correct upper income tax cuts, but Wisconsin got lucky the AP couldn't give more than a sample of states, since Wisconsin has its own shortfall roughly equal to its own conservative ideologically correct upper income tax cut. Minnesota's healthy condition missed getting a mention, with just Colorado and California serving as examples of fiscally healthy states, and the writer missed explicitly pointing out that states that raised taxes were doing better than those cutting, leaving it to readers to know that's what these states did.
Yes, tax increases at the top have made us better off, and getting to hear taxophobes scream is merely a bonus. Predictably, Minnesota's legislative Republicans want to inflict tax cuts for rich guys on us; even though their proposed tax cut is bigger than the projected surplus, part of which they propose to spend; even though the projections were made before a couple recent economic shocks, about which more in a bit; even though the surplus is just for this one biennium; even though tax cuts during surpluses blewback on us before. And of course, they want to do this despite seeing the readily avoidable problems other states inflicted on themselves.
Why the note of warning at the beginning about checking before saying "we told you so"? Not every shortfall was caused by tax cuts, or at least not recent tax cuts. States dependent on revenue from oil production have been hammered by the sharp drop in oil prices. The article mentions Alaska, but it could have mentioned North Dakota, and oil prices being something state governments don't control, no one can really claim to have told them so except maybe in the sense that liberals generally think dependence on just one tax is a dangerous idea. If some economic shock affects your one revenue source, the cash flow stops like your oil stops when the pipeline bursts (actually, the literal oil just stops for you, whereas for those near the pipeline break...). Minnesota has a diversified economy and tax system, which is good since we're getting hit by a couple non-self-inflicted shocks ourselves.
Minnesota doesn't have oil, but we do produce a lot of iron, or did. Some deflation of China's construction bubble has caused a sharp drop in demand for steel, and steel producers had built up inventory that they now can't sell, which means they don't need any more iron, which sucks if you mine iron. Thus the closure of iron mines in Minnesota's northeast. I don't know how big iron mining is compared to the whole state economy, so the effect on the state government's revenues might be small ... but it can't be good. Likewise an avian flu is devastating the turkey industry. Minnesota is the country's biggest turkey producer, but I don't know how big turkeys are in the Minnesota economy. So again, the effect could be small, but it can't be good; thus why I like to stress the "projected" regarding the projected surplus. We may have more in common with the oil patch than we'd like.
I can't say my heart broke when our divided government couldn't agree on what to do with the surplus and left an estimated billion sitting there when the legislative session ended. If the surplus materializes, that cushion will be nice should the economy weaken. I hope Gov. Dayton wins on establishing universal pre-k, because education is always a good investment and the achievement gap is best attacked early on, but if we can't have that, sticking the surplus in the treasury is a nice consolation prize. If only our MNGOP legislators could learn from history and experience about the effect of conservative fiscal policies, because then they ... well, I guess then they wouldn't be Republicans.