Our work with Illinois Media Progressives has given us the opportunity to meet some of the most dedicated and quality people in the health care reform movement. From Rep. John Conyers, IL Rep. Mary Flowers, Kay Tillow, Dr. Claudia Fegan, the list is long.
With the call out for house parties on the President-Elect's site, change.gov, we had the opportunity, much to our delight and excitement to speak to and videotape a message from Dr. Quentin Young, National Coordinator for Physicians for a National Health Program, PNHP.
-Catjab and Ozzie
For those of you unfamiliar with Dr. Young, he has been a tireless advocate for single payer health care for over twenty years, but that is just one item on a CV that includes:
- Practicing medicine for over sixty years (he's recently retired)
- President of the Medical Committee for Human Rights,(physicians who traveled to treat victims of racial violence)during the most tumultuous years of the civil rights movement, 1963-69
- Personal physician for Dr. King when he was in Chicago (Dr. Young was marching alongside Dr. King when attacked in Chicago. Can you think of a better guy to be next to you when you're hit by a brick?)
- Chair of the Chicago Health Department under Mayor Harold Washington, and personal physician to Studs Terkel, and Mike Royko as well
Doc Young celebrated his 85th birthday this year, and his energy and enthusiasm puts us both to shame. Take it away, Doc!

But we're just barely scratching the surface.
Thanks to DrSteveBfor this awesome diary on our Hero.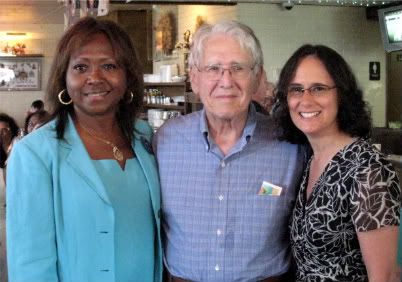 Dr. Young with IL Rep. Mary Flowers and IL Atty. General Lisa Madigan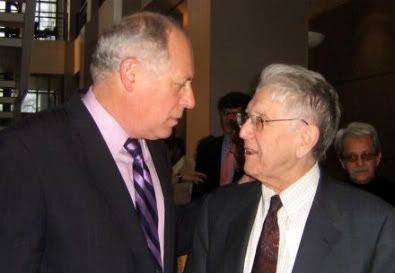 Dr. Young and IL Lt. Governor Pat Quinn
We're honored to introduce Dr. Quentin Young to Daily Kos.
Please join us in welcoming him, in what is his very first foray into blogging.
He's generously given us this time to answer your questions and share his experiences.
Find out what you can do.