Melody Townsel's quilt, "Water Wheels"
Imagine feeling unsafe sleeping in your own bed – frightened and depressed. That has been the unfortunate condition of our ramara for a long time now. Her adopted son, now an adult, suffers from fetal alcohol syndrome. He has addiction and behavior problems and has repeatedly invaded the house and done violent damage to it. Her synagogue has helped her by buying bars for her windows. Yet the memories of past invasions linger and ramara has trouble relaxing in her own home, even though it is now more secure. It's a terrible situation for she loves her son very much. He can't help his behavior -- this, tragically, is the damage fetal alcohol syndrome can do.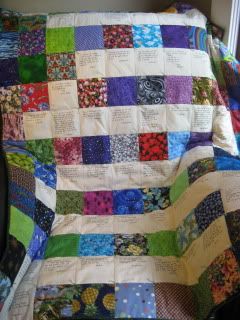 Riverlover's quilt, "A River Runs Through It"
Ramara's bedroom is still full of shattered glass from one of his attacks -- she has not had the emotional energy to clean it. She sleeps in the living room with one ear open. This is not real rest. This is not the healthiest situation for someone who has survived kidney cancer, as ramara has done. It's not good for depression, either.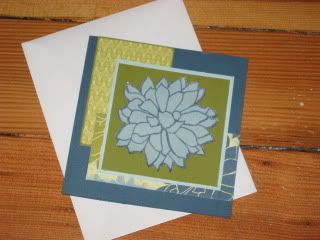 Handmade card for Melody Townsel, by Blue Heron
My wish for ramara is a serene, comfortable place to sleep – her room, all cleaned up, with a cheerful, community quilt on the bed, full of good wishes from her friends. Let's bless her space with words of love so she can get restorative sleep, every night, and awaken with peace in her heart. I just know that, starting tonight with your kind messages, ramara is going to feel a lot more confident about the sanctity of her home!

Melody Townsel's quilt, showing backing fabric
I figure the cost of making these quilts at about $5/message – this is for materials and a bit of our time. If you would like to contribute, here is a PayPal button – or email me for a snail mail address if you prefer to write a check. If you can't afford to contribute, please leave a message anyway – it will have incalculable value for ramara. It's the messages that make this project work the way it does.
We are working on assembling dadanation's quilt now (see below for a picture of the blocks that will form the top and bottom of his quilt). I'll be transcribing Larry Bailey's messages next. We are still collecting messages for Louisiana 1976.
Here are the quilts completed to date:
othniel (cellulitis and ensuing complications)
exmearden (cancer of heart and lung)
MsSpentyouth (brain tumor)
Moe99 (lung cancer)
Michelle Caudle (ovarian cancer)
BFSkinner (lupus)
Kitsap River (waiting for kidney donor)
Frederick Clarkson (blood clots)
Dreaming of Better Days (lymphoma)
one bite at a time (lost house and belongings to fire)
Timroff (cellulitis)
Sol Fed Joe (multiple cancers and health problems)
Brubs (AIDS, immune reconstitution syndrome)
rserven (gall bladder infection with dangerous complications)
grndrush (brain tumor)
ImpeachKingBushII (needs liver transplant)
andsarahtoo (lupus)
Frank Cocozzelli (muscular dystrophy)
luvsathoroughbred (breast cancer)
Predictor (stroke and HIV)
Theodore Olbermann, RIP
cskendrick (antibiotic resistant infection)
Keith Olbermann (caregiver to father)
Juan (cancer)
Ana (a young horse belonging to Juan, hit by truck)
MA Liberal's mother (Alzheimer's)
Charles CurtisStanley (caretaker to Kitsap River)
Lorikeet (cervical cancer)
Dr. Lori (metastatic cancer)
ulookarmless (cancer, heart condition, stroke)
riverlover (caregiver to husband suffering from liver failure)
Melody Townsel (caregiver to dying father, now deceased)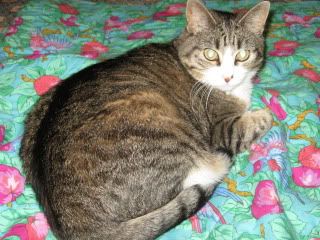 Boots checks Lorikeet's quilt for comfort
Future quilts are planned for:
SarahLee (lymphoma and Lyme disease)
stumpy (MS and paralyzing stroke)
DaNang65 (heart disease)
Ellinorianne (rheumatoid arthritis and fibromyalgia)
UnaSpensor (Lyme disease)
MA Liberal (caretaker to her mother who has dementia)
labwitchy (diffuse scleroderma)
paradox (cyclical vomiting syndrome, PTSD, depression)
Namaste