I had not intended to put up a quilt diary until the quilts for dadanation and Larry Bailey were done (they will be, soon) – but Carolita contacted me last night about an immediate need and I did not want to delay. Dr. William Harrison is closing his women's clinic due to his own serious illness. This is an urgent quilt request.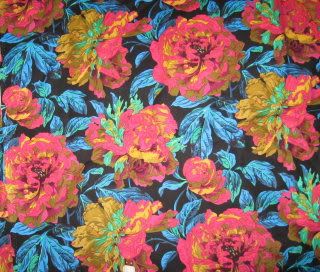 Backing fabric for Larry Bailey's quilt
Dr. William F. Harrison, so well known here for his defense of women's reproductive rights and as a friend of the late Dr. George Tiller, is gravely ill with leukemia. To truly add insult to injury, this kind and gentle man has had anti-abortion groups wish him ill in a most hateful manner. Let us do the opposite – let us send him wishes of love, respect, and healing, to be transcribed by me in archival ink and sewn into a quilt. Please leave a message in the comments below for inclusion in the quilt. This blanket will be soft, warm, and full of good feeling -- a real "love catcher". It is a good way to send the doctor our community hugs, so that he will have them always.
I figure the cost of making these quilts at about $5/message – this is for materials and a bit of our time. If you would like to contribute, here is a PayPal link – or email me for a snail mail address if you prefer to write a check. If you can't afford to contribute, please leave a message anyway – your message will bring immeasurable comfort to Dr. Harrison and the community will surely support your giving it to him by chipping in. This is a community effort and the mojo is in the messages!
Some updates: The quilting is almost finished on dadanation's quilt. Larry Bailey's messages are transcribed and I'll begin laying out the fabric squares for his quilt today. We are still collecting messages for Louisiana 1976 and also for ramara.
Here are the quilts completed to date:
othniel (cellulitis and ensuing complications)
exmearden (cancer of heart and lung)
MsSpentyouth (brain tumor)
Moe99 (lung cancer)
Michelle Caudle (ovarian cancer)
BFSkinner (lupus)
Kitsap River (waiting for kidney donor)
Frederick Clarkson (blood clots)
Dreaming of Better Days (lymphoma)
one bite at a time (lost house and belongings to fire)
Timroff (cellulitis)
Sol Fed Joe (multiple cancers and health problems)
Brubs (AIDS, immune reconstitution syndrome)
rserven (gall bladder infection with dangerous complications)
grndrush (brain tumor)
ImpeachKingBushII (needs liver transplant)
andsarahtoo (lupus)
Frank Cocozzelli (muscular dystrophy)
luvsathoroughbred (breast cancer)
Predictor (stroke and HIV)
Theodore Olbermann, RIP
cskendrick (antibiotic resistant infection)
Keith Olbermann (caregiver to father)
Juan (cancer)
Ana (a young horse belonging to Juan, hit by truck)
MA Liberal's mother (Alzheimer's)
Charles CurtisStanley (caretaker to Kitsap River)
Lorikeet (cervical cancer)
Dr. Lori (metastatic cancer)
ulookarmless (cancer, heart condition, stroke)
riverlover (caregiver to husband suffering from liver failure)
Melody Townsel (caregiver to dying father, now deceased)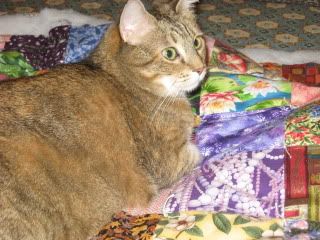 Goldie inspects MA Liberal's mother's quilt
Future quilts are planned for:
SarahLee (lymphoma and Lyme disease)
stumpy (MS and paralyzing stroke)
DaNang65 (heart disease)
Ellinorianne (rheumatoid arthritis and fibromyalgia)
UnaSpensor (Lyme disease)
MA Liberal (caretaker to her mother who has dementia)
labwitchy (diffuse scleroderma)
paradox (cyclical vomiting syndrome, PTSD, depression)
Namaste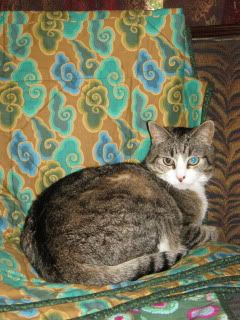 Boots tests Juan's quilt for comfort