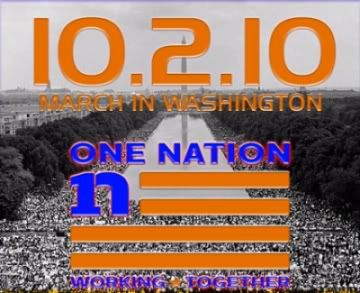 It started as an idea which grew into a
notion and became a dream that spawned
an inspiration and then, a few days ago, it became a reality...
ProgressiveSponsor.com went online!
Though the site was up, it wasn't complete. But the pre-launch went very well and we
got some fresh faces in. Then, within 2 hours
of it going online, we had a sponsor of $100 through the site. And unbelievably, it was sponsored completely anonymously.
The sponsor was so altruistic as to reject even a simple acknowledgment of their generosity, as they most certainly deserved.




It has been a humbling experience and today I'm extremely pleased to announce that the site is now complete. I only hope it will grow to become a resource for Progressives everywhere!



This experience has been an emotional roller coaster - from the lows of trying to figure out how to make the site work, to the highs of sponsors coming in - one I will cherish for the rest of my life.
Whether or not I ever get enough sponsorship for my own personal wish, the profound acts of kindness I have witnessed during this sponsorship drive has been nothing short of inspirational.
I am in awe of the Progressive community. My personal thanks to everyone who has supported the sponsorship drive by RECing and TIPing the diaries, and commenting in them, and with your sponsoring, of cours!.
Thank you all so very much!




When Geenius at Wrok first posted his diary, Sponsor a Marcher in DC, I had serious doubts, but within hours I was a true believer. I commented on his diary, asking for sponsors, and in those few hours six people contacted me and two of them went on to sponsor my trip to DC. I was totally blown away, and still am. I now have five sponsors, four of which were of the original six who contacted me, and am over the top and more than half way to my goal. I also have accommodation offered by not one but two different people!
People I have never met and who don't know me, except for my diaries and comments here on KOS, are helping me to achieve my wish and are offering to welcome me into their home. That's fantastic! To me, that is the kind of generosity which is a fundamental pillar of our humanity - a willingness to help others with little or no recognition and no gain to themselves.
That it infuriates the Glenn Becks and Michele Bachmanns on the right is a bonus.
Progressives helping progressives turn out to events in support of our Democratic ideals. Giving voice to our message with a visible demonstration of our determination to not allow those who deal in lies and fear to once again turn this country back to times which we are ashamed to have in our past, but which are yet threatening to return as our future.
We must not allow those of bigotry and hate, indifference and injustice, division and divisiveness to go unchallenged in the public square. We must not allow only their message to get through to those who's decisions in November will determine the future course of our nation.
But our problem is that those who have the time to attend events are often short of resources, both generally for the same reason: having been laid off or being otherwise unemployed or underemployed.
Thus the idea was born: if those with the means to attend, but who can not because of other comitments and responcibilities, would be willing to help those who would proudly go for them, in their place as it were, then we could drive turnout and increase our presence, and our voice.
And so it was suggested by some that we organize and from there came ProgressiveSponsor.com, a place for progressives to support progressives.





ProgressiveSponsor.com is a free service and not for profit in any way. We do not collect any fees and all sponsorships go to those needing assistance. All services have been donated while time and effort on the site is strictly voluntary.
If you would like to be at the event and have the means, but find yourself unable to attend, would you please consider sponsoring someone to attend in your place? While we're always excited and will certainly accept larger sponsors, which can help more people, we're not asking anyone to break their budget. A sponsor of $20 is wonderfully generous in our opinion and five of them is as good as a $100 sponsor, ten are $200.
We have had some of the larger sponsors, of which we are extremely grateful, but every little bit helps someone achieve their wish and times are tough. No sponsorship is too small and is greatly appreciated by the recipients. A lot of a little is still a lot!
If only we can get enough people participating we could be a strong force, a true grassroots force on the side of progressivism and a tool in the fight for social justice and equality.
If you would like to help ProgressiveSponsor in any way, any way at all, please contact me. My email is in my profile and there is a contact link on the site.






If you are trying to go but are coming up short, please post a request. And if you can't go but wish to be a part and support someone who can be there, please post an offer. Alone we are weak, but together we are strong. Let's be strong!
I'm begging enough already, but one more: if you are unable to sponsor someone but wold still like to help then please, if you support this idea, REC this diary. Maybe leave a comment and tell your friends? Any help to get the word out will be great. It will only work if people participate and they can't participate if they don't know about us.
If there is anyone with any connections can you please put in a word that we could use some help? There are thousands, tens of thousands, and quite possibly hundreds of thousands of people out there who would like to be involved, if only they had the support structure to get there. We can be that support structure, but only if we care, spread the word and get involved. And I'm just one man, with a wish.
Thank you for all you do - may your preferred Deity bless you! :¬)




Thanks for taking the time to read my Diary :¬)
Comments, TIPs and RECs are accepted gladly