Hat tip to navajo for photo of Aji
Our sister Aji is kind to everybody. Whenever one of us has a problem, she is there, offering help. This lady has a huge heart of gold. And she is suffering so much, herself. Let us wrap her in our love and do what we can to soothe the pain away.
Aji has a series of autoimmune disorders, including fibromyalgia, inflammatory arthritis, and Chronic Epstein-Barr Virus Syndrome. She lives in constant pain. Worse, she can no longer take the medicines to control her conditions -- her liver won't take it any more. She has also been living under great stress. Through no fault of their own, she and her husband have recently lost their house and their vehicle and are now living in a borrowed mobile home, one that was not cleaned properly before it was lent. It is a cold winter and the cold and the stress are not good for Aji.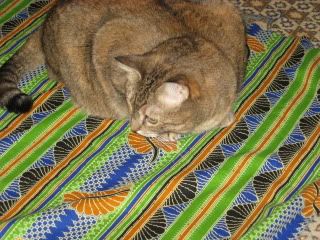 Goldie inspects mango's quilt backing fabric
Aji's pain is terrible. If you have ever suffered from a chronic pain you know that constant pain colors the world -- and not in a good way. It can lead to despair which in turn deepens the pain. It is a bad cycle to be in -- let us see if we can help Aji break it.
Let us wish for all good things to flow to our sister, Aji, in great abundance. May she have everything she needs -- and then some. Let the time of suffering end and a new day of joy and feeling good in her body begin. Let us shower her with love and good wishes for every aspect of her well being. Let us capture those wishes in a Love Catcher quilt, something Aji can use everyday to keep our love close to her, a constant reminder of how cherished she is by so many people.
What is a Love Catcher? It is a quilt containing messages from you, transcribed by me in archival ink on muslin. It is a patchwork of love that cannot wash out -- not ever.
I figure the cost of making these quilts at $5/message -- this covers materials and a little bit of our time. If you would like to contribute to this quilt, here is a PayPal link -- or email me for a snail mail address if you prefer to send a check. Don't worry if you cannot contribute money, though. Your message is worth gold -- and it will benefit Aji for years to come.
These are the quilts we have finished to date:
othniel (cellulitis and ensuing complications)
exmearden (cancer of heart and lung, RIP)
MsSpentyouth (brain tumor)
Moe99 (lung cancer)
Michelle Caudle (ovarian cancer)
BFSkinner (lupus)
Kitsap River (waiting for kidney donor)
Frederick Clarkson (blood clots)
Dreaming of Better Days (lymphoma)
one bite at a time (lost house and belongings to fire)
Timroff (cellulitis)
Sol Fed Joe (multiple cancers and health problems)
Brubs (AIDS, immune reconstitution syndrome)
rserven (gall bladder infection with dangerous complications)
grndrush (brain tumor, RIP)
ImpeachKingBushII (needs liver transplant)
andsarahtoo (lupus)
Frank Cocozzelli (muscular dystrophy)
luvsathoroughbred (breast cancer)
Predictor (stroke and HIV)
Austex54 (caretaker to othniel)
Theodore Olbermann, RIP
cskendrick (antibiotic resistant infection)
Keith Olbermann (caregiver to father)
Juan (cancer)
Ana (a young horse belonging to Juan, hit by truck)
MA Liberal's mother (Alzheimer's)
Charles CurtisStanley (caretaker to Kitsap River)
Lorikeet (cervical cancer)
Dr. Lori (metastatic cancer)
ulookarmless (cancer, heart condition, stroke)
riverlover (caregiver to husband suffering from liver failure, now widowed)
Melody Townsel (caregiver to dying father, now deceased)
dadanation (AIDS)
Dr. William F. Harrison (leukemia, RIP)
Larry Bailey (sudden loss of partner to heart attack)
ramara (adopted son with fetal alcohol syndrome)
Noor B (herniated disk from car accident)
Louisiana 1976 (fibromyalgia, severe arthritis, depression)
stumpy (MS, stroke, RIP)
bleeding heart's niece (cancer, RIP)
escapee (failure of corneal surgery)
SarahLee (lymphoma, Lyme Disease)
Bustergirl (ovarian cancer)
mimi's niece (cancer)
ZenTrainer (breast cancer)
Miss Blue (severe injury to shoulder, anxiety over coverage for surgery)
Granny Doc (bladder cancer)
mango (heart attack)
nudger (ovarian cancer)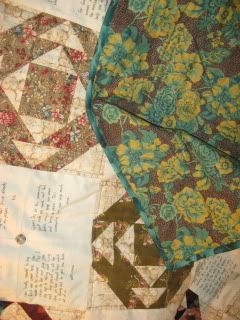 Granny Doc's quilt, showing the backing fabric
We are currently working on Lt. Choi's quilt. We have also collected messages for DaNang65 and Nurse Kelley.

Betty inspects the basting of mango's quilt
MsGrin (life long heart problems requiring multiple surgeries)
Otteray Scribe (caregiver to multiple family members)
UnaSpensor (Lyme disease)
MA Liberal (caretaker to her mother who has dementia)
labwitchy (diffuse scleroderma)
paradox (cyclical vomiting syndrome, PTSD, depression)
Stranded Wind (Lyme Disease and other health issues)
woodtick (caretaker to mother who has Alzheimer's)
Ellinorianne (rheumatoid arthritis and fibromyalgia)

Boots says, "Thank you for supporting the Community Quilt Project!"
PAYPAL LINK FOR AJI'S QUILT -- THANK YOU!

SarahLee's quilt, showing backing fabric
Namaste
P.S. Aji's husband, Wings, makes exquisite silver jewelry. Treat yourself to something beautiful -- your order will help Wings and Aji get through a rough patch and help keep them warm this bitter winter.