Via TPM and Mark Blumenthal at HuffPo come the results of a new poll conducted by Greenberg-Quinlan for the AFL-CIO on the Wisconsin union-busting battle. Though the poll itself is not yet available online, Blumenthal provides a detailed breakdown of its questions and the results. The short version? It's not even close: we're kicking Walker's tail.
Here is Blumenthal's graphic representation of how the different players are perceived in Wisconsin: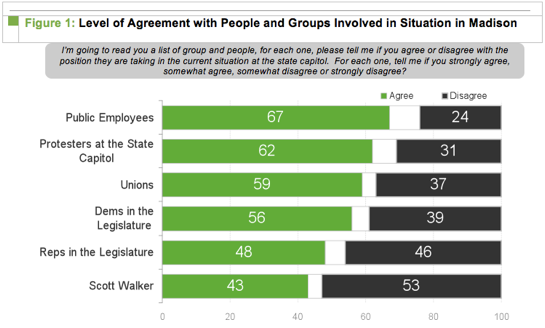 Greenberg-Quinlan also asked respondents specifically about Walker's plan, with the question providing a detailed description of exactly what Walker is proposing to do:
As you may know, Governor Scott Walker recently announced a plan to limit most public employees' ability to negotiate their wages and benefits. The plan cuts pension and health care benefits for current public workers, and restricts new wage increases unless approved by a voter referendum. Contracts would be limited to one year, with wages frozen until a new contract is settled. In addition, Walker's plan also changes rules to require collective bargaining units to take annual votes to maintain certification as a union, stops employers from collecting union dues, and allows members of collective bargaining units to avoid paying dues. Law enforcement, fire employees and state troopers and inspectors would be exempt from the changes.
The plan doesn't fly with the good folk of America's Dairyland: only 42% support while a full 52% oppose Walker's power grab. Intensity favors our side as well, because while there is 24% strong support for the plan strong opposition came in at 41%.
More tidbits from the poll, Walker's job approval is a net negative ten points, 41%-51%, his favorability is also net negative 10, 39%-49%, but Senate Dems have a net positive favorability of 9 points, 47%-38%.
Polling for this survey was conducted last weekend, on February 19-20, coincident with the big rallies at the State Capitol. Wisconsites are paying attention, and they don't like what they see from their governor. (MB's APR today linking to editorials from around the state confirms what we see in this poll data.)