Please don't let the dates fool you, this is NOT Ancient History.
What with the Tea Party's jump start -- Karl Rove's grand plan has half a chance of actually working this time around.
Who says ... EVERYONE deserves an equal chance to vote ... ?

Prosecutor says voter fraud cases languished
Milwaukee police chief defends handling, says most complaints were errors
By Larry Sandler of the Journal Sentinel -- June 7, 2010

Assistant District Attorney Bruce Landgraf said he referred 96 fraud cases to Milwaukee police between December 2008 and January 2009. He said his review of police reports found "no substantial investigation" of all but four cases for the first six months of 2009.
[...]

But Milwaukee Police Chief Edward Flynn defended his department's handling of the probes. Flynn denied that police dragged their feet and gave his most detailed account yet of the controversy surrounding a report on 2004 election irregularities.
[...]

Flynn said his department investigated the cases and had cleared most of them, finding that many of the irregularities stemmed from errors by voters or poll workers, rather than deliberate attempts at fraud.
Yeah But -- we know someone is running a Chicago Ballot Stuffing operation out there somewhere ... It's those Acorn people ... they're behind it. I heard it on the TV, it's got to be true ...


Ah yes, ACORN the source of all that's wrong with their GOP Tea Party ideal world ...
Rotten Acorn: Voter Fraud Map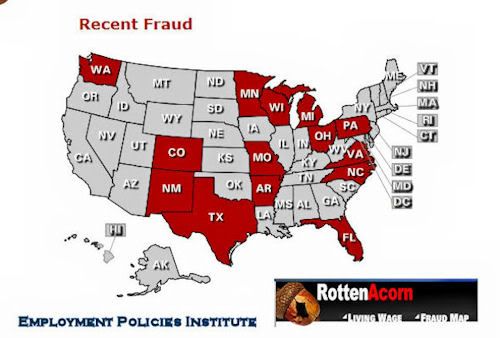 larger
Recent Fraud
State Year Details
AR 1998
A contractor with ACORN-affiliated Project Vote was arrested for falsifying about 400 voter registration cards.

CO 2005
Two ex-ACORN employees were convicted in Denver of perjury for submitting false voter registrations.

CO 2004
An ACORN employee admitted to forging signatures and registering three of her friends to vote 40 times.

CT 2008
The New York Post reported that ACORN submitted a voter registration card for a 7-year-old Bridgeport girl. Another 8,000 cards from the same city will be scrutinized for possible fraud.

FL 2009
In September, 11 ACORN workers were accused of forging voter registration applications in Miami-Dade County during the last election. [...]

[many more 'suspected cases' are listed ...]

That Army of Acorn Voter Fraudsters -- They are swinging elections to the Democrats, I tell ya.
What with all the Mickey Mouses and Donald Ducks showing up to Vote. Most Cartoon Characters lean towards the Left, don't you know.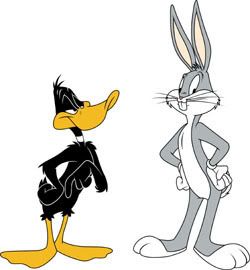 Oh yes, dear rational readers, it looks like we got another Front Group to worry about -- Employment Policies Institute -- Jeesh these things are springing up like ... Acorns.
Say hello to the big money players, behind the scary tactics of Rotten Acorn ...

Tactics designed to STOP rampant Phantom abuses like these:
TMP investigates Voter Fraud
By Josh Marshall, talkingpointsmemo -- 04.12.07

Since President Bush came into office, the Justice Department has made 'voter fraud' prosecutions a high priority. Yet, not for lack of effort, they've barely been able to find any examples of it. The grand effort has boiled down to a program to send a few handfuls of folks -- mainly black -- to jail for what are in almost every case notional or unintentional voting infractions.
[...]

But the government actually lost a stunningly high percentage of even those cases because they were so weak.

Cynthia C. Alicea, 25, was indicted for double-voting. The evidence was that election officials found she'd registered to vote twice. She was acquited because it turned out election officials told her to fill out another card because the first one had been filled out wrong. Pretty lurid stuff. There was no evidence she'd ever voted twice. The other three people indicted in Milwaukee for double voting were acquited too.

Out of the tiny number of bona fide voter fraud cases, the great majority fall into two categories. The first are cases where workers hired in voter registration drives appear to sign up non-existent people to get paid more money from the sponsors of the drive. The actual examples of this are exceedingly rare. But since the people don't exist, no one ever shows up to vote in their name.

The second are felons or parolees who either register to vote or actually vote, in most cases not knowing they're not eligible to vote.
[...]

Republican party officials and elected officials use bogus claims of vote fraud to do three things:

1) to stymie voter registration drives and get-out-the-vote efforts in poor and minority neighborhoods,

2) purge voter rolls of legitimate voters and

3) institute voter ID laws aimed at making it harder for low-income and minority voters to vote.

Guess What -- THEY'RE BACK!
The GOP Forces battling forth to Conquer that Phantom of 'Voter Fraud' coming to a "good neighborhood" near you ... look out!

Over in Kasich's Kingdom they just managed to push through a new Photo ID Law for Voters, that stands to block 890,000 Ohioans from voting!
THAT is 7.5 times MORE people than was the difference in the 2004 Presidential Election, where George Bush edged out John Kerry, in Ohio -- by only 118,601 Votes.
That'll teach em STOP em!

And other right-leaning states are looking to do much the same as Ohio -- to stamp out this Non-existent problem -- that the GOP has been demonizing as Voter Fraud for years now:
REPORT: In 22 Statehouses Across The Country, Conservatives Move To Disenfranchise Voters
thinkprogress.org -- Mar 5th, 2011

In statehouses across the country, Republican lawmakers are raising the specter of "voter fraud" to push through legislation that would dramatically restrict the voting rights of college students, rural voters, senior citizens, the disabled and the homeless. As part of their larger effort to silence Main Street, conservatives are pushing through new photo identification laws that would exclude millions from voting, depress Hispanic voter turnout by as much as 10 percent, and cost taxpayers millions of dollars.
[...]

New Hampshire, Minnesota, N. Carolina, S. Carolina, Wisconsin, Texas, Missouri, Kansas, Colorado, Tennessee, Iowa [...]

OTHER STATES: The Montana House passed a voter ID bill last month and similar laws have been introduced in Connecticut, Maine, Alaska, Maryland, Virginia, New Mexico, Alaska, Illinois, Iowa, Montana and Nebraska. And in a number of states — including Colorado, Oregon, South Carolina and Tennessee — conservative lawmakers have introduced bills requiring proof of citizenship to register to vote.

"Voter Fraud" it's one of those "household terms" thanks to Fox News -- a problem that No One has proven even exists, by the way ...
Here's another democracy term that needs to become much more common, in households around America:
Disfranchisement
From Wikipedia

Disfranchisement (also called disenfranchisement) is the revocation of the right of suffrage (the right to vote) of a person or group of people, or rendering a person's vote less effective, or ineffective. Disfranchisement may occur explicitly through law, or implicitly by intimidation or by placing unreasonable registration or identification impediments in the path of voters.

Not everyone drives a car ... as we saw with Katrina and all those Buses.
SOOO ... Not everyone has a Photo Id. Strange as the may seem to most us.
Some people are stuck in poverty. Some people prefer public transportation.
Some people are students, again without cars during this phase of their very displaced lives.
Some people are seniors, with limited mobility or awareness of current events.
Some people are homeless, they may have a car, but they are probably living in it.
Some people are too busy, just trying to survive, to keep up on what their state legislatures are doing to restrict their rights.

Let's hope they ALREADY have one of the 4 "valid" form of Photo ID -- that Ohioans must have, in order to Vote. (even though nearly a million of them don't)
Ohio House Passes Nation's Most Restrictive Voter ID Law
wegoted.com -- 3/25/2011

They must show an Ohio driver's license, state ID, military ID or passport.

Let's hope they don't make the godawful mistake, of somehow registering twice to Vote ... like when you move or lost your Voter Registration Card.
Wait a second, if you are registering to get a new State ID -- which ID do you use to vote with? Isn't that double counting. I'm so confused ... and I thought those New-fangled Voting Machines were bad!

And Ohio citizens, Ohio residents you Ohio Occupants -- about those old Voter Registration cards you have tucked away in your wallets or purses -- I hear they make most Excellent Bookmarks, so don't throw them out just yet.
Only in America, land of free, and home of brave -- where you don't really exist unless, your Government has your Mug Shot, and says you exist.
Next!
Take a number, get in line. Don't make a mistake.

Or else ... No Soup for you! ... Don't forget your Mug Shot.