Life & living are inextricably interwoven with a myriad of conditions, perceptions, depths and colors: challenges, complications, victories, defeats, love, laughter, sadness, joy - these are but a sample of the palette that the tapestry draws upon. The pattern of our existence is perhaps one of the most beautiful canvases ever created, one that each of contributes to and yet few can ever truly step back to view or appreciate. We occasionally catch a glimpse of this beauty if we are lucky, usually (in my experience, at least) when our particular patterns & threads are laid down alongside those of others, particularly when new colors & depths are introduced.
Simply speaking, sometimes we learn to appreciate the depth & level of caring in our lives when we see it expressed through the actions of others. For some, this comes through the interaction of and with pets - our "fur families."1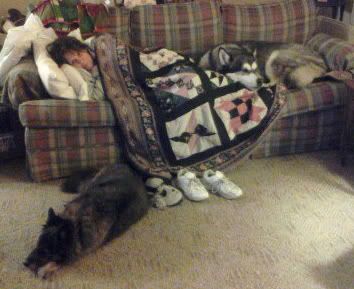 Recently, many different threads from the pattern of life have come together and added some further color to the background. My wife is recovering from a minor hospital stay, and our dogs have been doing what they do best: caring for a member of their human family.
2
Studies - both formal and informal - have long supported the assertion that pets have a definite & positive role to play in the caregiving process. Pets in general have often played an important role in life: for some, they offer comfort and companionship, conversation & exercise. For others, they can instill a sense of responsibility & purpose that can make it easier to navigate through difficult portions of life when all other meaning may appear to have been lost.

In the past, I'd written a few pieces that helped me through the caregiving & recovery process:3
For families with pets, pets are part of the family.
Over the fold, you'll find some references and excerpts providing more insight into the role of pets in caregiving as well as some examples & excerpts from online posts made to Daily Kos over the years from a variety of people, documenting the role of pets in caregiving as both providers and recipients of care.
Namaste.
CareGiving Kos is a community diary series posted generally on Sunday morning and Wednesday evening by volunteer diarists. This group & series is for those who are now (or have been) in the role of being a care-giver for a loved one. We want this space to be supportive and free of squabbles. Our only rule is to be kind to yourself and others who are going through a very difficult time. Please respect the concept of this group: No Politics Here.†

† By "no politics" we don't mean "avoid politics completely" - it's too relevant, at times, to portions of the topics discussed. But keep any references to politics focused and within the context of the caregiving topic. Avoid flames, flaming, flame-wars and dragging the discussion off-topic. Thank you.



Here are a few industry studies that I thought folks may find to be of interest & relevant:
And here are a few examples of caregiving pets, caregiving for pets and pets caregiving for caregivers - from posters on Daily Kos:
michelewln
The Cat Who Became a Caregiver, Wed Sep 28, 2011
Art for my Mom, Wed Oct 05, 2011
Irishwitch
A Tale of Two Pooties, Tue May 26, 2009



Gardeen made the last week of Dad's life—which was hellish for us—tolerable. His basic sweetness and affectionate nature helped calm me down when Dad would glare at us, his eyes filled with rage because we were following the orders of his doctor and speech therapist. I had a tiny scrap of black fur who would curl up under my chin or on my shoulder and purr himself to sleep. Dad threatened my husband and bit him, my husband would leave him in his room watching TV and go play with the kitten. There were nights when the kitten's warm, loving presence was all that kept us from howling naked at the moon.

The Law and Elder Care, Fri Apr 24, 2009



A few weeks ago, a Kossack made a casual suggestion that we needed a law to force families to care for their elderly family members. In this diary, a few people were upset that anyone would have the gall to expect help from the government in paying for long-term care, and those who did were mooching off the rest of hard-working Americans, sounding remarkably as if they were quoting Republican talking points about any healthcare reform, actually. I'd like to take issue with those comments and also explain which a law "forcing" people to take care of their family members isn't necessary and wouldn't work.
noweasels
Just a happy dog story. Thu Jun 07, 2007
LaniN
Pets, and Growing Older, Sat Feb 19, 2011



Now my son is attending community college full time while living at home and maintaining a half time job as well. I'm working full time as retirement seems an impossible dream at this time. Beloved pets have passed on. We still have two cats from his kindergarden years - one so aged I have to carry him everywhere. But we love him. He's part of our family.

And yet... I just rescued a little dog anyway. I may be old. I may be tired. But I still remember what these critters can bring into our lives. For me, they created a family for a lonely little boy.
WereBear
Chronic Tonic--Cats Who Care, Thu Feb 25, 2010



One of the worst things about dealing with chronic health troubles is how they can cut us off from social contact. If our health is poor it can be difficult to get out. Even if health problems don't flare up all the time, we can rarely figure out when they are going to do that, making long term plans difficult or impossible.

This is when having a pet, especially a loving and interactive pet, can make a great deal of difference. Dogs are the first officially train companion animals, first with help for people with vision problems, then with mobility help, and now even with psychological disorders or seizures. Dogs have the trainability and physical ability that lets them be helpful in these unique ways.

However, we might not have thought about how cats have their own unique ways of being helpful.

I think cats are the ideal choice for those who can't get out as much as they would like, or any other kind of socialization challenge. Cats have some special features which makes them uniquely suited to be pets for people with certain challenges.
So - what's your story? Do you have one to share...? If so, please do - the floor is open!
Namaste.
_______________
Footnotes
_______________
Granted, not all pets are furry, but roll with it for the purposes of this piece, ok? Feel free to add comments to provide examples of any non-furry pets & companions who have helped illustrate & embody the concepts of caring, family & love. :)
FYI: Kathi's recuperating nicely at the moment. Malamute Jack, meanwhile, is suddenly & inexplicably lame - his right leg is giving him issues, and he's been very quiet. We're keeping an eye on him and have let our vet know that he may be in to visit sooner than later...
Not a complete list.