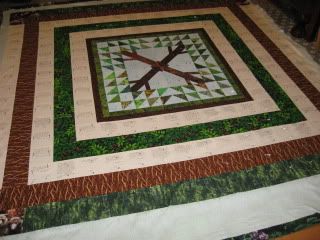 Scottie's quilt, basted for quilting
As you may remember, woodtick is caring for her mother who has Alzheimer's. Her mother's disease has progressed to the point that she is very difficult to care for -- even violent. Woodtick has a heavy load to bear and can really use the support of her friends. That's why we're making a community quilt for her. We have 19 messages and need 25 more.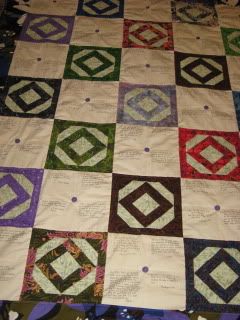 Patriot Daily News Clearinghouse's quilt
Community quilts (or lovecatchers) contain messages of love and support from you, transcribed by me in archival ink on muslin. Loving words are very healing -- and they never fade away once they are sent out. This quilt will be something woodtick can really hang onto when she is stressed or tired or when her heart is crying. Your words will always be there to comfort her.

Patriot Daily News Clearinghouse's quilt, showing the backing fabric
We generally ask for donations of at least $10/message to help defray the cost of the materials and some of our time. My sister and I depend upon our quilting work for our living. That being said, don't ever feel you need to donate to participate in a quilt -- someone always covers for those who can't. Just trust in that and leave a message for woodtick, please. If you can donate, here is a PayPal link - or message me for a snail mail address if you prefer checks.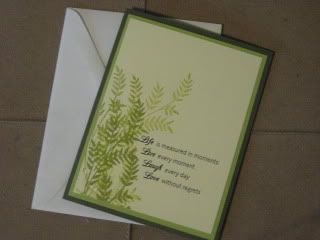 Handmade card by Blue Heron -- this one accompanied PDNC's quilt
These are the people who have already left messages for woodtick. If you don't remember if you've already left a message, check here.

1. JekyllnHyde
2. bubbanomics
3. Purple Priestess
4. Floja Roja
5. Leu2500
6. Cany
7. Dallasdoc
8. ZenTrainer
9. anotherdemocrat
10. cfk in the Thumb of Michigan
11. Onomastic
12. Mimi
13. Ebby
14. Yasuragi
15. poli
16. TokenLiberal
17. ilyana
18. kini
19. Nurse Kelley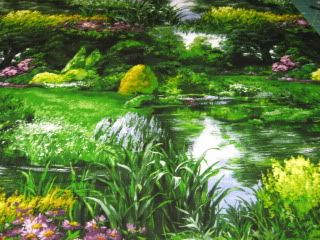 Backing fabric for Scottie's quilt
Here are a few of the messages so far, for inspiration:

dearest woodtick, may your mojo mug be always full, your spreadsheet be free of errors, and your burdens be eased a little, by the love of your koggy friends. bubbanomics

Sometimes love is hard, and we have to do what is needed rather than what is wanted. The hard times, though, just like the pain of loss, are the measure of love. Dallasdoc

May our quilt bring you strength
and comfort.
Wrapped in love and color
May you find peace. Blessings on you... cfk in the Thumb of Michigan

So many shades of love caringly stitched together, all for you. When ever you need, snuggle in and rest your heart. We're right here for you woot. Onomastic

Love is a fabric that never fades, no matter how often it is washed in the waters of adversity and grief. From one child of Alzheimer's to another: take my hand. ♥ Nurse Kelley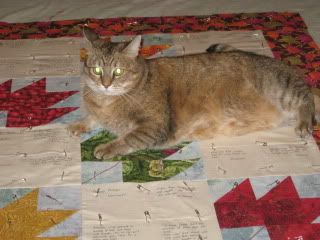 Goldie inspects alliedoc's quilt
These are the lovecatchers we have made to date:
othniel (cellulitis and ensuing complications)
exmearden (cancer of heart and lung, RIP)
MsSpentyouth (brain tumor)
Moe99 (lung cancer)
Michelle Caudle (ovarian cancer, RIP)
BFSkinner (lupus)
Kitsap River (long wait for kidney donor that ended 2/18/11)
Frederick Clarkson (blood clots)
Dreaming of Better Days (lymphoma)
one bite at a time (lost house and belongings to fire)
Timroff (cellulitis)
Sol Fed Joe (multiple cancers and health problems)
Brubs (AIDS, immune reconstitution syndrome)
rserven (gall bladder infection with dangerous complications)
grndrush (brain tumor, RIP)
ImpeachKingBushII (needs liver transplant)
andsarahtoo (lupus)
Frank Cocozzelli (muscular dystrophy)
luvsathoroughbred (breast cancer)
Predictor (stroke and HIV)
Austex54 (caretaker to othniel)
Theodore Olbermann, RIP
cskendrick (antibiotic resistant infection)
Keith Olbermann (caregiver to father)
Juan (cancer)
Ana (a young horse belonging to Juan, hit by truck)
MA Liberal's mother (Alzheimer's)
Charles CurtisStanley (caretaker to Kitsap River)
Lorikeet (cervical cancer)
Dr. Lori (metastatic cancer)
ulookarmless (cancer, heart condition, stroke)
riverlover (caregiver to husband suffering from liver failure, now widowed)
Melody Townsel (caregiver to dying father, now deceased)
dadanation (AIDS)
Dr. William F. Harrison (leukemia, RIP)
Larry Bailey (sudden loss of partner to heart attack)
ramara (adopted son with fetal alcohol syndrome)
Noor B (herniated disk from car accident)
Louisiana 1976 (fibromyalgia, severe arthritis, depression)
stumpy (MS, stroke, RIP)
bleeding heart's niece (cancer, RIP)
escapee (failure of corneal surgery)
SarahLee (lymphoma, Lyme Disease)
Bustergirl (ovarian cancer)
mimi's niece (cancer)
ZenTrainer (breast cancer)
Miss Blue (severe injury to shoulder, anxiety over coverage for surgery)
Granny Doc (bladder cancer, RIP)
mango (heart attack)
nudger (ovarian cancer, RIP)
DaNang65 (heart condition)
Lt. Choi (exhaustion)
Nurse Kelley (spinal stenosis)
Ben Masel (lung cancer, RIP)
Otterary Scribe (caregiver, grieving grandfather, grieving widower)
Aji (autoimmune diseases incl. fibromyalgia, inflammatory arthritis, & Chronic Epstein-Barr Virus Syndrome)
JaxDem (suddenly widowed)
DavidW (AIDS and other undiagnosed illness)
Jester the Marine (facing amputation of leg)
peregrine kate (endometrial cancer)
mimi (grief due to family illnesses)
alliedoc (endometrial cancer)
labwitchy (diffuse scleroderma)
Daily Kos (celebrating community)
belinda ridgewood (sudden loss of her mother)
princesspat (blood clots, deep vein thrombosis)
Scott Olsen (severe head injury)
SensibleShoes (caring for sister with brain cancer)
Joanna (cancer)
cany (grieving caretaker of mother with dementia)
Patriot Daily News Clearinghouse (breast cancer)

The beginning of paradise50's quilt -- note the use of Scottie's backing fabric
Scottie's quilt is done except for the handstitching of the binding which might take a couple days (it's a big quilt). Paradise50's quilt top is being built. So we need woodtick's messages to keep the ball rolling!
These quilts are planned:
BeninSC (bicycle accident resulting in multiple fractures and a long recovery)
MsGrin (life long heart problems requiring multiple surgeries)
UnaSpensor (Lyme disease)
MA Liberal (caretaker to her mother who has dementia)
paradox (cyclical vomiting syndrome, PTSD, depression)
Ellinorianne (rheumatoid arthritis and fibromyalgia)
SwedishJewish (sexually assaulted as a child)

princesspat's quilt, showing backing fabric
PAYPAL LINK FOR WOODTICK'S QUILT - THANK YOU!

Boots says, "Thank you for supporting community quilts!"
Namaste.