It's been a rough few days here at Casa Brillig. Follow me below the dingledoodlesquiggliedKosagnocchidividerthingie fold after a word from our sponsor...

Here at Top Comments we strive to nourish community by rounding up some of the site's best, funniest, most mojo'd & most informative commentary, and we depend on your help!! If you see a comment by another Kossack that deserves wider recognition, please send it to topcomments at gmail by 9:30pm Eastern. Please please please include a few words about why you sent it in as well as your user name (even if you think we know it already :-)), so we can credit you with the find!

NOTE: Bowing to that newfangled DK4 stuff :-), you also may send nominations to the Top Comments group email. If you don't see a nomination you made to there in the diary, please pipe up - it means we're still trying to remember not to forget to check!
So Friday morning Kid Brillig the Elder, aka K1, was at school and bent down to grab something in Math class. She stood up, turning as she did so, and...
heard a POP in her knee.
She limped through her day, thinking it would get better, but when she got home I could tell it was bad. Her knee was swollen and couldn't be straightened, and hurt. No swim practice, ice, and sleep.
Saturday had us calling her physician, who said that yes a trip to the Emergency Room was OK, so off K1 and I went. Four hours later, after xrays and a long stay on a hospital bed in the ER hallway, a doctor who never examined her knee said "It's not fractured. Go see your doctor Monday, and they'll probably recommend an Orthopedic specialist." Oh yes, that'll be one $75 copay.
(No, this is not a rant Emergency medicine or on the fact we KNEW it wasn't fractured, and that x-rays weren't going to diagnose what we suspected was wrong. Even though I ranted plenty Saturday when we got home!)
We spent the rest of the weekend icing her knee, keeping it elevated, and generally trying NOT to freak out in front of her. Monday morning, I called the Orthopedic office where K1's wrist was treated last fall. When they said first available appointment was Wednesday I played hardball: "Well, she's not going to school until she gets it looked at." "Oh, she's home? How about noon today?" As soon as she described how it happened, the doctor was nodding and doing movement tests. Then told us what Teh Google had suggested:
"You've probably torn the meniscus. Let's get an MRI right away (hey, an hour later is "right away" in medical terms, right?)" K1 left the office in a knee brace and crutches, and we go back tomorrow to hear what's wrong, and how we treat it. Today we took her to school early so she could get an "elevator pass" and figure out how she was going to navigate school on crutches.
Keep your fingers crossed for K1, that this is a small and easily recoverable injury. She's had a rough year injury and illnesswise, and was just entering her Spring/Summer Long Course season. She's keeping her sense of perspective and humor so far, which given her age, places her ahead of most adults I know. I'm very proud of her composure, I just wish I could make it all better :(.
K1 leaving the Orthopedics office after her MRI: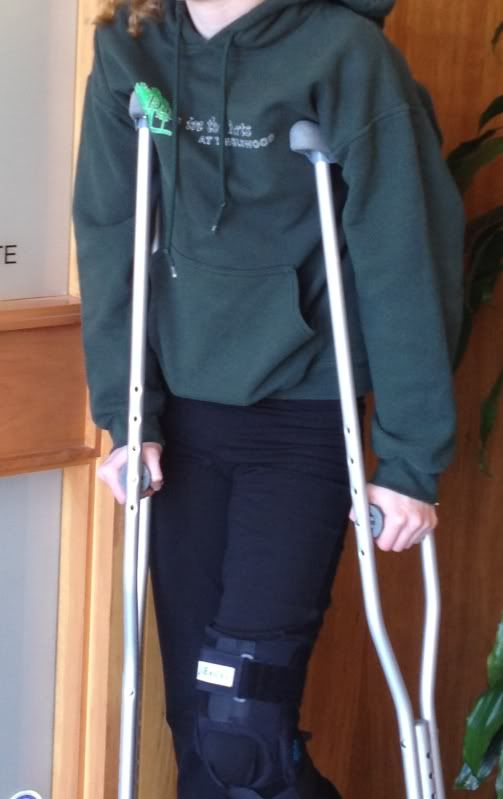 The injured knee, for posterity:

---
Brillig's ObDisclaimer:
The decision to publish each nomination lies with the evening's Diarist. My evenings at the helm, I try reeeeallllyy hard to publish everything
without
regard to content. I really do, even when I disagree personally with any given nomination. "TopCommentness" lies in the eyes of the nominator and of you, the reader - I leave the decision to you. I do
not
publish self-nominations (ie your own comments) and if I ruled the world, we'd all build community, supporting and uplifting instead of tearing our fellow Kossacks down.
It was a really quiet day in the TC mailboxes... let's try to fill them tomorrow!

From lineatus:

It seems almost redundant to send one from Bill in Portland Maine because he's pretty much a Top Comment generating machine. But his reply to my comment that Elton John's 65th birthday was reminding me that I'm getting older did crack me up.
From Yours Truly, brillig:

David Nir brings us poll results of Which Republican is most extreme? HeartlandLiberal asks the obvious.

Seems that the Wisconsin Republican answer to affording birth control is to Google It! Scott in NAZ proves it. :)
---
Top Mojo for yesterday, March 26th, first comments and tip jars excluded. Thank you
mik
for the mojo magic!
1) The same attitude as the crowd cheering for by ontheleftcoast — 146
2) Well If It Is OK To Kill A Kid Cause They by webranding — 137
3) This is what the right relies on by Irixsh — 134
4) A child is dead by blue aardvark — 134
5) And Zimmerman didn't even know about it by ontheleftcoast — 116
6) Dear Friend of George Zimmerman, by pat of butter in a sea of grits — 110
7) And some people by SCFrog — 107
8) For myself, I don't see what the kid punching by gustynpip — 83
9) I heard this first hand, in my own backyard, by Fury — 82
10) Time for an IRS audit by msmacgyver — 80
11) I am really tired this evening. by Otteray Scribe — 80
12) well done. by terrypinder — 77
13) That is interesting because by Sychotic1 — 75
14) Funny How by shanikka — 75
15) Bettter still is the blog post by Nadia by darthstar — 73
16) Hate is cultivated by experts in control by FishOutofWater — 71
17) It appears to me that if you by blue aardvark — 69
18) Having a clue makes Conservatives feel threatened by MinistryOfTruth — 68
19) This is what the right teaches. nt by Smoh — 67
20) Yeah, totally, Newt. by MBNYC — 67
21) Did George Zimmerman ever smoke pot? by Dallasdoc — 66
22) bullying and Proverb 17.5 by Parthenia — 66
23) not just the south by Hunter Huxley — 66
24) Non-blacks have been lynched in America as well. by cai — 66
25) Nothing respectful about the use of the term... by David Kroning II — 64
26) How the hell are we supposed to believe that by YucatanMan — 63
27) It may still go to court by Christian Dem in NC — 61
28) Yeah, I was just talking to my son the other day, by second gen — 61
29) But It Does Beg The Question by webranding — 61
30) Close by blue aardvark — 59
31) I really hope so by Noctem Aeternus — 59
32) Ralph has never experienced being poor or by Ammo Hauler — 59
---
Top Pictures for yesterday, March 26th. Click any image to be taken to the full comment. Thank you
jotter
for the image magic!