Ever wish you were a fly -- a remote camcorder -- on the wall of a DC congressperson's office, as they were conducting a typical congressperson's daily business?
Me too. Oh wait they are about to take an important meeting now ...

A Day in the Life of a (PAC-savy) Lobbyist (pdf)
There is no typical day. According to the latest figures, there are 34,785-registered lobbyists in Washington. That figure has doubled in the last 5 years. [...] Can you imagine 34,785 people walking up and down the halls of Congress? And, after those two martini lunches, can you imagine them staggering up and down the halls?

Let me tell you what we really do.
[...]

scanning through these newspapers. We then open the e-mail, [...]

So are we ever on the Hill? Absolutely! Every day that Congress is in session, one, if not more, are up there for one or more meetings. We pre-schedule meetings, for the most part, and most of the meetings that we have are with staff most of those with committee staff. That's where we start because that's where the action happens. At these committee staff meetings we find out which members of Congress need specific targeting and then we start working with their staff. Members of Congress have staff assigned to specific areas, be it health, civil service, social security, and so forth, and those are generally the people we are meeting with. You meet with the members of Congress only when you are ready to move something.
[...]

So don't go before a Legislator and try to hype an issue or make it seem worse than it is. Just give the facts -- which you can get from us if you don't know them--and certainly use your own personal situations to get the need for our legislation across.

You have to be ethical, never promise a contribution of any kind for a vote, and never threaten.
[...]

I just mentioned here that we should never talk about PAC when you're talking about votes. I want to stress that. Don't even say PAC in a member's office. A member cannot talk about PAC in their office and we can't either. You cannot present PAC checks to member of Congress in their office, or in any government building.
[...]

Don't go into an office and talk about "we'll see that you get PAC money, or we'll see that you don't get PAC money." It's not to be discussed at the same time with legislation. You can say we're glad to support you, tell us what we might do to support you. They understand this too.
[...]

You have to be very careful about how you're using the PAC in this process. That's why we handle PAC contributions in the National office where we know Federal Election Committee (FEC) rules. We have to get a request for PAC contributions in writing in our office.
It's just Free Speech, right?
... No Big Deal ...
Lobbyists are people too!

People very well-paid to just best represent their clients' detailed and varied interests ...
No harm, no foul ... right?

It's just the business of Government ... being conducted -- Next!




A Day in the life of a Lobbyist
First and foremost, lobbyists must be adept at the art of persuasion, which is the mainstay of their job. They must figure out how to sway politicians to vote on legislation in a way that favors the interest they represent.
[...]

The lobbyist imparts her information with the help of graphs, charts, polls, and reports that she has hunted up or created.
[...]

Sometimes, lobbyists will even sit down and help a politician draft legislation that is advantageous for their interest. Maintaining good relations with politicians who can be relied on to support the lobbyist's interest is key.

While lobbyists and their employers cannot themselves make large campaign donations to politicians, they can, and do, raise money from other sources for reelection campaigns.
Well isn't that convenient, more ghost writers for sale, really cheap -- ALEC looks like you might have
some competition
in that regard ... from among the thousands of lobbying firms roaming the streets in Washington DC.

But don't Lobbyist have be registered or something?
Well yes, yes they do ...
Office of the Clerk -- US House of Representatives

Lobbying Disclosure Act Guidance

Effective January 1, 2008

Reviewed/Last Revised December 15, 2011


Section 1 - Introduction

Section 6 of the Lobbying Disclosure Act (LDA), 2 U.S.C. § 1605, provides that: The Secretary of the Senate and the Clerk of the House of Representatives shall

(1) provide guidance and assistance on the registration and reporting requirements of this Act and develop common standards, rules and procedures for compliance with this Act; [and]

(2) review, and, where necessary, verify and inquire to ensure the accuracy, completeness and timeliness of registrations and reports.

The LDA does not provide the Secretary or the Clerk with the authority to write substantive regulations or issue definitive opinions on the interpretation of the law. [...]
It goes on like that for far, far, further than I had patience for, today.

And so those Registered Lobbyists DO have to disclose their Lobbying Activities, right? -- So where are those reports?
Well there's a fill-in the form Search Page for those Quarterly Reports. But good luck getting the complete story from those reports ... assuming you can find them from that rickety search engine anyways ...
Here are 3 Lobbyist Disclosures Reports, I somewhat randomly selected from the scads of Quarterly Activity reports filed in the year 2011:
House ID Registrant Name Client Name Filing Year Filing Period Lobbyist Full Name Affiliated Name

309340000
INTERNATIONAL SWAPS & DERIVATIVES ASSOCIATION INC.
INTERNATIONAL SWAPS & DERIVATIVES ASSOCIATION INC.
2011
4th Quarter
Johannes, Mary
Bank of America Merrill Lynch (pdf)

Expense relating to lobbying activities for this reporting period

$377,000.00


House ID Registrant Name Client Name Filing Year Filing Period Lobbyist Full Name Affiliated Name

310650000
HEALTHCARE DISTRIBUTION MANAGEMENT ASSOCIATION
HEALTHCARE DISTRIBUTION MANAGEMENT ASSOCIATION
2011
2nd Quarter
Kelly, Patrick
AmerisourceBergen Drug Company (pdf)


Expense relating to lobbying activities for this reporting period

$272,000.00


House ID Registrant Name Client Name Filing Year Filing Period Lobbyist Full Name Affiliated Name

304540000
American Trucking Associations
American Trucking Associations
2011
3rd Quarter
Clark, Lesta Britteon
YRC Worldwide, Inc. (pdf)


Expense relating to lobbying activities for this reporting period

$495,949.00

==== ==== ====


Lobbying Disclosure

Office of the Clerk -- US House of Representatives

United States House of Representatives
U.S. Capitol, Room H-154
Washington D.C., 20515-6601
202-225-7000
Diarist's Search Notes:
the easiest search to use for getting started is search for the Year ...

Search Field = Filing Year Criteria = 2011


Also putting an * in any text field, as wildcard criteria works too,

but it takes quite a while for the results to show up.
I would really like to see more detail behind those "half-million dollar" quarterly expense reports, wouldn't you? ...
Those are an awful lot of "two martini lunches"
don't you think?
It's not possible those Lobbying reps know the name of a Congressperson's favorite PAC, is it?
Naaawh! That's just crazy talk. (Even though it's only 2 clicks away.)

Anyways, while I'm dreaming for more open government and more transparency in the legislative process ...
It would be really nice if they "unlock" those disclosure pdfs too, so that their sketchy Disclosure details could be copied out and better scrutinized by the general public, at large.
Of course, that might raise even more pesky questions from that polarized public ... and in that regard, and the Traditional Media has decided:
it's best to let the sleeping giants, catch up on some Zzzzz's ... and when they wake, gently guide them to direct their anger towards each other, instead.

No sense, fretting them about stuff they wouldn't understand -- and couldn't change, even it they did.
That's Congress' job. To make the sausages that nobody wants.
And those Lobbyists are perfectly qualified suited to provide the various unsavory recipes, as the current business at hand requires.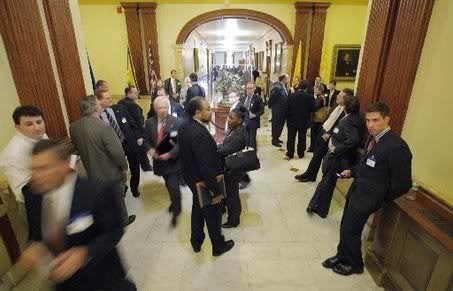 All with No "Kleig Lights" in sight, they'll make damn sure of that ...