I frankly find this rather incredible, and possibly actionable, but a Michigan Teacher was suspended, then fired last week at the Pontiac Charter School for Excellence for daring to put together a fundraiser in support of Trayvon Martin's parents.
The idea was simple - and one that came from the students themselves, most of whom are African-American and wanted to do something in response to the Martin tragedy - each student would donate $1 and wear a hoodie for one day in solidarity with Trayvon. The School's Principle signed off on the plan, but then things went completely awry.
This news comes just a day before George Zimmerman put up his own website to collect donations from his "Supporters", on which he features photos from a rally held by Mutton-Chop Wearing Koran-Burning Idjit "Pastor" Terry Jones ("Justice for Zimmerman"), and a picture of vandalism painted on the side of a Ohio State Black Cultural Center ("Long Live Zimmerman")...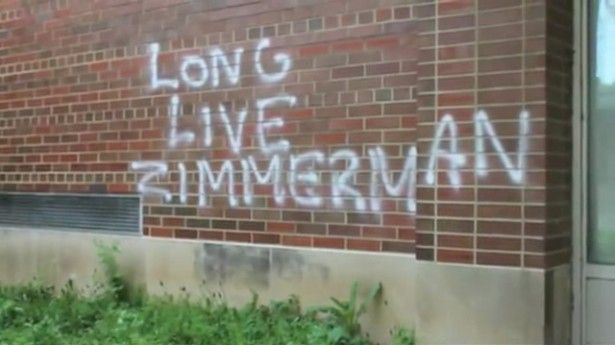 Which occurred only four blocks from where an Obama Mural was defaced with Swastika's and "Niggers!".
https://fbcdn-sphotos-a.akamaihd.net/...
With the Neo-Nazi Party now in Sanford to "Protect the White People" (Yeah, uh huh!) it's not like those people who are on Zimmerman's side of the argument are the most rational and reasonable bunch. This is apprently how the Pro-Zimmy Crowd Rolls.
Case in point, Pontiac School Superintendent Jacqueline Cassell.

Superintendent Cassell was less enthusiastic. She refused to approve the proposal, despite having supported many other "dress down" fundraisers. Brooke's students took the disappointment in stride, but asked to present their idea to Cassell in person. . . . Brooke asked that a few of her students be allowed to attend her meeting with Cassell. Outraged by the request, Cassell suspended Brooke for two days. The explanation given—she was being paid to teach, not to be an activist.

Those two days morphed into a two-week, unpaid suspension when Brooke briefly stopped by the afterschool literacy fair (she had previously organized) to drop off prizes (paid for with her own money) and to pick up materials for several students whose parents were unable to attend. Supporting her students was insubordination.
The final offense? Brooke asked Cassell to clarify her original transgression so she could learn from her mistake. Cassell referred her to the minutes of their first meeting. Still confused, Brooke again requested an explanation. Cassell fired her.
Asking a question gets you fired these days? I don't know if the fact that Pontiac Michigan is currently under the control of an
Emergency Financial Manager
with a political agenda made an impact here or not - but Wow. Just Wow.
FYI, for those in the area.

The next meeting of the Pontiac Board of Education will be Tuesday, April 10, 2012 at 11 a.m. in the Odell Nails Administration Building
An Online Petition to Protest the Firing is here:
http://www.change.org/...
Vyan
12:54 PM PT: More Details from Comments:

She said she objected to the fundraiser because it wasn't appropriate for the students to wear hoodies in the manner they planned — with the hoods over their head. She said she was concerned for the students' safety because they could become targets of youth or law enforcement. Harris said the students didn't intend to wear the hoodies in that fashion the entire day.
The kids would be "in danger" because wearing a Hoodie would make them a
Target of Law Enforcement
? Are you fracking kidding me - being young,
Black and Still Breathing
makes you a
target of law enforcement
in this country, the hoodie - or how you wear it - doesn't matter one way or the other. Who is this woman,
Mrs Geraldo?
That is a patently ridiculous excuse. Pathetic.