The Daily Bucket is a place to record information on the natural world. Whether it is a bird you've never seen before, a tree flowering out of season, or a butterfly you see every year, please let us know all about it. When you list observations please give your approximate location.
Franklin (Bald Point State Park) and Wakulla (Mashes Sand County Park) Counties in the Florida Panhandle - April 29.
Late April/Early May is one of my favorite times to visit the coast. The shorebirds are massing to head north. Instead of drab gray birds on mudflats they are (more) brightly colored birds busy eating as much as they can before heading to the far north for a couple of months of frantic reproduction.
Species seen: Semipalmated Plover, Black-bellied Plover, Whimbrel, Marbled Godwit, Willet, Short-billed Dowitcher, Spotted Sandpiper, Red Knot, Sanderling, Dunlin, Least Sandpiper, Western(?) Sandpiper, Ruddy Turnstone.
The following species were in obvious transition to breeding plumage: Black-bellied Plover, Short-billed Dowitcher, Red Knot, Sanderling, Ruddy Turnstone. Dunlin and Semipalmated Sandpiper seemed to be largely or wholly in breeding plumage. The only Spotted Sandpiper seen was in breeding plumage.
The other species do not have dramatic differences in plumage between seasons. Willet are the only species on that list that breeds locally and I saw what appeared to be breeding pairs three weeks ago. Willet were present in fairly low numbers compared to most of the winter when they are usually the second or third most abundant shorebird on Panhandle beaches. I'm assuming this reflects movement in breeding areas.
The other striking observations was large numbers of hermit crabs in the shallows at Bald Point. The tide was going out when I was there and some were stranded above the water. Those still submerged were moving about actively and a few were clustered in close contact in groups of 2 or 3. I am assuming this was mating activity. It is not uncommon to see hermit crabs in shallow water but I have never seen such large numbers in one place before.
Other observations for the day included pairs of Gray Kingbirds (Alligator Point) and Seaside Sparrows (Mashes Sand), innumerable six lined racerunners (formerly Cnemidophorus sexlineatus now named something else) at Bald Point, and a Sora that flew across the road in front of my car.
That's the eastern Panhandle. What's going on in your neck of the woods? I'll add a few pictures to the diary shortly.

Above gives you an idea of the scene - dozens of small shorebirds searching through the wrack for things to eat. Something about the light did a number on the exposure of the photos.
The two larger birds in this photo are red knots, a shorebird whose numbers have greatly declined with the decrease in horseshoe crabs in the Delaware Bay. The one on the left is still in winter plumage, the one on the right is part way into breeding plumage.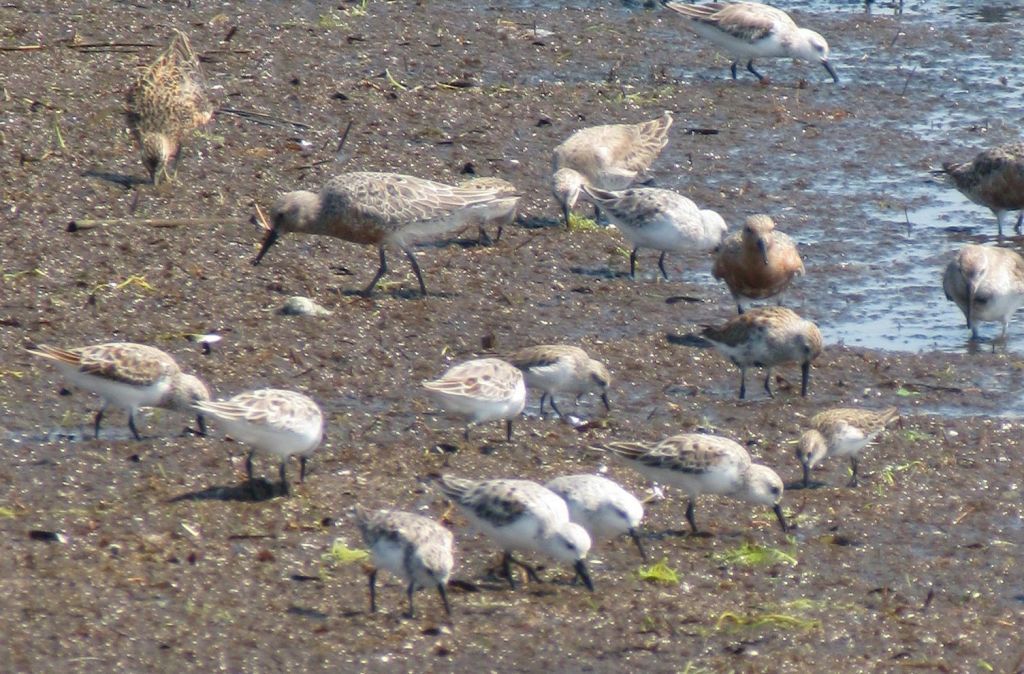 This photo shows two red knots again. Also two short-billed dowitchers behind the knots. The pale bird on the right (head down) is in winter plumage, the darker brown bird on the right with its beak in the muck is going into breeding plumage. In the foreground are a bunch of sanderlings (and a couple of smaller 'peeps' as well. Some are still in the pale winter plumage, others are starting to darken for summer.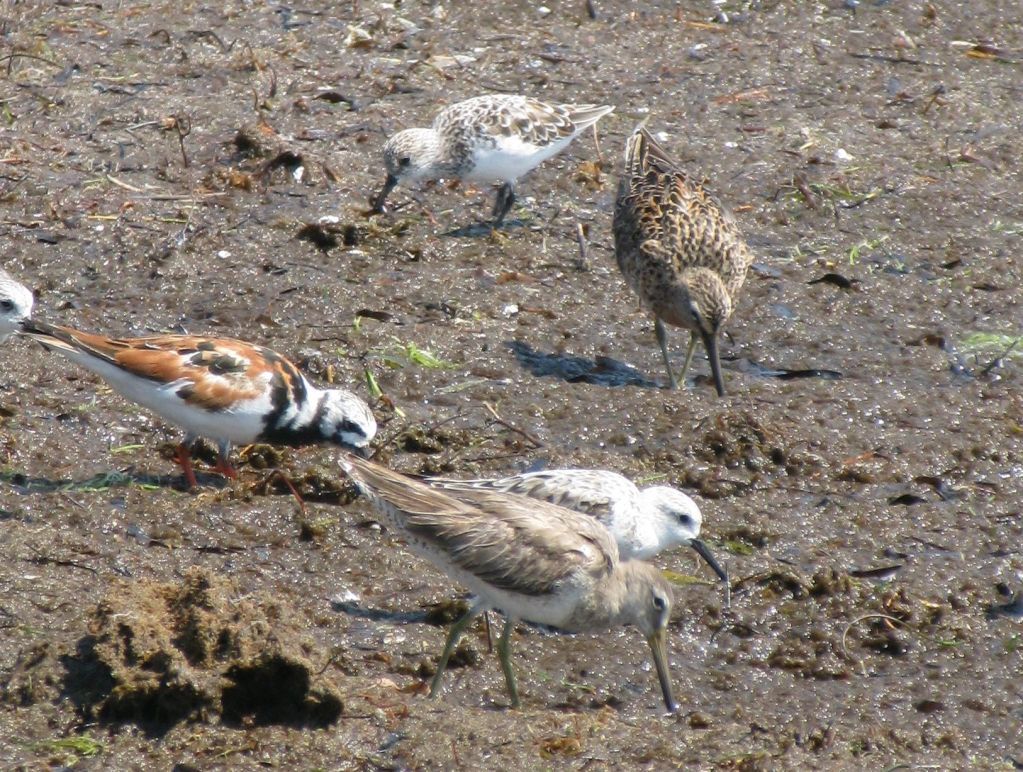 Another picture of the two dowitchers and a ruddy turnstone in breeding color. And some sanderlings - impossible to keep them out the pictures.
Semipalmated Plover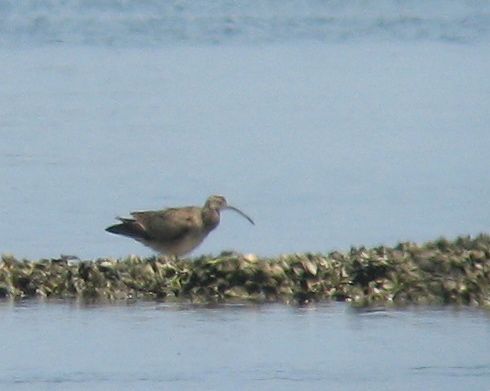 Whimbrel - not a common bird on our part of the coast
Marbled Godwit
Now some crabs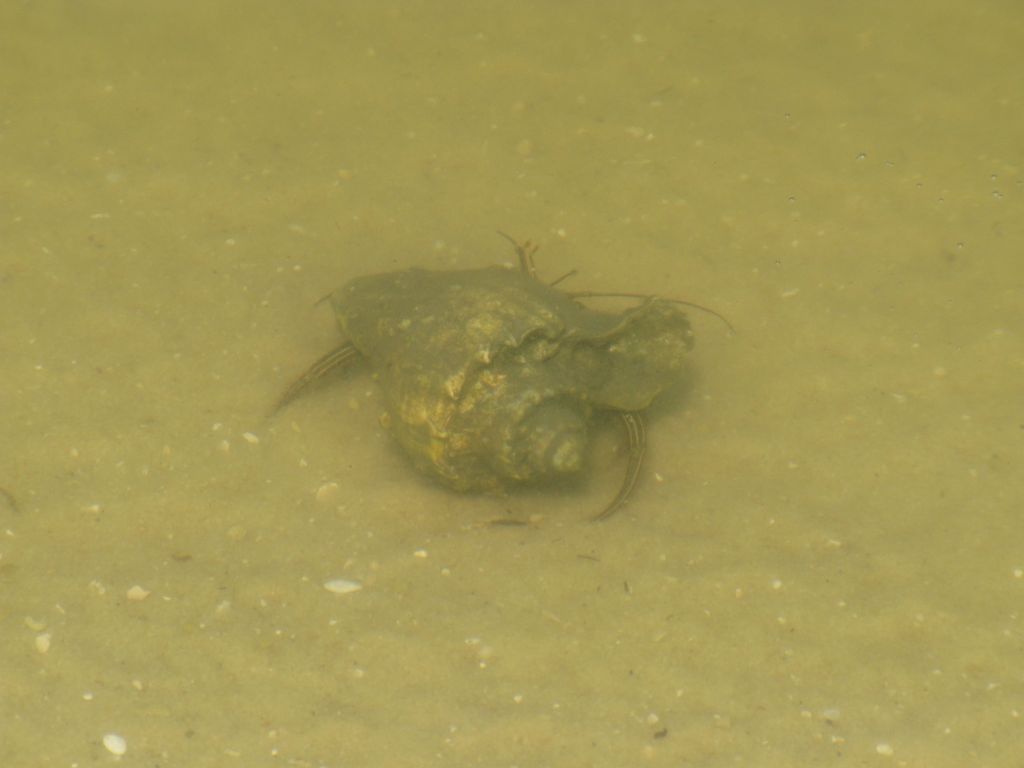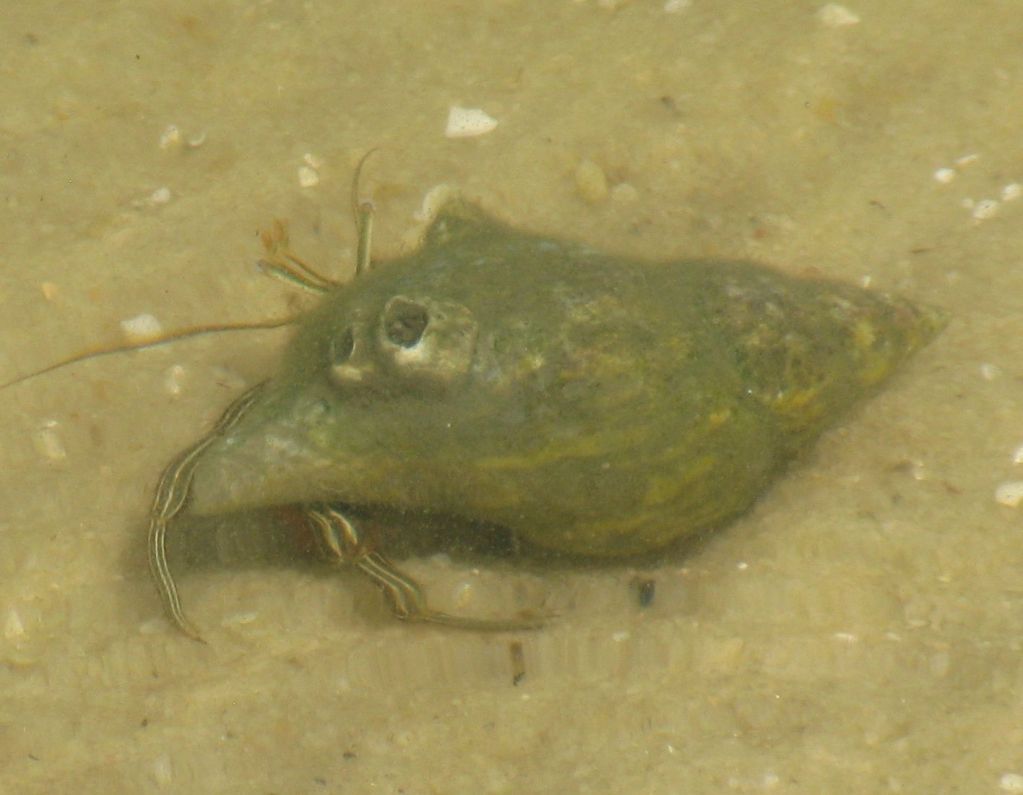 Both of the above in the same picture to give an idea of the range of sizes (although the larger one here is only mid-size).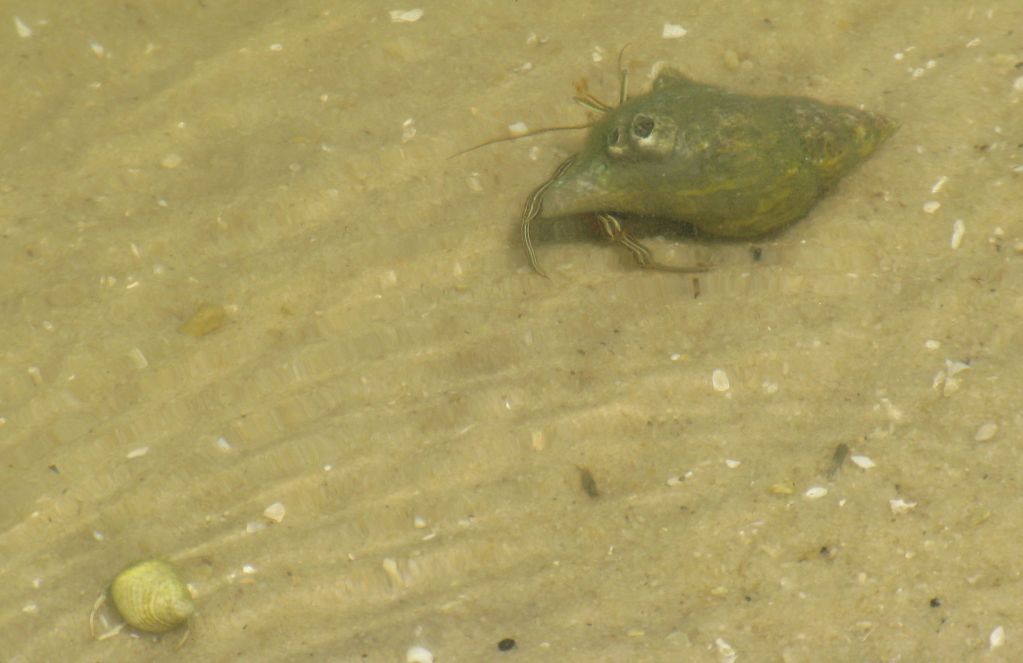 6:27 PM PT: Pictures Have Been Added!