Smoh's quilt, showing the backing
This is what SwedishJewfish has to say about the project:

The Tree House:



A Place for Victims of Sexual Abuse

& Their Families to Recover Together

Sexual abuse is a devestating event for any child to live through. But for far too many children, it is not just the abuse that hurts them- it is the reality of living in a home where they are not safe.

90% of CSA victims are abused by someone they know and trust. 68% of them are abused by members of their own family. In her book "Trauma & Recovery", Judith Herman wrote about the disruption this causes to a child's sense of well being:

The child trapped in an abusive environment is faced with formidable tasks of adaptation. She must find a way to preserve a sense of trust in people who are untrustworthy, safety in a situation that is unsafe, control in a situation that is terrifyingly unpredictable, power in a situation of helplessness. Unable to care for or protect herself, she must compensate for the failures of adult care and protection with the only means at her disposal, an immature system of psychological defenses.

For many years, the response to children who have been abused at the hands of their own parent or caregiver has been swift and punitive. Children are removed from their families, and the legal response is often to punish both the abuser and the non-abusing parent who may have enabled it to occur. While this response may seem an appropriate form of justice, it is now understood that it is extremely traumatizing to already traumatized children.

When a child is removed from his or her home, this may remove them from the immediate danger of their abuser- but it also removes them from siblings, non-abusive caregivers, and other cherished loved ones. Even the removal of the abusive family member can feel like a loss to the child. These children are often left to recover from their traumatic experiences in isolation, and are left to deal with not only the aftermath of their abuse but the loss of everything they know. They often feel guilt for having broken apart their families.

Not only is this response non-therapeutic for children, it often prevents them from disclosing in the first place. Those who abuse them often use the threat of being taken away from their family as a way to keep them silent. The non-abusing parent is often abused herself, and is faced with not only the terror of domestic violence, but the prospect that she will lose custody of her children if she goes to the authorities.

We believe that if offered support, most non-abusing parents will ultimately take the side of their children-and preserving those relationships is vital in helping children recover. The Tree House will be a place of sanctuary for families-with the abuser removed-to recover together and restore the bonds of trust that have been broken.

Where is the Tree House?

Right now, it is in our hopes and dreams. But with your help, we can make it into a reality.

How you can help

1. Donate to TREE Climbers- a portion of your donation will go into the Tree House fund, which will help us buy the land and procure the materials we need to build the Tree House. We need to raise around $500,000 for the purchase of the land alone, so this will be our first major goal for this project.

2. In-Kind Donations- If you have gently used furnishings, toys, clothing, books, appliances- anything that you might find in a home, we may be able to use them. Please send us an email at Rebecca@TreeClimbersInc.com

3.Your artistic talents-. If you are an artist, whether amateur or professional, and whatever your medium is- from painting to quilting and everything in between-please consider creating or donating one of your works to us, and help bring a joy and light into a child's life!

4. Your labor- The Tree House is going to be a creation of love, hand built by survivors and those who support them. If you are willing to get your hands dirty and donate some of your time and hard work, you can literally help build a dream.

5. Sharing our vision- Even if you are not in a position to donate anything, you can help us by spreading the word! Share our story, and our ideas for the Tree House with the people you know.

Every bit of support gets us one step closer to creating a safe place for victims to heal, and one step closer to a world that is worthy of it's children.
Smoh's quilt is good -- Boots knows
Leave your message in support of the children in the comments below and I will transcribe it in archival ink onto muslin. It will be incorporated into a colorful quilt that will be intended to be a healing influence in the Tree Climber house. Your words will touch many children with love. Think of the little girl that SwedishJewfish was and write it to her spirit -- you will be writing to all the children, boys and girls alike.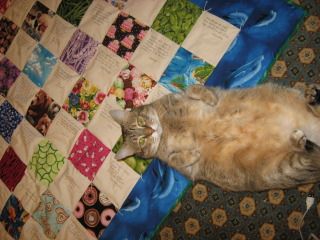 Quilt Inspector Goldie gives Smoh's quilt four paws up
If you can help us with the expense of the quilt (time and materials) here is a PayPal link -- or message me for a snail mail address if you prefer checks. $10/message is suggested -- but if you cannot donate, please leave a message anyway. Someone will cover for you.
These are the community quilts we have completed so far:
othniel (cellulitis and ensuing complications)
exmearden (cancer of heart and lung, RIP)
MsSpentyouth (brain tumor)
Moe99 (lung cancer, RIP)
Michelle Caudle (ovarian cancer, RIP)
BFSkinner (lupus)
Kitsap River (long wait for kidney donor that ended 2/18/11)
Frederick Clarkson (blood clots)
Dreaming of Better Days (lymphoma)
one bite at a time (lost house and belongings to fire)
Timroff (cellulitis)
Sol Fed Joe (multiple cancers and health problems)
Brubs (AIDS, immune reconstitution syndrome)
rserven (gall bladder infection with dangerous complications)
grndrush (brain tumor, RIP)
ImpeachKingBushII (needs liver transplant)
andsarahtoo (lupus)
Frank Cocozzelli (muscular dystrophy)
luvsathoroughbred (breast cancer)
Predictor (stroke and HIV)
Austex54 (caretaker to othniel)
Theodore Olbermann, RIP
cskendrick (antibiotic resistant infection)
Keith Olbermann (caregiver to father)
Juan (cancer)
Ana (a young horse belonging to Juan, hit by truck)
MA Liberal's mother (Alzheimer's)
Charles CurtisStanley (caretaker to Kitsap River)
Lorikeet (cervical cancer)
Dr. Lori (metastatic cancer)
ulookarmless (cancer, heart condition, stroke)
riverlover (caregiver to husband suffering from liver failure, now widowed)
Melody Townsel (caregiver to dying father, now deceased)
dadanation (AIDS)
Dr. William F. Harrison (leukemia, RIP)
Larry Bailey (sudden loss of partner to heart attack)
ramara (adopted son with fetal alcohol syndrome)
Noor B (herniated disk from car accident)
Louisiana 1976 (fibromyalgia, severe arthritis, depression)
stumpy (MS, stroke, RIP)
bleeding heart's niece (cancer, RIP)
escapee (failure of corneal surgery)
SarahLee (lymphoma, Lyme Disease)
Bustergirl (ovarian cancer)
mimi's niece (cancer)
ZenTrainer (breast cancer)
Miss Blue (severe injury to shoulder, anxiety over coverage for surgery)
Granny Doc (bladder cancer, RIP)
mango (heart attack)
nudger (ovarian cancer, RIP)
DaNang65 (heart condition)
Lt. Choi (exhaustion)
Nurse Kelley (spinal stenosis)
Ben Masel (lung cancer, RIP)
Otterary Scribe (caregiver, grieving grandfather, grieving widower)
Aji (autoimmune diseases incl. fibromyalgia, inflammatory arthritis, & Chronic Epstein-Barr Virus Syndrome)
JaxDem (suddenly widowed)
DavidW (AIDS and other undiagnosed illness)
Jester the Marine (facing amputation of leg)
peregrine kate (endometrial cancer)
mimi (grief due to family illnesses)
alliedoc (endometrial cancer)
labwitchy (diffuse scleroderma)
Daily Kos (celebrating community)
belinda ridgewood (sudden loss of her mother)
princesspat (blood clots, deep vein thrombosis)
Scott Olsen (severe head injury)
SensibleShoes (caring for sister with brain cancer)
Joanna (cancer)
cany (grieving caretaker of mother with dementia)
Patriot Daily News Clearinghouse (breast cancer)
Scottie Thomaston (intense chronic pain from spine, kidney stones)
paradise50 (throat cancer)
woodtick (caregiver to mother with Alzheimer's)
BeninSC (mulitple fractures from bicycle accident)
Adrian (colon cancer)
Smoh (breast cancer, stroke, depression)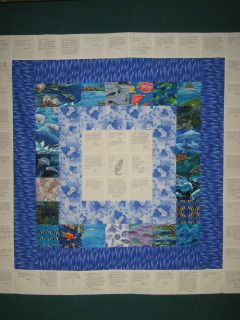 arizonablue's quilt top -- a pieced border will be added after NN12
We have arizonablue's quilt top finished except for its last border. The border will be pieced and will take some time to do so we're planning on making it after NN12. Slksfca's quilt top is done. We aim to have his quilt done and shipped before we leave for Rhode Island.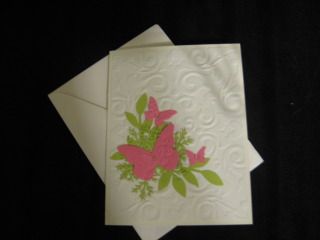 handmade card by state of confusion -- this accompanied Smoh's quilt
These quilts are planned:
MsGrin (life long heart problems requiring multiple surgeries)
llbear (brittle diabetic)
UnaSpensor (Lyme disease)
MA Liberal (caretaker to her mother who has dementia)
paradox (cyclical vomiting syndrome, PTSD, depression)
Ellinorianne (rheumatoid arthritis and fibromyalgia)
raina (grief)

Goldie inspects BeninSC's quilt
PAYPAL LINK FOR THE TREE CLIMBER QUILT - THANK YOU!

Boots says, "Thank you for supporting community quilts!"
Namaste