Well hello again, Daily Kos. Last week was quite a week given that it was my first Netroots Nation ever. I enjoyed myself quite a bit in Providence, Rode Island staying at the Westin Providence.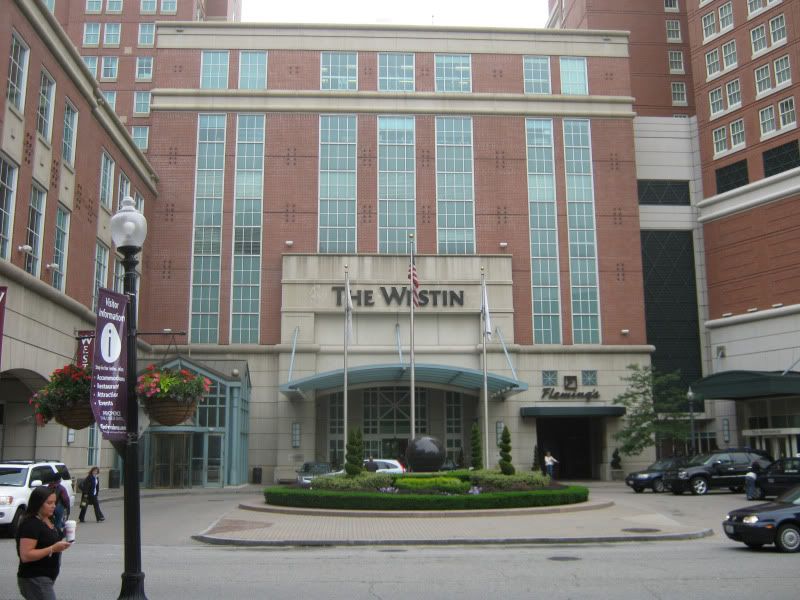 Right off the bat I really have to thank Democracy for America, especially Operations Manager Emma Interlandi, Political Campaign Manager Kaili Lambe, and of course DFA Executive Director Arshad Hasan who ran the DFA scholarship. DFA rules. Those events were amazing, especially the lunch at the Trinity Brewhouse Markos and Zach Wahls (author of My Two Moms) was at. They really do take good care of their scholars.
I also have to thank all of my friends and fellow kossacks who voted for me in the scholarship competition. I have to thank my close friends who told me to give it the old college try as well. Everyone who has supported my written and artistic work over the past year in this community deserves a heartfelt thank you.
I know some of you are cringing right now because I'm getting all mushy now when you're used to my hard edged brand of dissent and populist rage against the third way neoliberal nonsense; destructive nonsense that pervades too many so called "Democrats" who threaten the New Deal as we know it. However, Democracy for America has always welcomed dissent, especially against that status quo.
They know many rank and file Democrats are unhappy for these reasons and others. This brand of dissent characterizes most of my work. In some ways it's how I stood out as kossack Ministry of Truth told me when I met him at NN12; I give thanks and props to MOT for his enthusiastic support of my pick because of my brand of dissent.
There's not much that inspires me anymore since the Grand Bargain of the debt ceiling sellout which just made me snap(because I predicted it once the Bush tax cuts were extended). Thank goodness Occupy Wall St started after that giving me inspiration and moving the national narrative away from deficits for a bit.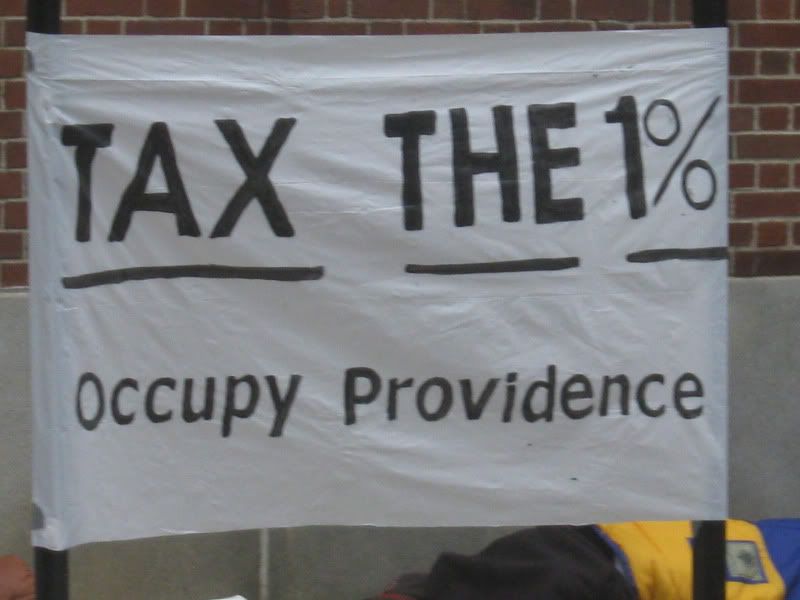 This conference also was inspiring to me. That inspiration comes from the collective sense felt throughout the NN12 conference that something is unforgivably wrong. That sense was compounded onto another collective sense that something serious must be done about it.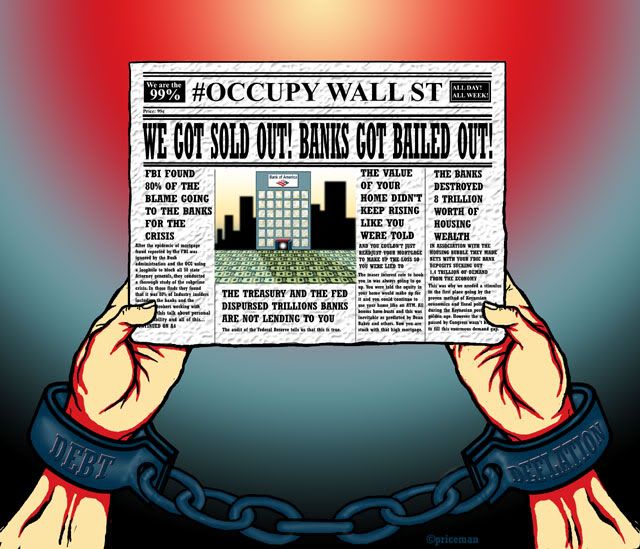 That is, if there is ever any inspiration to be had ever again; inspiration based on something real that is beyond mere elections and election campaign rhetoric. And on that note, Michelle Goldberg has a decent piece that accurately summed up the mood at NN12. It's where I got my new sig line along with many others who are dawning this quote from Markos now(whom I got to meet breifly).
Netroots Nation and Obama: It's Complicated

I asked Daily Kos founder Markos Moulitsas if he was worried about the level of despair at the conference. He replied, "The administration should be worried about the level of despair here."
Well said. All you have to do to realize this is true is watch what happened during NY AG Eric Schneiderman's Keynote speech.
People are not stupid. They know the foreclosure fraud settlement and task force is a sham, especially the progressives at NN12. They know Schneiderman accepted a raw deal. That can be in part given credit to the work of David Dayen at FDL whom I also got to meet. His panel was excellent, especially because TARP Inspector General and overall truth teller Neil Barofsky was on it.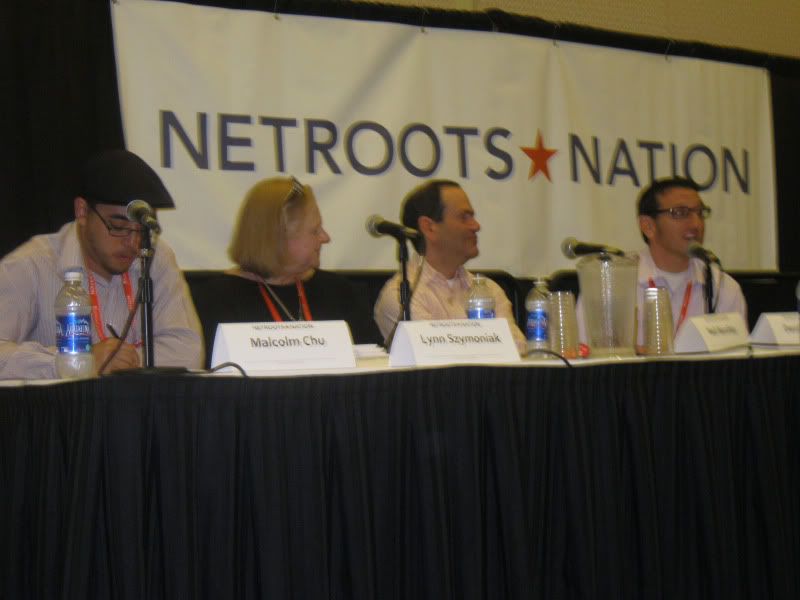 I could write a whole diary on this panel, but I will keep this short for posterity's sake. David Dayen invited Eric Schneiderman and anyone from his staff to come to the panel and kept stressing this for good measure throughout the panel's proceedings. I found this hilarious and biting because reality bites. Everyone on this panel was great including Lynn Syzmoniak(the woman who made the name Linda Green famous) who courageously fought this fraud in the courts and won a settlement in the millions and still fighting.
Neil Barofsky informed me and everyone there that there is really only 10 billion of principal reduction in the paltry 25 billion in that settlement out of 17 trillion advertised in that settlement because of HAMP being counted. Also there are billions given credit for banks not clawing away money that can't be collected anyway from home owners. Bottom line: I learned even more than I already knew about what a sad spectacle Schneiderman's speech praising the foreclosure fraud settlement was from this panel.
I also got to go to a panel with former IMF economist Simon Johnson of Baseline Scenario and Erica Payne called Beyond Occupy: What the Next Economy will Look Like.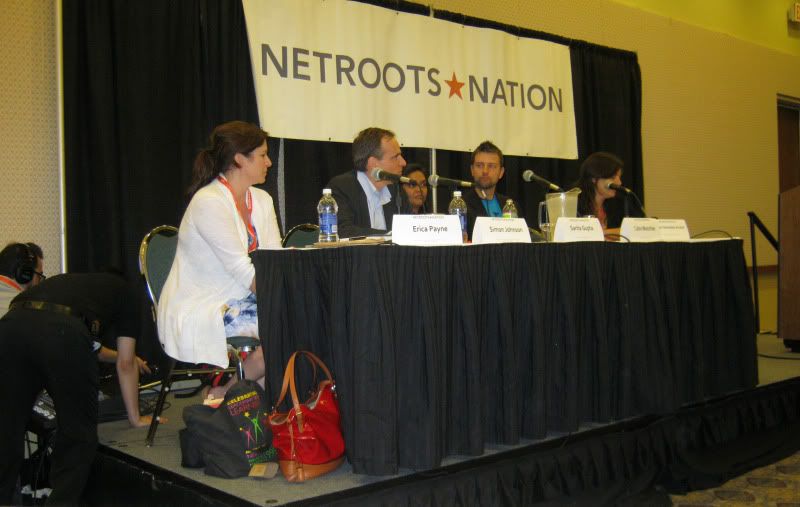 Simon Johnson is my favorite economist on finance, though I have disagreements with him on general economics. For instance after a great book called 13 Bankers he decides to write a book about the so called dangerous national debt. You know what they say, you can take the economist out of the IMF but......in fairness he acknowledged there are many problems at the IMF.
I'm just saying that is probably where he gets his view of looking at a currency issuing state like the US as able to go insolvent(Most of you who read my work and MMT know why that is dangerous nonsense). Most of what Simon Johnson said was pretty right on though, especially politically. He talked about the need to get Jamie Dimon to resign from the NY Fed because it is a conceivable goal we can work on now.
He pointed out that pink slime has gotten more attention and activism than that goal(while acknowledging it is a problem as well though focusing on the need to end that economic conflict of interest more as a first step). I absolutely loved Erica Payne who was on the panel to your left. She is the one who made Paul Krugman uncomfortable by giving out Bernanke's office number during Krugman's keynote.
She and I talk the same way using apt terms like "Rubinite." She uses that term and "the Bobbys" to describe Robert Rubin's followers which I might start using a well. She used her intelligence, sass, and whit while decrying Jamie Dimon being on the NY Fed, and the overall Rubinite philosophy that pervades the Executive and Congress.
Anyway those are a few of my favorite panels. I've written about these subjects extensively as you all know, and because that was noticed by the DFA board I got to benefit from these excellent panels expanding that knowledge.
And now for the Daily Kos bonding portion of this diary. I don't have pictures of myself with everyone I met, because I am generally camera shy, though you can find me in navajo's great diary on the Cheers and Jeers dinner. I was glad to meet her, and you can see me hanging out with my friend TheMomCat.
If you were there perhaps you saw me wearing one of my #OWS shirt designs on Thursday. I wore different ones on Friday and Saturday as well. I wore my NOFX hat on some days garnering respect from some fans of the band and even some activists from Occupy Providence I talked to. If you didn't notice, that's OK. I'm just throwing out visual references in case anyone did.
I did take some pictures of kossacks I admire at NN12. For instance, Meteor Blades was the first person I met and right when I pulled up at the Westen Providence with TheMomCat.
He rightly asked if I was there to cause trouble(someone's been reading my diaries! :D) and I acknowledged I was, a little bit. He was happy to hear it, though. I also met my favorite SS defending FPer Joan McCarter multiple times throughout. She is just as awesome in person. I met Markos and others hanging around the kiddie pool area.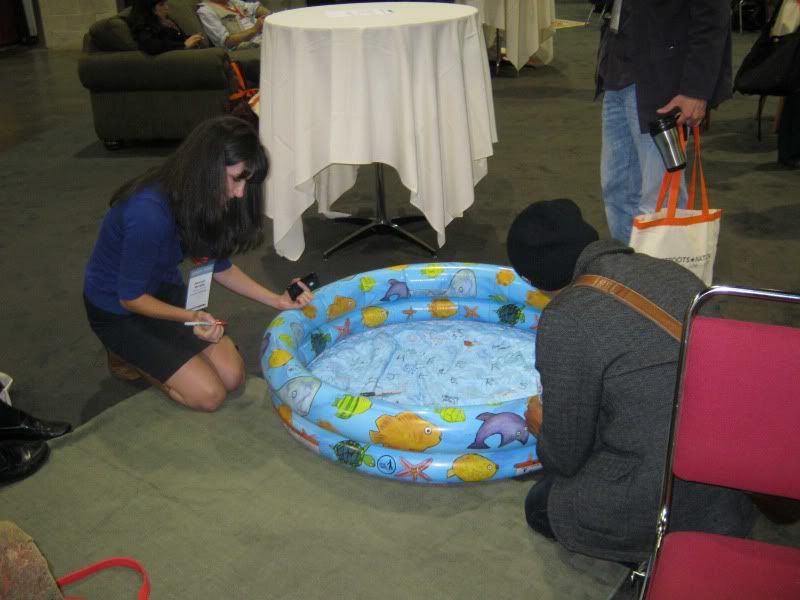 One thing I have learned is I am not wasting my time here. I was humbled to find out that most people I talked to knew who I was, or at least recognized the name priceman. I guess you could say I have made my mark.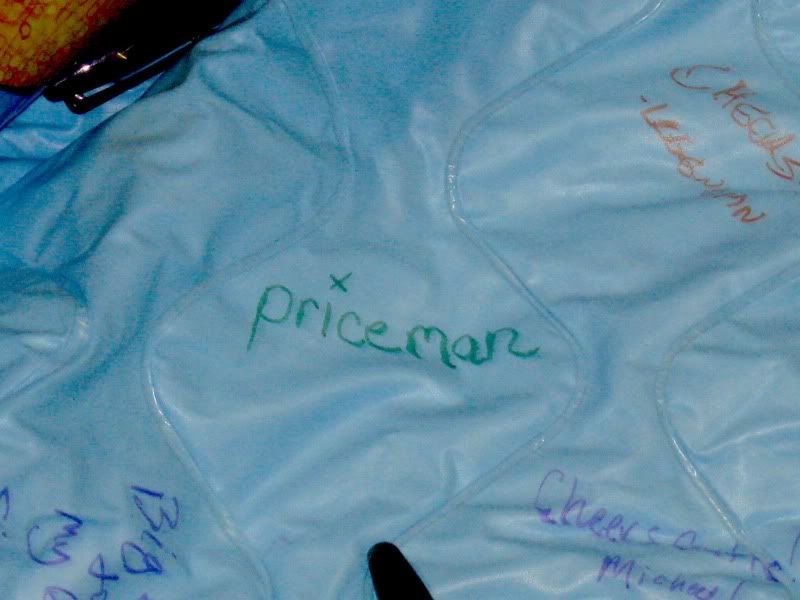 And now a word about Darcy Burner who is running for Congress in the newly-redrawn Washington's 1st congressional district in 2012. I have a good feeling about that run and her.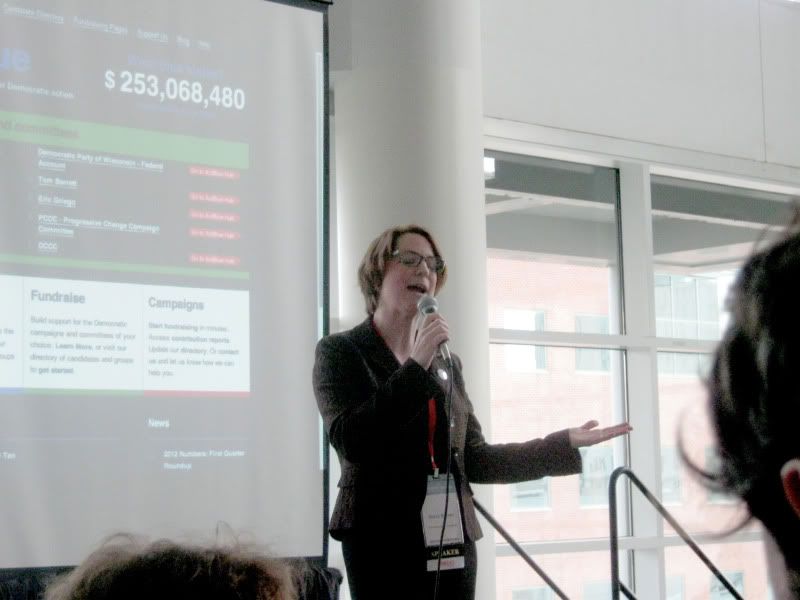 You know it's hard to get me to like anyone in Congress or running for Congress these days, but there's something candid about her. She remembered me from kos and the exchanges we had. She is very accessible and real. She's never afraid to criticize her fellow Dems when the need is there and it is.
I don't need to tell most kossacks here about her virtues and perseverance to keep going no matter what trials and tribulations she faces. You already know. Darcy Burner is one of the only Dems I like at all. She is so accessible and fun. I spent some time drinking with her at the Soapblox party and it was pretty awesome. She knew who priceman was as well. I believe she will win this time.
Speaking of one the few Democrats I still like, here is Senator Sherrod Brown from Ohio and of Brown Kaufman Safe Banking Act (just reintroduced) fame.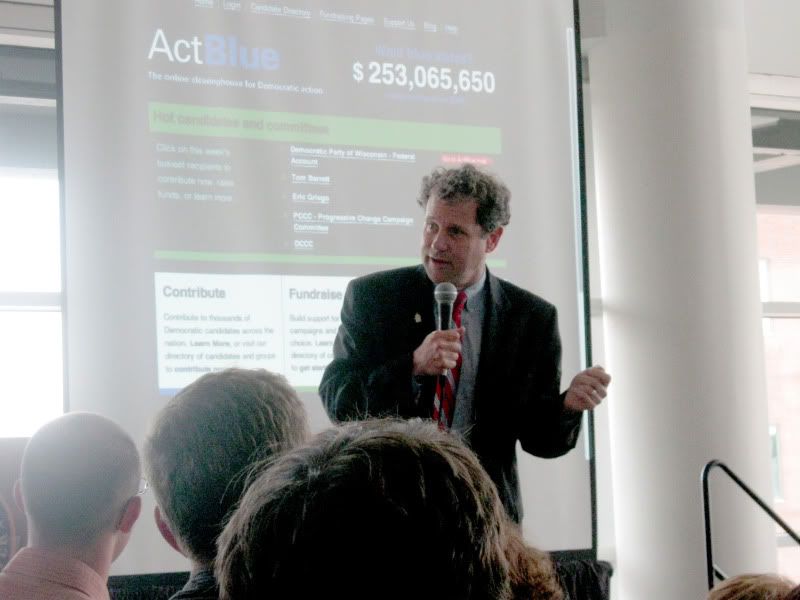 He told the funniest story about how some voters were overheard from his wife talking about how they didn't like his voice. She said, "I love his voice." They asked why, and she said, "I love hearing it in the middle of the night when he rolls over and says I love you, baby!" And they all laughed and were won over.
And of course he also spoke seriously about supporting his candidacy and fighting the banking cartels working to defeat him and the Safe Banking Act he just reintroduced. He's worth supporting for trying to end TBTF unlike too many other Democrats upholding it while pretending to be against it.
And this was the type of event where you turn around and there's Alan Grayson who I got to meet. Awesome.
All in all this was the most attended(3,000) Netroots Nation ever. It was a very inspiring and great experience for me. I ran into a few posters not too fond of me(you know who you are) but it's amazing how a face to face meeting and an open bar can simmer down the tension. I had fun meeting everyone, including Kaili Joy Gray, side pocket, Tool, and UnaSpenser just to name a few.
I was particularly fond of talking to Marcy Wheeler(whose work I love and told her so) and meeting my old friend Sarah Lane(one of the first people I ever met on Dkos) at the Daily Kos 10th anniversary party. Sarah worked as Jeff Merkley's(another one of the few Dems I like and I contributed directly to in 2008) press secretary for awhile and helped get him elected. I never thought I would get the chance to meet her and others here in person. I'm so glad I did.
So yeah, I'm still pissed off at the state of this country and broken system.
However, it's these types of experiences that help keep one going. There's much more I didn't have room for, but I may still get to it in some fashion. Thank you to my new friends at DFA and Daily Kos for giving me this experience.
I think I'll be here for awhile because of it.