This diary takes a look at how competitive the Colorado 6th District is, and how well we should rate Joe Miklosi's chances against incumbent Mike Coffman. I see Joe has done his first diary on Daily Kos just recently. So can we take a seat that was once the stronghold of Tom Tancredo prior to redistrictings turning the district competitive. (Tancredo is still around - explaining the evils of multiculturalism)
At the outset I should say that I think the race has received a fair amount of coverage in the various DKE Digests, and so much of this old ground (there is a new poll out though on the effect on Hispanic voters). But I like to understand some of these races where the Republicans are angry at the redistricting outcome. To see how competitive Miklosi can be I have looked at his endorsements/party backing, fundraising, campaign, opponent/s, electoral experience and and policy platform. I also look at the numbers for CO-06 and the various Senate Districts and House Districts "nested" within CO-06, and briefly the upballot and electoral environment.
I rated the race as a Tossup, but what do others rate the C0-06 race ?
The Hill: Tossup Daily Kos Elections: Lean Republican
Rothenberg: Tossup Roll Call: Lean Republican
Cook: Tossup Sabato: Lean Republican
SaoMagnifico: Tossup/Tilt Republican
jncca: Tilt Republican
ColoradoPols seems to be a good place for race and legislature control ratings. They seem to be pretty good - they rank Coffman as a slight favourite over Miklosi. By way of context they dismiss the Coors challenge in CO-07 and rate Pace at even money with Tipton. They basically write off the GOPs chances in the State Senate and find that GOP Speaker Frank McNulty is basically gifting the State House to the Dems, who are unusually out raising the GOP candidates. So it seems Miklosi needs to get some more traction - but CO-06 is very real target. At the end of the day I looked at changing to Tilt R or Lean R, but I maintain that it is a genuine Tossup.
COLORADO 6TH CONGRESSIONAL DISTRICT
Partisan (Presidential 2008): Obama (53.65%) vs McCain (44.93%)
Partisan (Ave 2010): Democratic (103,687, 46.6%) vs Republican (118,887 53.4%)
Population: Total (717,014), Non-Hispanic White (453,820, 63.3%), Hispanic (141,204, 19.7%), Black (61,816, 8.6%), Asian (37,342 5.2%), Native (2,795 0.4%), Other (20,037, 2.8%)
Voting Age Population: Total (519,570), Non-Hispanic White (350,232, 67.4%), Hispanic (86,706, 16.7%), Black (43,609, 8.4%), Asian (27,510 5.3%), Native (2,133 0.4%), Other (9,380, 1.8%)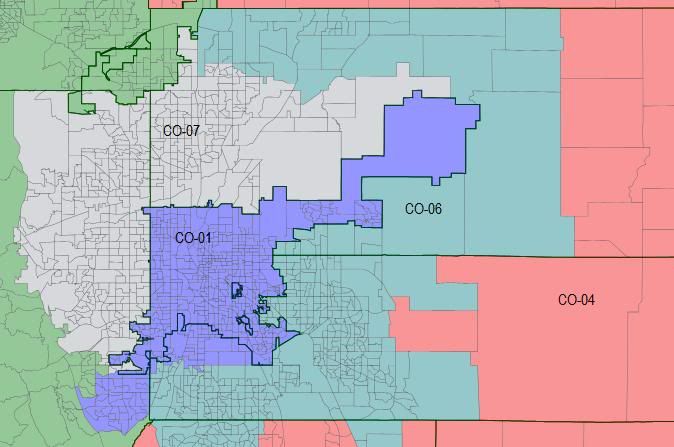 Presidential Results
The new district is centered on blue Aurora and has negligible rural voters. The southern parts of the district are fairly Republican - the Highlands Ranch portion of Adams County and the Centennial area in Arapahoe County, but the district stretches around Denver County to take Blue areas around Brighton. So there are reliably blue areas in the seat, as well as wealthy Suburban Republican voters. The Republican vote is now the suburban vote with little help from rural counties that were much more prevalent in the old 6th.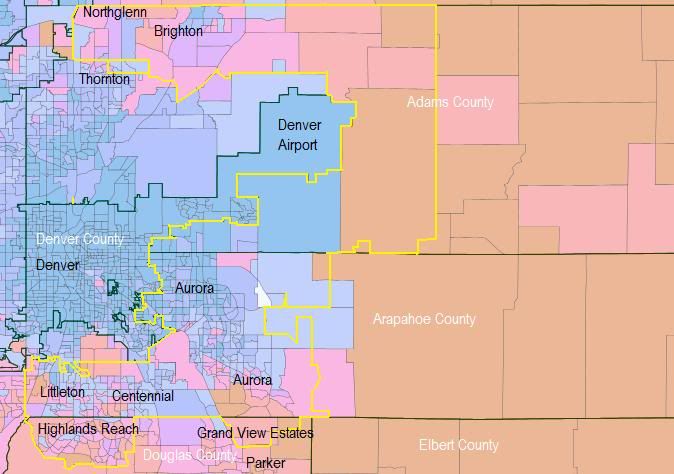 Presidential Results (By County)(Courtesy of DKE)

| County | Obama (%) | McCain (%) | Total |
| --- | --- | --- | --- |
| Adams (pt) | 18,922 (53.96%) | 15,480 (44.14%) | 35,068 |
| Araphoe (pt) | 132,652 (55.68%) | 102,103 (42.86%) | 238,234 |
| Douglas | 23,432 (44.27%) | 29,006 (54.80%) | 52,931 |
| Total | 175,007 (53.65%) | 146,5896 (44.93%) | 326,232 |
The effects of redistricting dramatically changed the district from a 53%-46% McCain (PVI-R+8) district into a 54%-45% Obama district.
However in the 2010 US Senate race, the votes was 50/50 between Bennet and Buck. The district also voted for Republican Walker Stapleton over Democrat Cary Kennedy
.
While the 3 Democrat held CDs all have Democratic Party registrations, CO-06 has a 1% Republican registration advantage (33%D, 34% R, 32% Unaffiliated).
Redistribution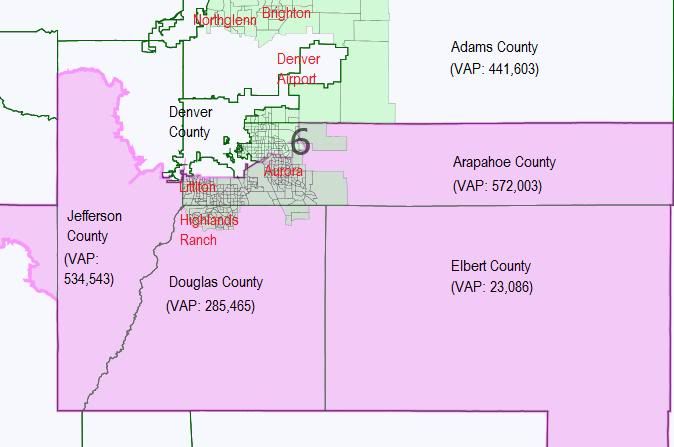 The new 6th took the urban and suburban parts of the old 6th and merged them with the Aurora and Brighton portions of the old 7th, effectively becoming an Eastern collar district around Denver. There are 419,961 (58.45%) from the old 6th, 263,833 (36.72%) from the old 7th, 22,280 (3.10%) from the old 2nd, and 12,382 (1.72%) from the old 1st.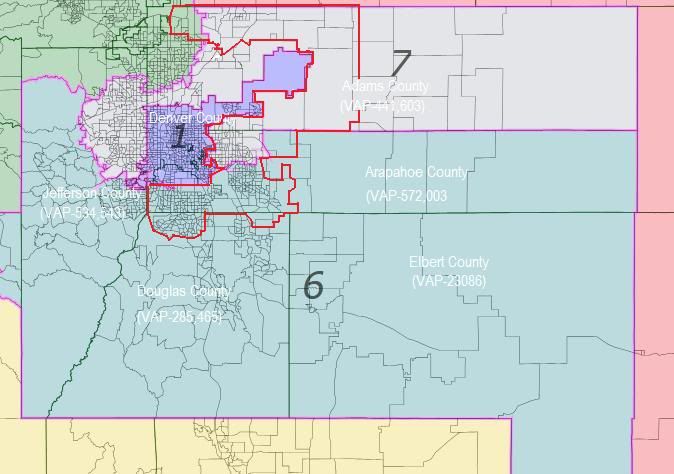 JOE MIKLOSI


Joe Miklosi seems to be a hard working candidate who is backed by the Colorado Democratic establishment. To see how competitive he can be I have looked at his endorsements/party backing, fundraising, campaign, opponent/s, electoral experience and and policy platform.
I also look at the numbers for CO-06 and the various Senate Districts and House Districts "nested" within CO-06.
Mojo
If only mojo could get you over the line, Ryan Taylor would be a certainty for Governor of... probably both Dakotas. But it certainly can help in a tight race. Miklosi isn't up on the air yet (no primary so no adds I guess) but he does have his launch speech and there are a few other things on youtube. He certainly seems passionate and seems to have what it takes...
Launch Speech
Endorsements
Miklosi is a Red to Blue Candidate backed by the DCCC. He started out in the CO-06 as a hard working opponent who through sheer luck somehow found that he had a golden opportunity. After a small period where some top tier primary opponents entered the race, he since had the way to November cleared for him. Not only that but unless my eyes deceive me, he has the endorsement of every Democratic State House Representative ! All 31 of his colleagues appear to have endorsed him. Then all the current Colorado Dem congressmen, both Senators and many local councillors in CO-06.
State Senators on the other hand haven't been as consistent although he has the support of all three Arapahoe State Senators, and two from Denver: Linda Newell, Suzanne Williams, Morgan Carroll, Pat Steadman, and Irene Aguilar. So from his website it doesn't look like the Governor and State Senate Leadership have endorsed him, he seems to have a huge amount of endorsements, when compared to most other Dem candidates. While I am not sure how much endorsements help - it is certainely a sign of confidence in him that he has so many. He is also endorsed by the AFL-CIO.
Clearing the Primary
As David and others described in detail blow by blow, Miklosi had some prominent company in the Dem Primary for a little while, albeit most interested parties deferred to Miklosi.
Brandon Shaffer, the current Colorado State Senate Leader, based in Longmont in CO-04 considered shifting to the more competitive race but decided in February against it.
Physician/Business Owner Perry Haney was also in the race, but dropped out in February despite having more money than Miklosi (courtesy of self funding), probably due to Republican complaints to the FEC. By the time 4th Quarter 2011 fundraising was due, businessman Perry Haney had raised $16K, spent $84K and had $353K in COH.
Fundraising
Miklosi is not a particularly strong or weak fundraiser:
Pre-Primary FEC Report - Raised ($176K) Spent ($114K), COH ($394K)
1st Quarter 2012 - Raised ($235K) Spent ($70K), COH ($338K)
4th Quarter 2011 - Raised ($104K) Spent ($27K), COH ($174K)
9th July 2011 - Declared for CO-06
It has been reported that Steve Farber, a Denver attorney and registered democrat who lead the fundraising effort to bring the 2008 DNC Convention to Denver was hosting a $500 a head fundraiser for Coffman.
Campaign
Well like many other campaigns, Miklosi got had various shake ups this year with staff changes. He had a dispute with his finance director Kirsten Boyd, daughter of term limited Democratic State Senator Betty Boyd, who still may not have been paid. Other staffing changes include shifting his campaign manager Dean Meinen to Campaign Political Director and bringing in Joe Hammill. None of this would appear to be too unusual for a first congressional run I would have thought, but it certainly hasn't been smooth sailing. It is worth noting that prior to running for the Colorado State House, Miklosi worked for Progressive Majority, so he should have some skills relevant to campaigning.
In an attempt to try and overshadow his own gaffes, Coffman has caught Miklosi saying that the DCCC pays for several of his staff. This is meant to show that he is a Washington insider but is really just a bit of good news for Dems that show Miklosi is getting some help from DCCC to win in 2012.
Policy Platform
His page seems to be stock standard mainstream Dem, yet hits all the right notes. His first diary however seems to far better articulate his policy platform. He sponsered online registration - I wonder how much difference it will make ? I am thinking a lot, particularly younger voters who would be far more likely to take the time to register online, yet might not register otherwise. He also appears to have sponsered or co-sponsored bills in support of the Dream Act, and same sex civil unions. His website does have a good note about Coffman's support for the Ryan Plan and other Republican attacks on Medicare:

The 6th congressional district would have been the 10th most negatively impacted congressional district in the entire country had those bills passed and 74,000 residents would have lost their Medicare and each resident would have had to pay an additional $6,400 a year.
Opponent - Mike Coffman
Is Mike Coffman the right type of candidate for this seat ? You have to remember that he inherited the 6th district from Tom Tancredo, so he has always been running as a hard right Republican in a hard right district. The infamous comment he made about Obama was made in Elbert County a rural county in the old 6th that is removed from the new 6th. Coffman was once Secretary of State, where he did his best to make it hard for people to register to vote, and shockingly had a
fair degree of perceived control
at the very least over the voting process in CO-06 when he first ran for congress. The software salesman for the machines used in vote counting owned a loft that Coffman's State Elections Director was staying in! The machines were purchased by Colorado when Coffman was SOS. It is so disgusting... A diary by
Wade Norris
is a good read.
Apologizing For Being Caught Being A Birther
Coffman finally made a real apology - which may have simply been to put the whole matter to bed after his pathetic fake apology, or hopefully it shows that he is worried about being in a more moderate district. He later admitted that while he was wrong he did at least party apologise for political purposes.
Miklosi Campaign's Crafty Quoting
Coffman Fundraising
Coffman is a typical cashed up incumbent:
Pre-Primary FEC Report - Raised ($320K) Spent ($102K), COH ($1.586M)
1st Quarter 2012 - Raised ($526K) Spent ($121K), COH ($1.369M)
4th Quarter 2011 - Raised ($423K) Spent ($64K), COH ($961K)
Opponent - Kathy Polhemus
Yep this is a real problem right here - Kathy Polhemus might as well be Mike Coffman's campaign chair. Blah blah blah I am a moderate - system is broken - I will get 2 or 3% of the vote to give Coffman an edge. I love how this former Democrat has to pick a race where she can function as a devastating spoiler. As I write this, I am struggling to be polite - but I can't see how this is anything but a real vanity project. As if Kathy is going to change this Congress - yet another independent trying to steal the Democratic vote to promote bipartisanship/independence. The problem is on the Republican side... The Dems have constantly compromised... for almost nothing. If you want to have a look at this fiercely independent webpage go ahead. She has raised $40K so far apparently. Very disappointing. Apparently she views Miklosi as too liberal for the district. I find her typical talking points amusing - have heard these before.
CO-06 Polling/Early Voting
There has not been any polls released for this district. Early voting has begun and Republicans have a large turnout advantage across the board in Colorado so far. To be fair, the only Statewide race has no Democratic primary, but does have a hotly contested Republican primary.
Upballot Races - NEW POLL
There are only two upballot races this year - the Presidential Race, and the Colorado University Regent role. In Miklosi's favour is the President's Hispanic pitch.
Latino Decisions and America's Voice have released polling showing Colorado Hispanics favour him 70% to 22%! After the birther comments it is tougher to see any Obama/Coffman voters... Advantage Miklosi.
NEW POLL Methodology:
Full results by state are here and archived with others at our Recent Polls page. Latino Decisions interviewed 2,000 Latino registered voters between June 12-21, 2012 using live telephone callers, sampled across five states, with 400 each in AZ, CO, FL, NV, VA. A mix of landline and cell phone-only households were called, and up to 5 attempts were made per number. Latino respondents had the opportunity to complete the survey in either English or Spanish, using fully bilingual callers, and overall 38% of Latinos chose to complete the survey in Spanish. Data are weighted to the state proportion of the Latino population across the five states for a combined battleground sample as well as weighted accurately within each state. Overall, the entire sample has a margin of error of +- 2.2% and each state sample has a margin of error of +- 4.9%. Additional survey results, including Congressional vote and policy attitudes will be reported later this month.
Ballot Question
Apparently there is a ballot question on whether to decriminalize pot - and there is speculation this will bring out the youth vote. Haven't looked into this one, but if it works, it works.
Electoral Environment
It seems that the Secretary of State, Scott Gessler (a Republican) is continuing to run the place like Mike Coffman - he doesn't want to send ballots out to inactive voters. You guessed it, inactive means they didn't vote in 2010. What an assault on democracy, they don't care about stealing elections do they ? Fortunately the Pueblo County Auditor Gilbert "Bo" Ortiz seems to be trying to keep Gessler honest... by sending ballots to those registered voters who missed 2010. And Gessler the fascist - is suing him over it. He also sued Debra Johnson, the Denver County Clerk over the same issue. He lost in the interim however, she was allowed to send them out for the primary. We will see what the final ruling will be going forward. Ortiz points out that to not send ballots to all serving military personnel, whether they are "active" or "inactive" registered voters would be in violation of federal law.
State Senate/House Districts in CO-06
See below the fold for the details, but in the down ballot races the Democrats are competitive holding 5 of 7 State Senate Seats and 4 of 10 State House Seats, with redistricting set to deliver one more. It is pretty clear that the area is a bit of a bellwether for Colorado. Generally for both side, local legislators are well represented in Party Leadership.
EXISTING STATE SENATORS
Of the 35 State Senate Districts, there are 7 within CO-06. The Democratic Party (which holds the State Senate) holds a clear majority with 5 of the 7, holding both Aurora seats, a Littleton seat and the two Adams County seats. The Republicans hold the traditional stronghold - a Highlands Ranch (Douglas County) seat and a Centennial seat. (NOTE: Excuse some of my crude outlines of CO-06 I haven't mastered DRA yet).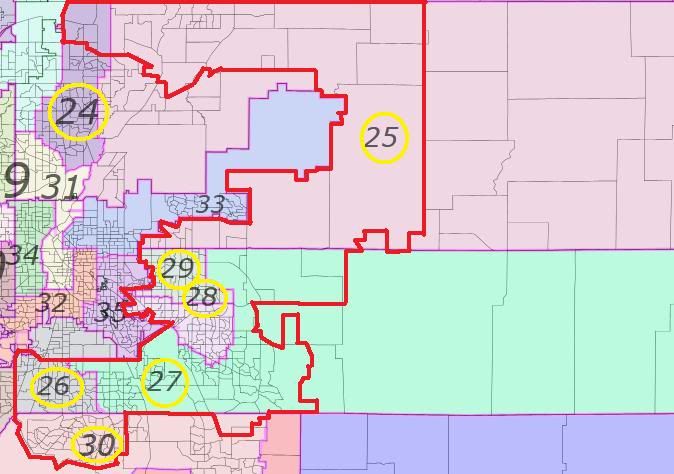 Current 6th District State Senators

| SD | Name | Party | Location |
| --- | --- | --- | --- |
| 24 (Pt) | Lois Tochtrop | Democratic | Thornton |
| 25 | Mary Hodge | Democratic | Aurora |
| 26 (Pt) | Linda Newell | Democratic | Littleton |
| 27 (Pt) | Nancy Spence(TL) | Republican | Centennial |
| 28 | Suzanne Williams (TL) | Democratic | Aurora |
| 29 | Morgan Carrol | Democratic | Aurora |
| 30 (Pt) | Ted Harvey | Republican | Parker |
2010 State Elections
So how did the area perform in the 2010 elections ? Well not much happened in the State Senate, the Republicans won a single seat off the Dems, which was not in CO-06 and there were not many State Senate seats even up that cycle for CO-06. Most of the State Senate seats are up this cycle.
Candidates Term Limited
Republican Incumbent Nancy Spence is Term Limited, although David Bulmer is a top tier replacement. Democratic Incumbent Suzanne Williams is also Term Limited, and again there is a top tier replacement in Nancy Todd.
Redistricting
Redistricting has made the Arapahoe seats more competitive in general.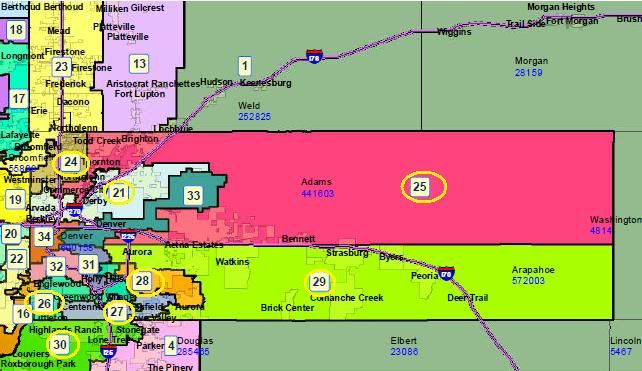 In Adams County, The 24th now contributes far less voters to CO-06 and is a bit more competitive. The 25th is the majority of the Adams County part of the district and is held by the capable Mary Hodge - despite being a swing district it has a large Hispanic Minority. The 21st might reach a little into CO-06, and is an open Hispanic Majority seat (Just plurality VAP).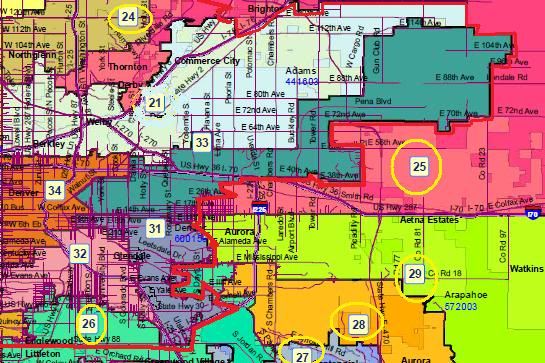 Littleton incumbent Linda Newell has actually got a Democratic leaning district rather than a battleground district. The 27th has been made more competitive for incoming David Bulmer, but is still red. The two Democratic Aurora seats (28th/29th) have been made more competitive, but still blue tinged with the 29th including all of rural Arapahoe.
6th District Candidates

Andrew Bateman on ColoradoPols
thinks
that the Republican Primaries in the 21st and 28th SDs are lightweight battles for the right to lose to a Dem.
EXISTING STATE HOUSE REPS
There are 10 House Districts either within CO-06, and they are much more Republican held than the State Senate seats. There is also another Republican House District (44-Parker, held by Chris Hulbert) that has a small section within the CD. And yeah it is somewhat dubious as to whether Joe Miklosi's House Seat (HD-09) is actually with CO-06... Clearly the very distinctive shape of Denver County's boundaries shows he is officially a carpetbagger... albeit a close neighbour. 8 of the House Districts are shown on the map below.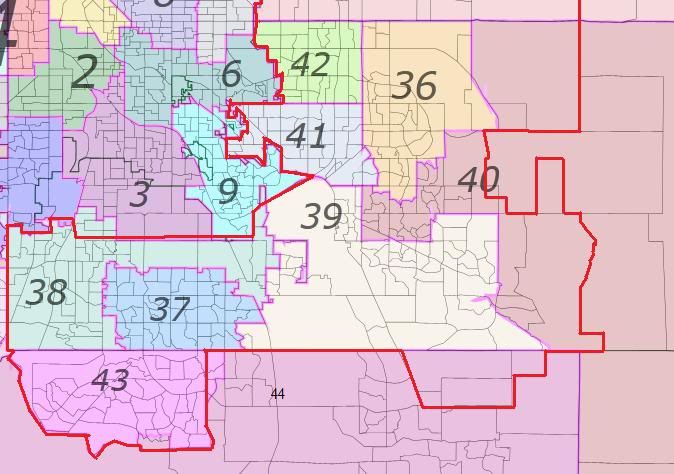 The two Brighten based seats from the northern Adams County "arm" of the district.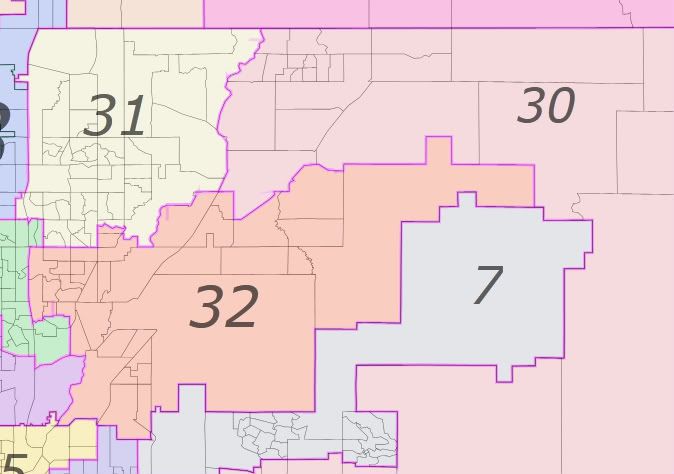 Current 6th District House Legislators

2010 State Elections
So how did the area perform in the 2010 elections, where the Democrats lost control (by one seat) in the House of Representatives? (I remember being particularly disappointed with that, as otherwise Colorado would have been a real winner for us, given the results in the other races went so well). Well of the 6 seats lost by the Democrats, one (the Littleton based 38th HD) was lost in the CO-06, with Kathleen Conti defeating Joe Rice 15,701 to 14,809 votes. The other seat of note is the ultra rural 40th HD where the Dems didn't bother to field anybody.
Candidates Term Limited
Democratic Assistant Minority Leader Nancy Todd is Term Limited and is running for the State Senate. Her husband Terry Todd is going to run for the new 41st HD. Judith Solano is also term limited, and the new 31st district is a Hispanic opportunity district anyway. Balmer, the Assistant Republican Majority Leader is Term Limited and running for the State Senate.
Redistricting
Redistricting hasn't really helped out either party. farleftfagala produced an excellent series of diaries reviewing the State House & Senate Districts, and for Colorado Legislature predictions I recommend them. His diary has a lot more detail, but here is some specifics on the districts nested in CO-06.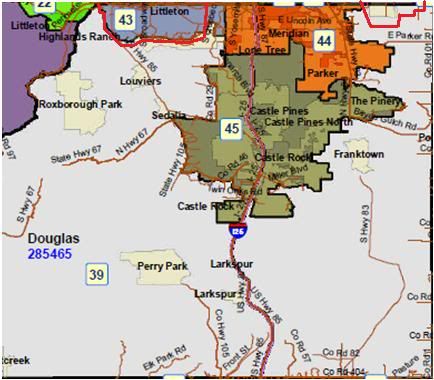 For the two Douglas County Districts nothing much changes. The 43rd remains the same and McNulty is running again. The 39th changes dramatically, but still has only a small section of CO-06 and is still very Republican.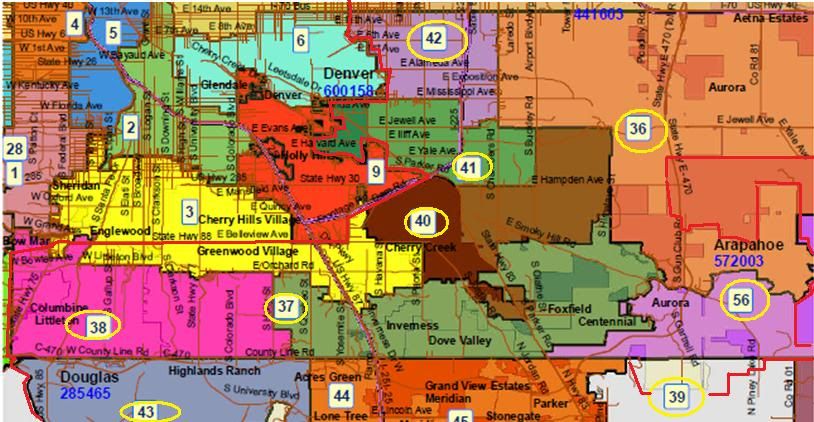 For the Arapahoe House Districts, there are some changes. The two Democratic Aurora districts (41st/42nd) remain blue, but the 40th HD has changed from Republican to Democratic putting popular Republican incumbent Acree in peril. Her district no longer has significant portions of rural Arapahoe. Ryden's 36th HD has gone from a Democratic district to a competitive swing seat, with a larger rural portion.
To the south of the CO-06, Bulmers' 39th is essentially torn to pieces and redistributed amongst the 40th, 37th and 38th, but he was Term Limited anyway.
The Littleton based 38th and the Centennial based 37th are both slightly more Republican, with Conti and Swalm likely to win again.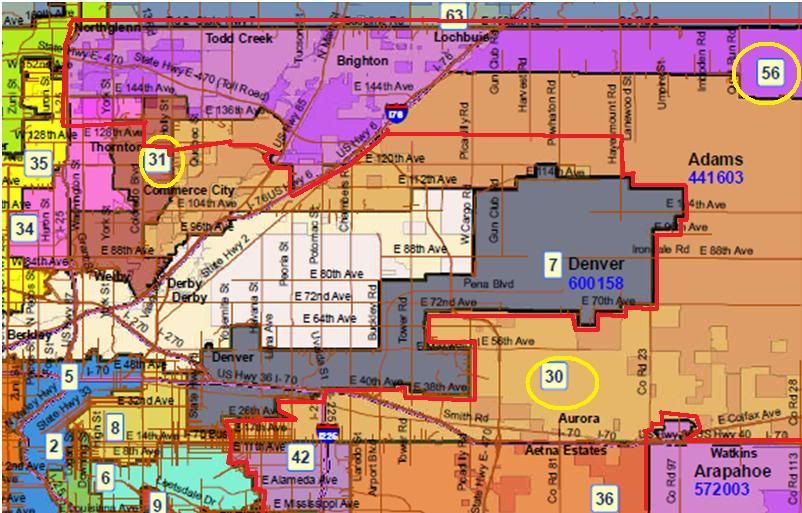 For the Adams County section, there is a new 30th HD (nothing to do with the old 30th) that wraps around the Denver Airport "limb". The open 31st HD doesn't contribute many CO-06 voters, but it does become more Democratic, although the incumbent is Term Limited. There is a new 56th HD that is essentially a Rural Adams County and Arapahoe County HD with Todd Creek and Brighton thrown in. Current 30th incumbent Priola is running for this seat.
Future 6th District House Candidates

Colorado/CO-06 Resources Ready Reckoner

Sat Jul 07, 2012 at 8:41 PM PT: It turns out that the labor dispute is a storm in a teacup - it was dismissed in January 2012, by the Colorado Department of Labor. It turns out the Coffman campaign forgot to mention that in their robocalls of the district.
Sun Jul 08, 2012 at 3:11 AM PT: There is another electoral issue that has bearing on the race (Hat Tip to JH).
In addition to Amendment 64, there is also proposed Amendment 62, which is a personhood ballot initiative, with the petition organizers needing to get 85,000 signatures to put it on the ballot. Opponents lost a case in the Colorado Supreme Court (where there are 5 Dem appointees and only two GOP appointees) to prevent the measure from being placed on the ballot.
Coffman has in the past supported a similar previous amendment, but several articles here, and here are wondering if Coffman will again be involved in the war on women.