The Story of Voter Disenfranchisement in Tennessee continues:
State Dem takes action:

NASHVILLE – Senate Democratic Leader Jim Kyle has requested that the State Election Commission look into allegations that more than 11,000 Tennessee voter history files have been inadvertently purged without cause.
Kyle Requests Investigation of Wrongful Purge Claims
While the Whistle Blowers Gets Slapped (as in: no good deed goes unpunished)
Black Box Voting Gets DMCA Threat from Accenture

Amazingly, Accenture, which sold its crap-on-a-stick high-school sophomoric completely insecure malfunctioning voter registration software to a bunch of states, so unsuccessfully that Colorado refused to pay and others, like Wisconsin and Shelby County, bought out the source code in order to try to bandaid it into a functional system, has decided to issue a cease and desist against Black Box Voting for exposing its flawed software to the public.
Black Box Voting Gets DMCA Threat from Accenture
What I have learned from this story:
1) Shelby County officials have admitted to keeping at least 3 seperate sets of voter records (when they got caught they said the "official" one was correct),
2) Shelby County has been proven to have hired an outside person to "modify" the way the Diebold system works, counts votes, and tracks voting records,
3) If Shelby County was in California their entire vote system would be de-certified,
4) Local, State, and Congressional Elected members have called for formal, official, and thourough investigations, so maybe the truth can still come out,
5) Voting systems and records are just complicated enough that fraud and maniplution are extrememly easy to do - while simltaneously difficult to prove,
What I already knew/believed:
1) Invisible, unverifiable vote counting systems are broken and do not work. it has been documented that Nationwide Millions of votes have been switched or not counted in elections since 1990.
2) The Republicans see Voter Disenfranchisement as a game of chess - without any rules - where the ends justify the means. For Republican operativess it is two steps forward, one-step back, one-step sideways, skip a step, etc.
3) What Republicans are doing to disenfranchose voters is ilegal, immorral and un-American.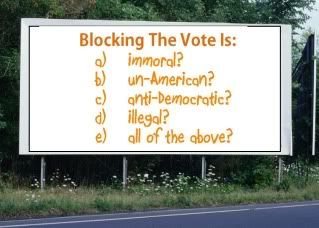 Unanswered Questions about Shelby Co TN Officials:
Shelby county election officials: corrupt? incompetent? over their heads? keep multiple vote records? alter votes? alter vote records? alter the list of eligible voters? committed crimes? committed un-American actions? acted immorally? who knows - i don't - but i have educated suspicions backed up by facts, knowledge, data, and evidence that all point to actual or potential voter disenfranchisement and vote switching.