Gotcha! :)
What, let me guess, you clicked on this post because you absolutely LOVE Monterey Bay like we do? Or do you simply hate lurkers? Or are you retired, like we are, and spend a significant amount of time just, well, lurking about? Whatever your reason, welcome!
Most of our lurk time these days is spent observing and photographing wildlife for the hell of it. No scientific study, no pulitzer in the offing, just travel addicts, a couple of escapees from the local High School out to experience and document nature.
You might call us professional lurkers. Hell, every other year we even spend three months camping in our little dome tent in remote parts of four countries in southern Africa, mainly.... you guessed it, lurking about, spying on wildlife.
Sorry, we are kind of un-American...no big screen TV, no new cars, no mortgages....
By some miracle we managed to retire on our little teacher pensions and live within it our means. But even though we camp, fix most of our own meals, travel by bus or hitch, get at least one 'free' ticket through use of credit card to earn air miles.....its still an expensive hit to travel to Africa from teh US. So every other year we do our lurking in the Americas.
Seriously, when we are not out lurking with the animals we are quite often doing as we are today, slumming at some free wifi cafe in say Montezuma, Costa Rica, Flatdogs Camp, Zambia or in Santa Fe, New Mexico, drinking the good java and writing about our experiences with budget travel. We are thankful, though we know we must be vigilant and active because of the vulture capitalists hovering around our state pension fundand Social Security.
Monterey Bay
As some reading this surely know, Monterey Bay is a wonderful place to see wildlife with beautiful scenery to boot. Recently we returned to Monterey/Bigsur on a budget trip, camping and hosteling and cheap hoteling, but still managed to do some first class lurking !
You are now invited to take a deep breath and dive beneath the kossack wave foam for some pictures of that experience.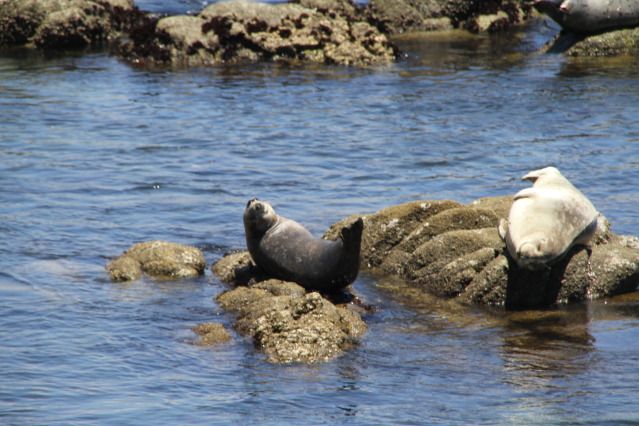 The objects sought by the lurker pictured above the squiggle-- Harbor Seals rest on rocks in Monterey Bay. Photo by divine order

First a few quick notes about my experiences so far with new Dkos picture loader.
My wife and I, both kossacks, have loads of experience uploading pictures. A major hobby since we retired from teaching, we have spent hours and hours uploading pictures and stories about our budget travels at the free hosting site, Traveljournals.net We've been doing it for 7 plus years, and their site counter (before they quit sharing it earlier this year) showed us to be their number one poster, with over 3.75 million hits during that period. Would have been nice to have made a little money off it, but its just been fun and gratifying to have them host our work
Traveljournals.net bulk image loader makes it easy to keep family and friends informed of where we are and what we are up too while traveling, far easier than writing postcards like we did in years past. With Google search driving people to our pages at Traveljournals.net, its been interesting the number of folks who contact us for specifics about the destinations where we travel.
Confessions of a Dkos Photo Diary Lurker
Perhaps you, like me, sometimes get a little down reading all the fascinating Dkos stories and diaries about political life? Yeah? Well for me, a great way to take a break from that is to visit some of the beautiful photo diaries that are posted here. There truly are some amazing photographers who post here !!!!
I have been a member of dailykos since 2008, have posted a few pictures and have been asked numerous times in comments to put up a diary on our travels. I have never before created a picture diary.
In the past it I would start to but it would seem just so time consuming that I would quit and never finish. First, one had load the pictures to a picture site like Photobucket. Then one had to copy the embed code into a diary. It would take two to three times as long as putting up posts at Traveljournals.net .
Nifty New Dkos Tools
We got up early and enjoyed the 58 degree weather here in Santa Fe . Road our bikes several miles to the bus stop, then caught it uphill to the historic area then rode over to the Travel Bug. We sat on the front patio to enjoy a Red Chile Mocha, a green chile breakfast burrito, and to use their free wi fi. The view was stunning with the historic Saint Francis Cathedral with mountains, blue sky and beautiful clouds. Great day to be alive! Exciting day, I was going to put up my first photo diary on DKos!
I really have been jazzed since I learned about the new dkos Image Queue. This seemed like it would be a great aid to uploading, and would cut the time it takes to post a diary using the old third party image site embed method.
I was quite happy how ease it was to drag five or six photos over to the diary draft! While they loaded I flipped to another tab to read a story, all the while feeling thankful and enjoying the morning ambiance of old Santa Fe.
Caution, Whining Follows
When I came back to the diary to check upload progress oh noooeeess!!!! Disappointment. Sniff. The new image loader thingie does not automatically resize photos!!!

X 075.JPG could not be uploaded.
Image_file_size must be less than 5 megabytes.
Sad news. All but two of the images I tried to upload were over five megabytes, so no go. Looks like in order to get this done I will have to go search online for a free utility to resize the images. Nah. Ain't gonna happen. Maybe someone with more experience has an idea?
Meh. Instead of going through the hassle to find a utility to resize, and since I had already begun this diary, I decided to go back to Photobucket. I noticed that it now has a bulk uploader. This will save some time. But still, have to select each individual photo then the embed code. Perhaps some of you will have suggestions?
For now, lets move on, and lurk!!! :)
Lurking Around Monterery Bay
On some of our past trips to Monterey Bay we were participating in a project called
Critical Issues Forum
sponsored by the Center for Non-proliferation Studies at Monterey Institute for International Studies, NSF, Naval Post Graduate School, Defense Language Institute and Lawrence Livermore National Lab.
Critical Issues Forum
Where high school teachers and students from around the globe tackle the most challenging and pressing issues in international peace and security, nonproliferation, and disarmament.
Heavy, fascinating stuff, and during our last four years of teaching we and our students participated in the forum and traveled to Monterey. Hard work, busy schedule, but we still always managed to squeeze in a walk along the beautiful Monterey Bay to look at the wildlife !!!
Our trips there these days are just about enjoying the Bay. Last time we were here year before last we had driven from our home in Santa Fe, NM, and we had our equipment with us. We inflated our kayak and paddled around in the harbor enjoying the sea lions, seals, otters and other sea life swimming and barking and splashing nearby.
This trip we used Kayak.com and found a good air ticket deal. We flew out to Oakland, rented a car, and we didn't have our bikes and boat with us. Still, lurking along observing sea life in the beautiful Pacific is quite easy from theMonterey Bay Trail.
Fisherman's Wharf accommodates tired Sea Lions, by divineorder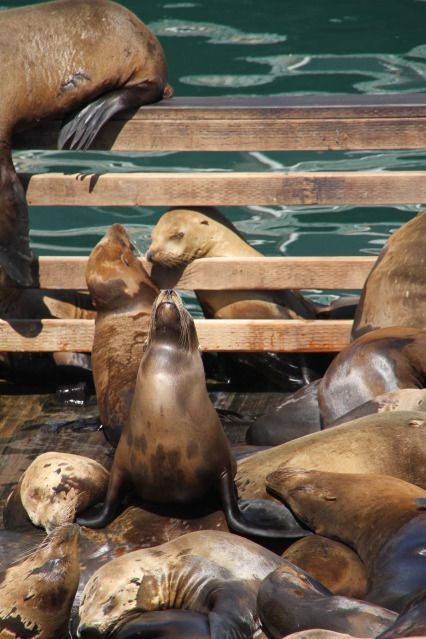 How can I sleep when you are barking and bumping!!!!!!! by divineorder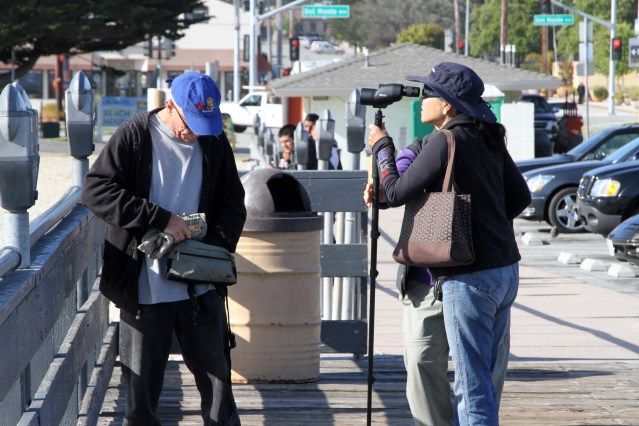 Friends use our spotting scope and look for whales and such. Photo by divineorder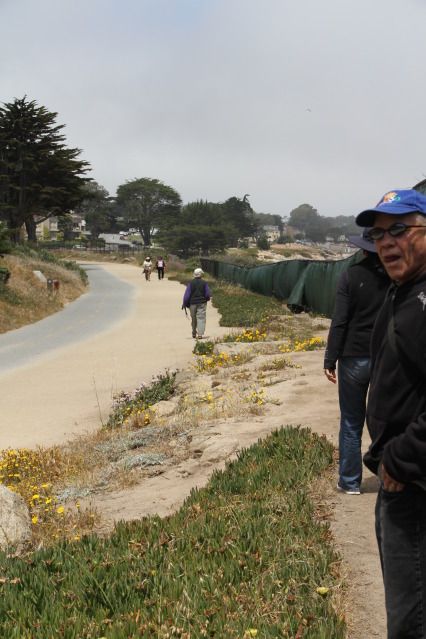 The wonderful Monterey Bay Trail provides great access for wildlife watching and exercise !!! Photo by divineorder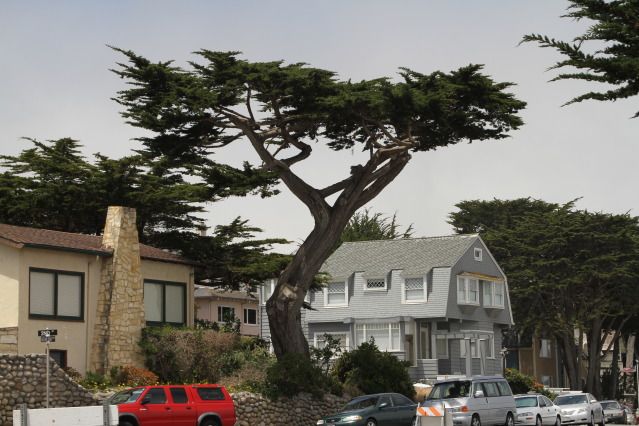 Amazing Monterey Pines in Pacific Grove from teh Monterey Bay Trail. Photo by divineorder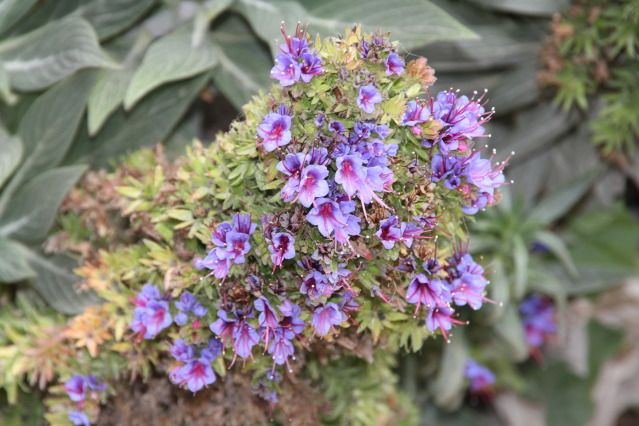 Flowers everywhere, flowers in her hair along the Monterey Bay Trail . Photo by divineorder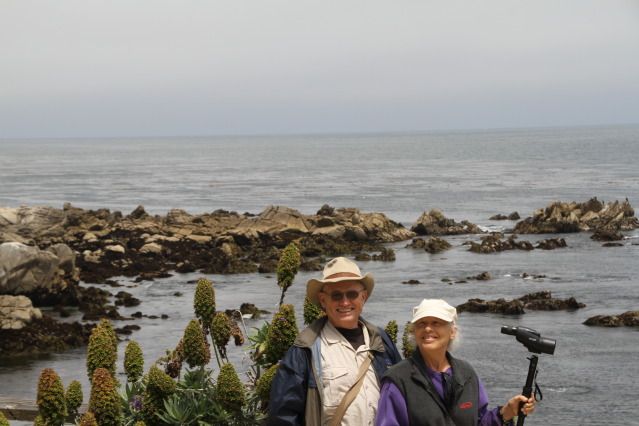 Posers/kossacks divineorder and Jakkalbessie on the Monterery Bay Trail. You probably know its windy and cool much of the year in Monterey. Photo by Dan McFarland, rights-- divineorder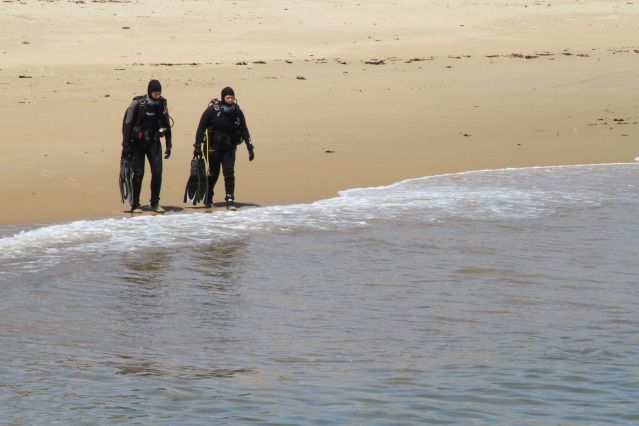 Divers walk onto the beach and prepare to go below. Photo by divineorder
Golden Jellyfish swimming in Monterey Bay. Youtube shot on Canon 7d by divineorder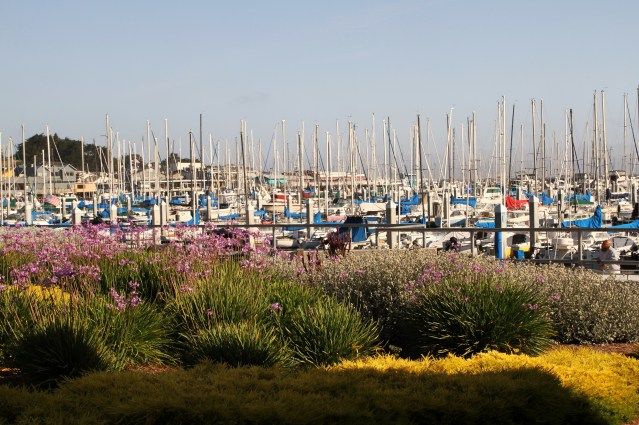 Marina as seen from Monterey Bay Trail. Photo by divineorder
Colorful marine life in Monterey Bay. Photo by divineorder
Monterey Harbor on a rare clear day, with the golden California hills in the distance. Photo by divineorder
Magic life of one of the much beloved Monterey Bay Sea Otters . Photo by divineorder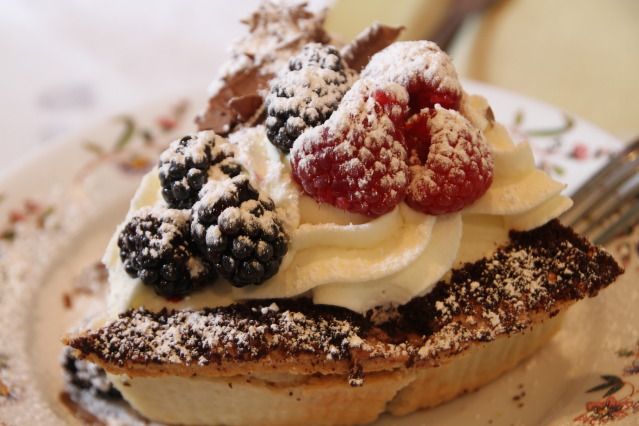 All that lurking can make one hungry! Dessert splurge at the the Red House in Pacific Grove. Photo by divineorder
Our little dome tent, much experienced after camping trips in Costa Rica, South Africa, Namibia, Botswana, and Zambia, chocks up another at our campsite in the misty hills lining Monterey Bay . Photo by divineorder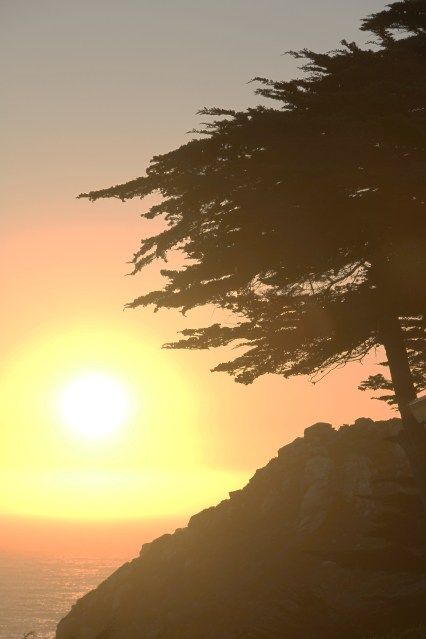 Sun melts into the Pacific at Rocky Point. Photo by divineorder.
###
Conclusion --
Putting up a photo diary at Dailykos may be very time consuming, but is now MUCH easier with the sweet new Dkos Image tools .
Like anything new, there is a learning curve, and I for one am still trying to get up on top and catch that wave.
Thanks for stopping by.
Namaste.