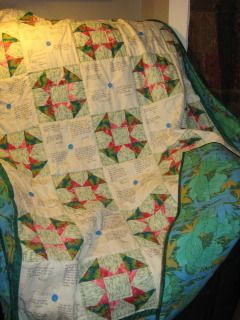 Quilt for remembrance and Glen the Plumber
My sister and I have been busy with quilt projects. The quilt that was signed in Providence is done -- and there will be a drawing very soon. This one was hand quilted by me -- quite a lot of work in it. (Picture under the orange squiggle). Then there are the "love catcher" message quilts for people suffering illness or hardship -- a status follows.
Note the backing -- in true DFH style!
We have three love catcher quilts in progress now -- and a couple of them are under funded. MassHarry's quilt is on the design board -- message collection is complete. We will be shipping this quilt by the middle of the week. It is underfunded by $57. If you would like to help us with this one, here is a PayPal link for MassHarry's quilt. Or message me for a snail mail address if you prefer to send a check. MassHarry is a 42 year old father of three who has Stage IV colon cancer. He's a really nice guy who is so grateful for the community support that this quilt represents.
The next quilt in progress is for Regina in a Sears Kit House. Regina is in Seattle right now, seeking treatment for autoimmune problems from what is commonly called Lyme Disease. She has been really, really ill, folks. She's able to eat a bit now but for almost two weeks, she couldn't eat at all -- everything was causing big allergic reactions. Regina was really at a point of despair. But community support -- and help from angels like Aji, Kitsap River, and llbear -- and all of your good wishes -- have helped Regina and she no longer feels like she is in immanent danger of dying. That being said, she has a long way to go to heal.

Lorikeet's mourning quilt, sent to her by the Rescue Rangers
Ann is making a patchwork rendition of Regina's Sears Kit House that will be the centerpiece of her quilt. We'll arrange the messages around that. So far, we have 65 messages -- but could use more. We are now caught up on donations for the messages received so far. Here is a PayPal link for Regina's quilt. $10 per message is suggested -- if you can help cover for someone else who cannot afford to give, it would be great. These people have left messages for Regina:
1. Youffraita
2. Observer in Vancouver
3. Leu2500
4. BFSkinner and the overlords
5. Ojibwa
6. Citisven
7. Vcmvo2
8. enhydra lutris
9. Carolanne
10. radical simplicity
11. Drmah
12. ridemybike
13. One Pissed Off Liberal
14. TravnTexas
15. Llbear
16. Karl Rover
17. Mimi
18. Carol in San Antonio
19. Louisiana 1976
20. Lorikeet
21. PinHole
22. Aji
23. karmicjay
24. cfk in the Thumb of Michigan
25. scribe
26. grassofleaves
27. Ebby
28. NonnyO
29. allergywoman
30. Joieau
31. Purple Priestess
32. Jlms qkw
33. Rb137
34. Patriot Daily News Clearinghouse
35. Paradise50 and smileycreek
36. ZenTrainer
37. Maggiejean
38. nannyboz and persiflage
39. Weck
40. a gilas girl
41. Citisven
42. 4Freedom
43. Ooooh
44. Barbwires
45. NormAl1792
46. Marie H
47. peregrine kate and ProvokingMeaning
48. Asterkitty
49. Kamakhya
50. Jolux
51. Gchaucer2
52. ulookarmless
53. Sixty Something
54. Watercarrier4diogenes
55. Alicia
56. Mahakali overdrive
57. SolarMom
58. Betty Pinson
59. Remembrance and Glen the Plumber
60. beach babe in FL
61. Rightiswrong
62. Raincrow
63. FishOutofWater
64. Persiflage and Nannyboz
65. radical simplicity
66. MsGrin

detail of a quilt for a man with cancer, commissioned by his friends
We are still collecting messages for nannyboz. Nannyboz just lost her father after caring for him in hospice. She has also been suffering tremendous pain in her back and is about to undergo a complicated surgery for it. She is in horrible pain. We currently have 36 messages for nannyboz. We need at least 44 but I would prefer to have 68 to make a bigger quilt for her, the size of remembrance's. An angel has made a big donation toward this quilt so we are covered for a total of 68 messages. But if you would like to pitch in anyway (every bit helps us keep going), here is a PayPal link for nannyboz' quilt. These people have left messages for nannyboz so far:
1. Andy the Cat
2. Horsefeathers
3. cfk in the Thumb of Michigan
4. NonnyO
5. Chacounne
6. Carol in San Antonio
7. ericlewis0
8. Princesspat
9. chicago minx
10. Kitsap River
11. persiflage
12. Louisiana 1976
13. Wee Mama
14. Ann R
15. One Pissed Off Liberal
16. Nurse Kelley ♥
17. Purple Priestess
18. Enhydra lutris
19. Cali Scribe
20. Triciawyse
21. llbear
22. Smileycreek & paradise50
23. Ebby
24. mayrose
25. Aji
26. Damnit Janet
27. ZenTrainer
28. JwinIL14
29. 4Freedom
30. labwitchy
31. Carolanne
32. Jolux
33. Lorikeet
34. NormAl1792
35. Smoh
36. arizonablue
Any help is appreciated. What we do is very time intensive and the materials are not cheap.
These are the community quilts we have made to date:
othniel (cellulitis and ensuing complications)
exmearden (cancer of heart and lung, RIP)
MsSpentyouth (brain tumor)
Moe99 (lung cancer, RIP)
Michelle Caudle (ovarian cancer, RIP)
BFSkinner (lupus)
Kitsap River (long wait for kidney donor that ended 2/18/11)
Frederick Clarkson (blood clots)
Dreaming of Better Days (lymphoma)
one bite at a time (lost house and belongings to fire)
Timroff (cellulitis)
Sol Fed Joe (multiple cancers and health problems)
Brubs (AIDS, immune reconstitution syndrome)
rserven (gall bladder infection with dangerous complications)
grndrush (brain tumor, RIP)
ImpeachKingBushII (needs liver transplant)
andsarahtoo (lupus)
Frank Cocozzelli (muscular dystrophy)
luvsathoroughbred (breast cancer)
Predictor (stroke and HIV)
Austex54 (caretaker to othniel)
Theodore Olbermann, RIP
cskendrick (antibiotic resistant infection)
Keith Olbermann (caregiver to father)
Juan (cancer)
Ana (a young horse belonging to Juan, hit by truck)
MA Liberal's mother (Alzheimer's)
Charles CurtisStanley (caretaker to Kitsap River)
Lorikeet (cervical cancer)
Dr. Lori (metastatic cancer)
ulookarmless (cancer, heart condition, stroke)
riverlover (caregiver to husband suffering from liver failure, now widowed)
Melody Townsel (caregiver to dying father, now deceased)
dadanation (AIDS)
Dr. William F. Harrison (leukemia, RIP)
Larry Bailey (sudden loss of partner to heart attack)
ramara (adopted son with fetal alcohol syndrome)
Noor B (herniated disk from car accident)
Louisiana 1976 (fibromyalgia, severe arthritis, depression)
stumpy (MS, stroke, RIP)
bleeding heart's niece (cancer, RIP)
escapee (failure of corneal surgery)
SarahLee (lymphoma, Lyme Disease)
Bustergirl (ovarian cancer)
mimi's niece (cancer)
ZenTrainer (breast cancer)
Miss Blue (severe injury to shoulder, anxiety over coverage for surgery)
Granny Doc (bladder cancer, RIP)
mango (heart attack)
nudger (ovarian cancer, RIP)
DaNang65 (heart condition)
Lt. Choi (exhaustion)
Nurse Kelley (spinal stenosis)
Ben Masel (lung cancer, RIP)
Otterary Scribe (caregiver, grieving grandfather, grieving widower)
Aji (autoimmune diseases incl. fibromyalgia, inflammatory arthritis, & Chronic Epstein-Barr Virus Syndrome)
JaxDem (suddenly widowed)
DavidW (AIDS and other undiagnosed illness)
Jester the Marine (facing amputation of leg)
peregrine kate (endometrial cancer)
mimi (grief due to family illnesses)
alliedoc (endometrial cancer)
labwitchy (diffuse scleroderma)
Daily Kos (celebrating community)
belinda ridgewood (sudden loss of her mother)
princesspat (blood clots, deep vein thrombosis)
Scott Olsen (severe head injury)
SensibleShoes (caring for sister with brain cancer)
Joanna (cancer)
cany (grieving caretaker of mother with dementia)
Patriot Daily News Clearinghouse (breast cancer)
Scottie Thomaston (intense chronic pain from spine, kidney stones)
paradise50 (throat cancer)
woodtick (caregiver to mother with Alzheimer's)
BeninSC (mulitple fractures from bicycle accident)
Adrian (colon cancer)
Smoh (breast cancer, stroke, depression)
slksfca (sudden onset of arthritis requiring hip replacement)
arizonablue (grief and exhaustion)
Lorikeet (grieving widow)
remembrance (breast cancer) and Glen the Plumber (her caregiver)
These quilts are planned:
raina (grief for mother)
Carol in San Antonio (cancer)
earicicle (breast cancer)
llbear (brittle diabetic)
UnaSpensor (Lyme disease)
MA Liberal (caretaker to her mother who has dementia)
paradox (cyclical vomiting syndrome, PTSD, depression)
Ellinorianne (rheumatoid arthritis and fibromyalgia)
MsGrin (life long heart problems requiring multiple surgeries)
LorelieHI (PTSD, reversals of fortune, depression)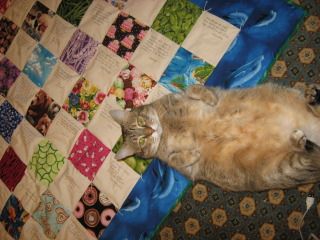 Goldie, quilt inspector, gives Smoh's quilt four paws up
PAYPAL LINK FOR MASSHARRY'S QUILT - THANK YOU!
PAYPAL LINK FOR REGINA'S QUILT - THANK YOU!
PAYPAL LINK FOR NANNYBOZ'S QUILT - THANK YOU!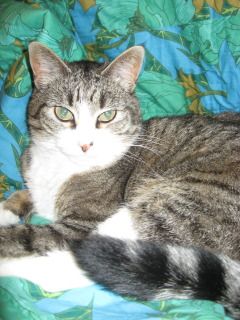 Boots says, "Thank you for supporting community quilts!"
Namaste