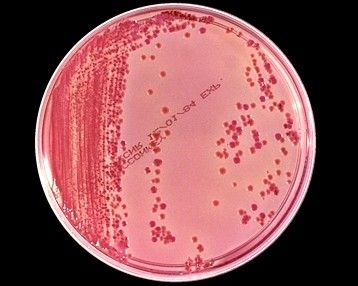 Wednesday, the National Institute of Health revealed a secret, and scary battle, last year, with the antibiotic resistant superbug Klebsiella Peumonaie, in one of their specialized hospitals, in which 17 patients were infected, and 11 of whom died, reports, Brian Vastag of the Washington Post.
Apparently, the only reason the outbreak is being made public now, is the publication of a scientific paper describing the advanced genetic mapping technology used to track the pathogen as it spread through patients, initially not recognized as being connected.

As a deadly infection, untreatable by nearly every antibiotic, spread through the National Institutes of Health's Clinical Center last year, the staff resorted to extreme measures. They built a wall to isolate patients, gassed rooms with vaporized disinfectant and even ripped out plumbing. They eventually used rectal swabs to test every patient in the 234-bed hospital.

Still, for six months, as physicians fought to save the infected, the bacteria spread, ... This was "the proverbial superbug that we've all worried about for a long time," said Tara Palmore, an infection control specialist at the Bethesda hospital.

With some 99,000 U.S. deaths attributed to hospital-borne infections annually, the NIH outbreak provides a stark case study of the dangers of the latest wave of hospital-bred bacteria and the extreme measures hospitals must adopt to stem the rising superbug tide.

The development of antibiotic resistant, "superbugs" is a growing concern, and new antibiotics to combat them are very expensive to develop and a decade away. This episode highlights how woefully unprepared, and in fact, totally inadequate our existing, "for-profit" based public health system is for these kind of increasingly common potential pandemic challenges, and also how the Romney-Ryan approach isn't even moving in the right direction. I do not see how anyone who reads these articles below could vote for the Republican free-market approach to public health.
The lack of public disclosure is troubling, and the explanation by Clinic Center spokeswoman Maggie McGuire raises more concerns than it answers.

Clinical Center spokeswoman Maggie McGuire said the hospital did not alert the public earlier because Klebsiella infections do not trigger mandated reports to the Centers for Disease Control and Prevention like other infectious diseases do, such as HIV.

She also downplayed such outbreaks as too common to be newsworthy. "There are . . . hospital-acquired infections in almost every hospital in the country," she said. "It's happening everywhere."
So, it's happening everywhere and hospitals, and the National Institute of Health are not required to disclose outbreaks of highly lethal and contagious superbugs to the public. I feel much better, now.
But, don't worry, if a full-fledged pandemic had developed, your local "for-profit" hospitals would probably let us know when we should become concerned, out of compassion for us fellow human beings.
Well, at least our hospitals are well equipped to handle such outbreaks, right? Wrong!

To slow the spread of superbugs, hospitals and long-term care facilities such as nursing homes must be ever-vigilant, the CDC's Kallen said. Although most hospitals can't afford the extreme measures the NIH implemented, the CDC encourages hospitals to adhere to the basics, such as constant hand-scrubbing and isolation of infected patients.
Oh, this is even better. The CDC tells us most existing hospitals can not afford the extreme measures they deployed to overcome this outbreak, and antibiotics are a decade away. But, wash your hands frequently, and stay away from infected individuals. Oh, praying probably wouldn't hurt. Because Romney and Ryan will not provide specifics on their proposed draconian cuts to non-defense spending we do not know yet, exactly how much they intend to reduce the budgets of the NIH, and CDC.
Elsewhere, in a Washington Post opinion piece we learn:

The outbreak also calls attention to the deepening problem known as antimicrobial resistance, particularly in hospitals. As bacteria evolve, they develop resistance to antibiotics. In this case, the germ was highly resistant to multiple drugs, leaving doctors with no effective therapeutic options for some people. The superbug was tenacious, surviving in sink drains and on a ventilator that had been thoroughly cleaned.

The rise of antimicrobial resistance is a public-health crisis. Many first-line antibiotics are losing their efficacy, and the pipeline of new compounds is drying up. Pharmaceutical companies are leaving the market, unwilling to make the sizable investments in research and development required for new drugs. The story of the outbreak at the NIH is a strong reminder of the need for judicious use of existing antibiotics and for a fresh drive to create and win regulatory approval of effective new drugs.

So, the famous "for profit" free market capital based system is bailing out on this one. Certainly, this is an example of why we need a stronger government based public health system, which Mitt Romney and Paul Ryan are ideologically opposed to. And, their draconian non-specified massive cuts to government budgets do not have room for any expansion of our public health system.
I suppose Mitt Romney and Paul Ryan might want to add, if you don't have health care, stay in contact with a local church or volunteer organization which may be willing to help you out. Let the free market sort this out with Darwinian natural selection culling the gene pool of those without the common sense to avoid buying homes, visiting, or traveling downwind of a hospital or nursing home, or shopping in stores, near them where health care workers might accidentally spread superbugs.
Republicans need to be challenged on their regressive, and primitive vision, or lack of it, for our public health system. While not going far enough, our Affordable Care Act moves us in the right direction. The Republicans have no adequate response at all, and want to move us backwards to an even more archaic, and inadequate health system. I wish the media, or political leaders would take a more aggressive role in promoting a more adequate public health system up to the growing challenge of our needs.

10:57 AM PT: I may have spoken too harshly about the "for profit" motivation of hospitals and our health care system. I've had many hospitals and major health care system corporations as clients, and was impressed that many were leading the way in total quality, learning organization, and systems thinking methodologies, (that I specialized in,) for improving the management at all levels.
Some of this groups are world famous for bringing down the rates of hospital based infections by 80% or more over several years, by aggressive focus and management. Which helps everyone, including their brand image, moral, and bottom line.
My intent was to castigate the Romney-Ryan, and Republican opposition to our ACA, and government based programs for public health, when they have zero alternative except the free market.
So, sorry, if I implied that for-profit hospitals could not, or are not trying their best to reduce infection. Some, including some of my past clients, are among the worlds leader in applying 'six sigma" (standard deviation), and learning organization approaches to this exact problem.
My point is that a whole system problem like this requires a whole system response which government has demonstrated itself to be superior at. And, our Democratic Party, and leaders are better prepared intellectually, and ideological to lead our nation when we confront nationwide, and world-wide problems.
11:09 AM PT: A commenter asked me for a link to the study of a few days ago, linking the early us of antibiotics in infants, to subsequent obesity. Here's one, from yesterday, in WebMD. I'm not saying it's the best, but it has a link to the Journal publications.
Antibiotic Use in Infants May Raise Obesity Risk
2 Studies Suggest Antibiotics May Play a Role in Weight Gain, Obesity
By Denise Mann
WebMD Health News Reviewed by Louise Chang, MD

Aug. 21, 2012 -- Taken together, two new studies point to a potentially new culprit in the obesity epidemic: antibiotic use.

Antibiotics, especially when taken by infants less than 6 months old, may shift the balance of bacteria in the gut and may set the stage for obesity. The first study, which appears in the International Journal of Obesity, found that infants treated with antibiotics before 6 months of age were 22% more likely to be overweight when they were just over 3 years old.

A related study in mice showed that antibiotics affect gut bacteria involved in digesting nutrients, resulting in increases in fat mass. These findings appear in Nature.

"Typically, we think of obesity as a byproduct of an unhealthy diet and lack of physical activity. This study suggests a broader paradigm," says Leonardo Trasande, MD. He is an associate professor of pediatrics and environmental medicine at the New York University Langone School of Medicine and a researcher on the first study. "Antibiotic exposures in early life disrupt the flora in our intestines, and that may influence how we absorb calories."