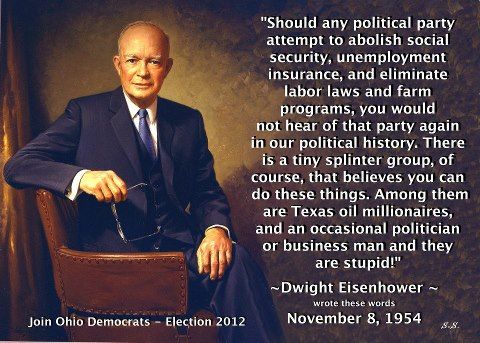 Here's a fun photo one of my brothers sent me that is making the rounds on the tubz. I've tried googling these "Ohio Democrats" listed in the corner but don't find anything. In case the photo is hard to read due to enlarging a low resolution image, here's the quote in writing.
Should any political party attempt to abolish social, security, unemployment insurance, and eliminate labor law and farm programs, you would not hear of that party again in our political history. There is a tiny splinter group, of course, that believes you can do these things. Among them are Texas oil millionaires, and an occasional politician or business man and they are stupid!" Dwight Eisenhower, November 8, 1954.
What prescience to list among the goofballs, "Texas Oil Millionaires." When reality is so much wittier than satire, what more can I say? I invite folks to use the comments as an open thread on any topic related to the real world, or humor.
P.S. As this is almost too good to be true, and I figured it would have surfaced in the Bush years if true, I looked it up to make sure it's real. Here's a link to the Eisenhower Presidential Papers
Sat Aug 25, 2012 at 7:14 AM PT: T Maysle adds several remarkable Eisenhower quotes where he lays out a more passionate and logical defense of why Democrats should support social programs than any current Democrat that I know. Laying out a philosophical foundation for why we should support Social Security and other social programs has been on my things to do list. Eisenhower has already done it. Thanks to all who have made this quick throw out there post a significant learning experience.
And Ike said a lot more too (18+ / 0-)


The provisions of the old-age and survivors insurance law should promptly be extended to cover millions of citizens who have been left out of the social security system.

It is a proper function of government to help build a sturdy floor over the pit of personal disaster, and to this objective we are all committed.

A strict application, let us say, of economic theory, at least as taught by Adam Smith, would be, 'Let these people take care of themselves; during their active life they are supposed to save enough to take care of themselves.' In this modern industry, dependent as we are on mass production, and so on, we create conditions where that is no longer possible for everybody. So the active part of the population has to take care of all the population, and if they haven't been able during the course of their active life to save up enough money, we have these systems.

To help individuals provide for that security – to reduce both the fear and the incidence of destitution to the minimum – to promote the confidence of every individual in the future – these are proper aims of all levels of government, including the federal government.

http://www.eisenhowermemorial.org/...
.
by T Maysle on Fri Aug 24, 2012 at 08:22:41 PM PDT
Sat Aug 25, 2012 at 7:19 AM PT: And, RFK Lives shares this:
He also gave this (53+ / 0-)
to the American Society of Newspaper Editors:

The cost of one modern heavy bomber is this: a modern brick school in more than 30 cities.
It is two electric power plants, each serving a town of 60,000 population.

It is two fine, fully equipped hospitals.

It is some 50 miles of concrete highway.

We pay for a single fighter with a half million bushels of wheat.

We pay for a single destroyer with new homes that could have housed more than 8,000 people.

This, I repeat, is the best way of life to be found on the road the world has been taking.

This is not a way of life at all, in any true sense. Under the cloud of threatening war, it is humanity hanging from a cross of iron.

Everyone recalls the MIC Speech at the end of Ike's presidency. Few recall this similar speech at the start of his presidency.
Some men see things as they are and ask why. I dream of things that never were and ask why not?

by RFK Lives on Fri Aug 24, 2012 at 07:26:49 PM PDT