I guess Michelle figured out how to handle her 'very delicate task' assigned to her by the Washington Post. LOL!
"Pundits Swoon Over First Lady's DNC Speech" reads the headline over at Huffpo.

Across the cable news networks, pundits swooned over Obama's delivery.

Fox News' Chris Wallace called her delivery "masterful."

Fox News contributor Karl Rove also agreed that Obama's speech was "very well delivered," particularly when she spoke about personal moments. According to Rove, however, Obama did not do as well when she discussed the "political sphere."

MSNBC's Steve Schmidt said the speech was "brilliantly written and brilliantly delivered."

CNN's Anderson Cooper tweeted that he has "never heard such a well delivered speech by a first lady ever."

John King noted that Obama's speech was going to be "hard to top."
Some quick takes at Politico:
CNN's Wolf Blitzer: "The First Lady not hitting a home run, but probably a Grand Slam."

NBC's Chuck Todd: "Michelle Obama owned this convention in a way that no speaker owned the convention in Tampa."

CNN analyst David Gergen: "If they have two more nights like this, they can probably break this race open."

Fox News's Martha McCallum: "Very positive response here from the floor, and very enthusiastic from people listening to this."

Fox News' Brit Hume: "Extremely impressive woman."

MSNBC's Rachel Maddow: "Oh my god."

MSNBC's Ed Schultz: "Tonight we were reintroduced to a star."

CNN analyst Donna Brazille: "Love is in the air."
Of course, someone had to be a Debbie Downer:
Ari Fleischer, sounding a bum note said, "some speeches are much more effective in a hall of zealots."
LOL!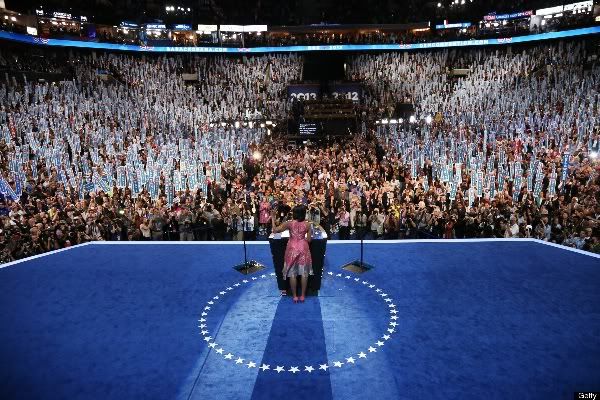 A reprise:

Tue Sep 04, 2012 at 10:17 PM PT: The First Lady even made a statement with her dress:
But seconds after she first appeared onstage, everyone wanted to know: what—or rather who—was she wearing? It was a stunning custom-made dress by the young African American designer Tracy Reese, which she paired with pink pumps by J. Crew. It was a true Michelle Obama moment—and symbolic of her democratic attitude about style.
http://www.thedailybeast.com/...