Forgive me if this has already been posted, but Larry Flynt of Hustler fame (or infamy LOL) is offering a million dollars for legitimate information about Mitt Romney's taxes. According to
Hollywood Reporter:
The Hustler magazine founder, editor and publisher announced that he is offering "up to a million dollars in cash" for the Republican presidential candidates "tax returns and/or details of his offshore assets, bank accounts and business partnerships," a statement reads. The offer will be featured in a full-page ad taken out in the Sunday edition of The Washington Post and the Tuesday edition of USA Today. "What is he hiding?" Flynt asks. "Maybe, now, we'll find out."
Go below the squiggle to view the ad.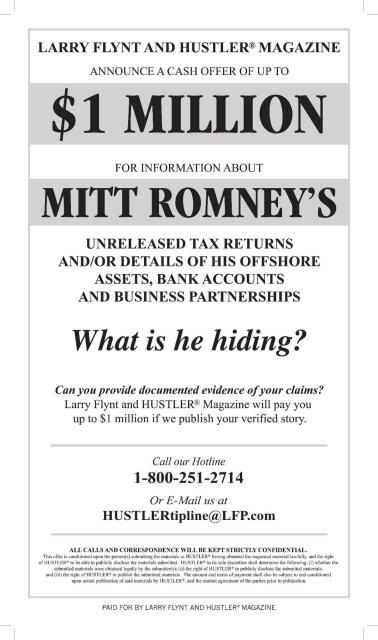 Ha ha ha ha ha ha ha ha ha! Couldn't happen to a nicer guy.
Fri Sep 07, 2012 at 10:09 PM PT: UPDATE:
(1) I've corrected the title.
(2) I'm glad this made the Rec List. :-)
(3) I know he's made million dollar offers before for info on politicians, but I don't know if he ever got any takers. Here's to hoping somebody legitimate bites.