A new project for a new beginning.
I could tell you how I was pushed out of the SF by housing market by the death of my landlord and the greed of a corporation, I could whine about how no one wants to rent to a service connected, disable veteran with special needs and terrible credit. I could tell you how a faceless nameless corporation raised my rent from $750 a month to $1,850 a month and what that did to my budget on my fixed VA Pension and Social Security Income and my quality of life. I could complain about a lot of things that happened the last couple of month, but I won't, instead I am just sucking it up and moving on.
I put listings all over CA via Craigslist looking for housing in my price range, and was I SURPRISED when the responses to my ads came rolling in. 80% of the hundreds of replies I got were from the Chico area, I was offered $150 to move in, first month free, no credit checks. I soon learned the wonders of timing, school had started when my ad went up, and Chico landlords were looking at no one even looking at renting their apartments till next year, sitting empty for a whole year. My situation looked VERY attractive to them, a stable older man, willing to sign a year plus lease, with a guaranteed and fixed income. My disabilities actually worked to my favor in Chico, landlords were willing to make improvements and accommodations KNOWING once I was situated I was pretty much their for life! (I had been in my old apartment 10 years, and this was very appealing I learned to landlords that turned over apartments to college kids every year! The writing on the wall, just 3 hours north of SF, and a $48 train ride away, I could have a 3 bedroom 2 bath house on a 3/4th and acre for $1100 a month, I can rent out the other 2 rooms for $350-$400 no problem. So I moved to Chic.
So now what to do with my time.
But Chico is a small town, and services are few and far between, and activities revolved around outdoor activities. So what to do in Chico to keep busy. I have already decided to look into volunteer activities. But I need something more, so inspired By Julie on Julia I have decided to bake my way through Beth Henspergers's The Bread Lovers's Bread Machine Cookbook with my Reville Bread Machine.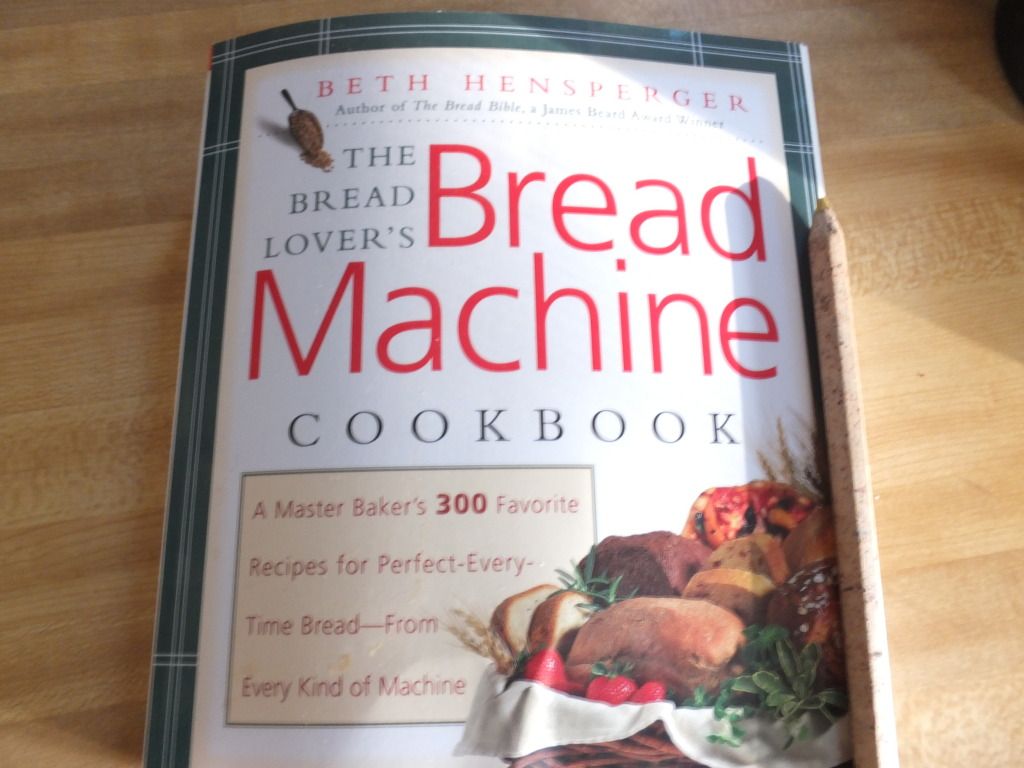 The bread machine was a Major splurge during as "shopping therapy" session, and is by far the best appliance I have ever owned . There is nothing more rewarding than fresh bread in the morning. With 300 bread recipes I figure it will take a year of one loaf a day to do this project, taking Pictures and writing about the process everyday!
So every evening in my new wonderful Chico kitchen I am going to prepare a recipe from the book, and and the next morning I am going to write about the process of making the bread, post the recipe and show a film of a Buddy, and new roommate Paul, from http://ShanaginzWithPaul.Us trying the bread, and discussing it. Paul is blunt and honest with his opinions, and a hoot to boot!
And so it begins:
Loaf #1 - HOMESTYLE WHITE BREAD 2 Pound Loaf
1.5 Cups water
1.5 Tablespoon Honey
2.5 Tablespoon butter
4 Cups Bread Flour
3 Tablespoons nonfat dry milk
2 Tablespoon toasted wheat Germ (Substituted Oat Bran)
1.5 Tablespoon Sugar
1 Tablespoon plus 1 teaspoon gluten
2 Teaspoon salt
1 tablespoon bread machine yeast.
The cool thing about making break in a bread machine is that you just dump the ingredients into the machine and let the machine do the work, or so they tell you. I have found out different.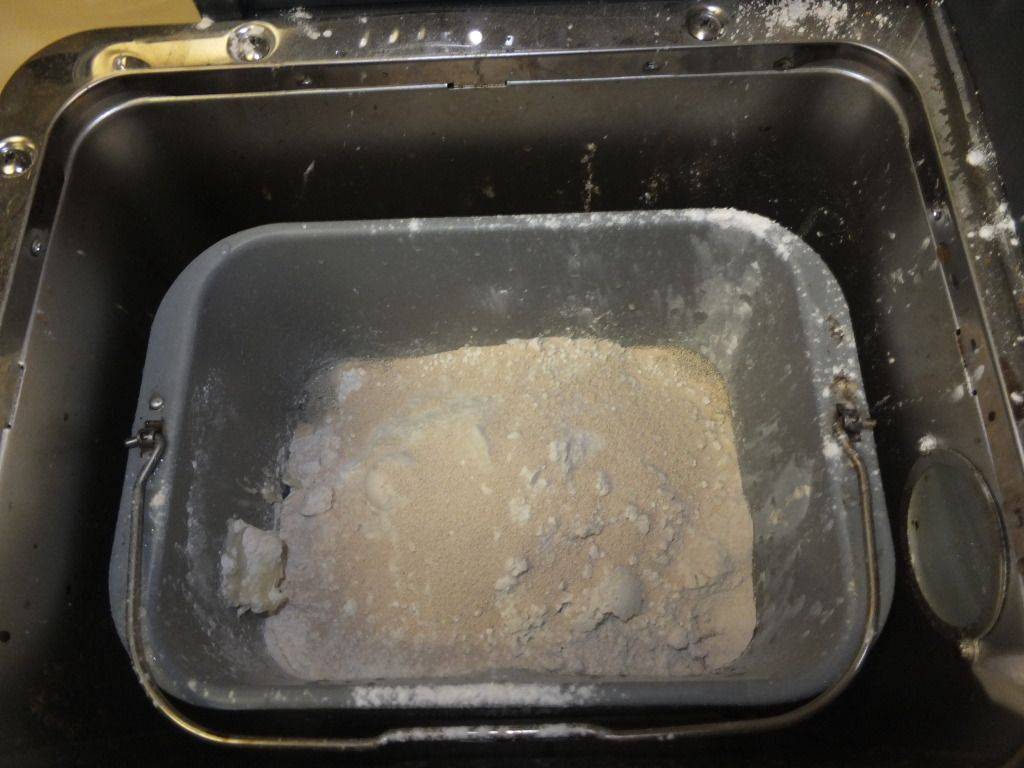 First I always reserve about 3 tablespoons of the floor to get the dough ball the right consistency. I find that you need to manage your machine the first 5 minutes or so, make sure all the floor is incorporated from the corners of the machine, and that the dough is not to dry and flaky, or to moist and sticky, my machine's book says nothing about making sure the consistency of the ball of dough is correct, this is the fun part, touch and finger the dough, if it is sticky add some more flour, if it is dry and flaky add some water.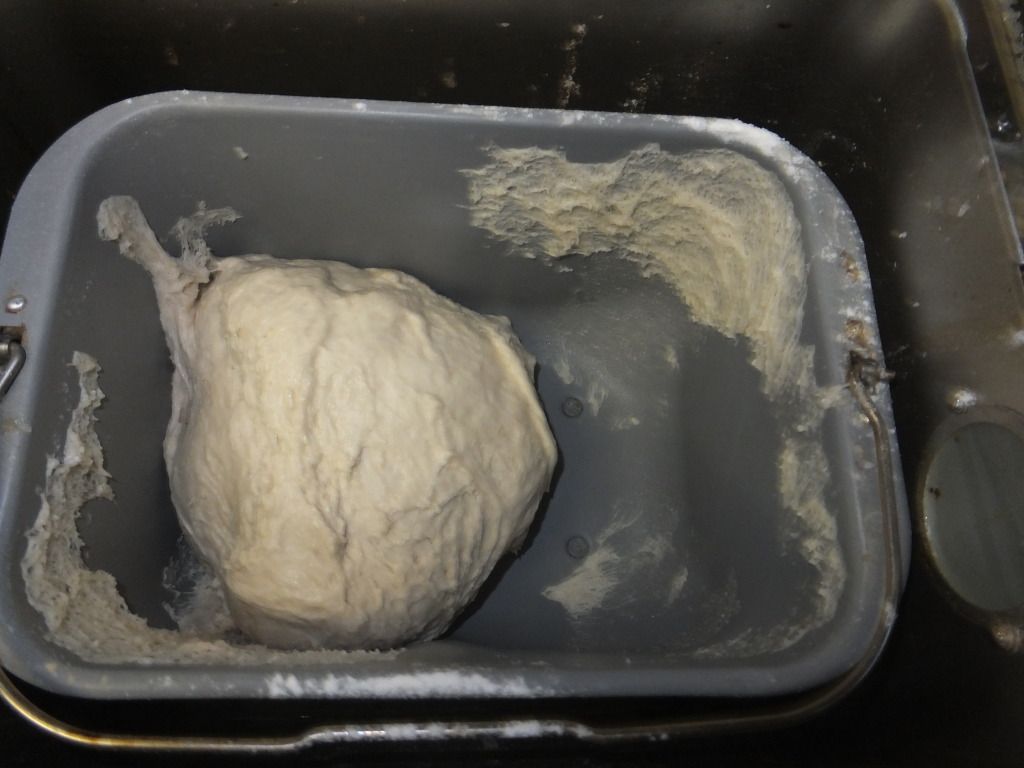 Notice the dough hiding up in the corners, take a spatula and incorporate that into the ball, and get anything out of the corners to make a great loaf! I can tell you from experience that it makes all the difference in the world in the out-come of the bread.
The next thing I have learned is while the Breville Bread Maker Book that comes with the machine says that adding Wheat Gluten is OPTIONAL, Wheat Gluten is NOT optional if you want a high rising, nicely textured bread. If you leave out the Wheat Gluten the bread comes out dense and stiff, not light and fluffy like most people prefer. I have started to put a little extra in when I make heave Wheat Breads making them lighter.
Now, here's the scoop, in a bread maker you just put the ingredients into the machine in the order listed in the recipe, liquids first, ALWAYS. And Yeast Last, always.
After the first 5 minutes you just leave the machine to do its business. At the end of the second kneed cycle my machine beeps to tell you to add extra ingredients like nuts and such.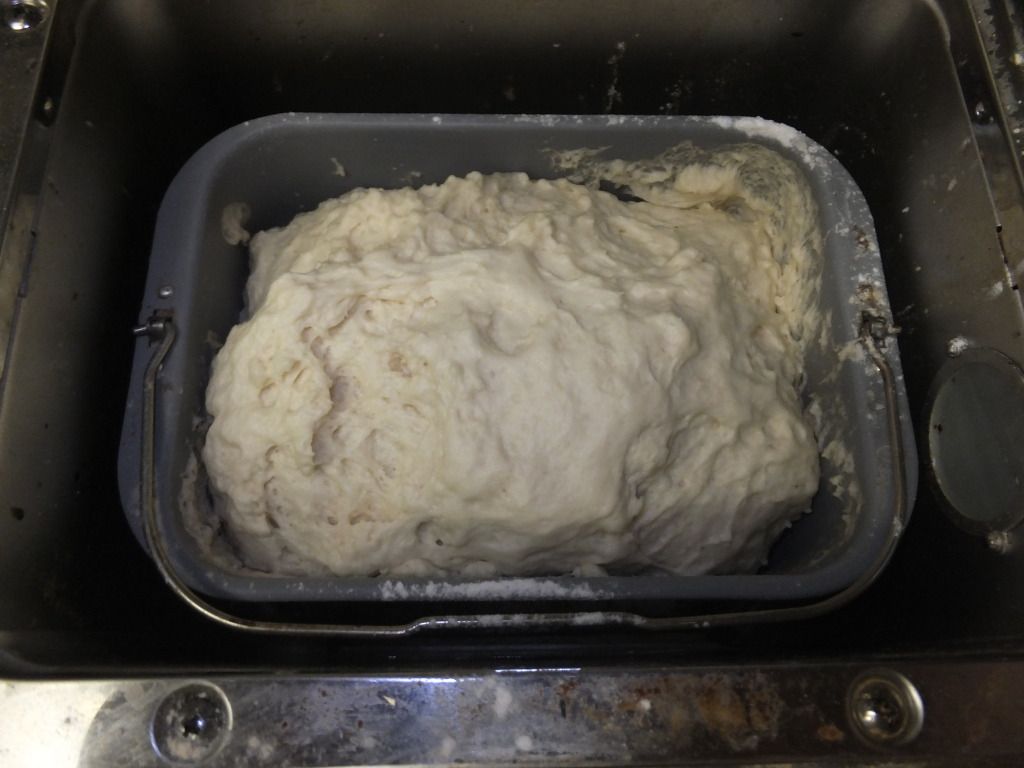 The last "secret" I have found is to get the break our of the machine and on to a cooling rack quickly when the machine beeps done. I first hit the stop button, and then unplug the machine carefully, and then remove the backing pan, then poop it a couple of times down on the cooling rack until the bread plops out. Sometimes you need to run a chop stick around the loaf to loosen the loaf up, the chop stick can then be used to pry the loaf out if need be. The Baking pan is NON_Stick so do not use a knife or something that will scratch the finish.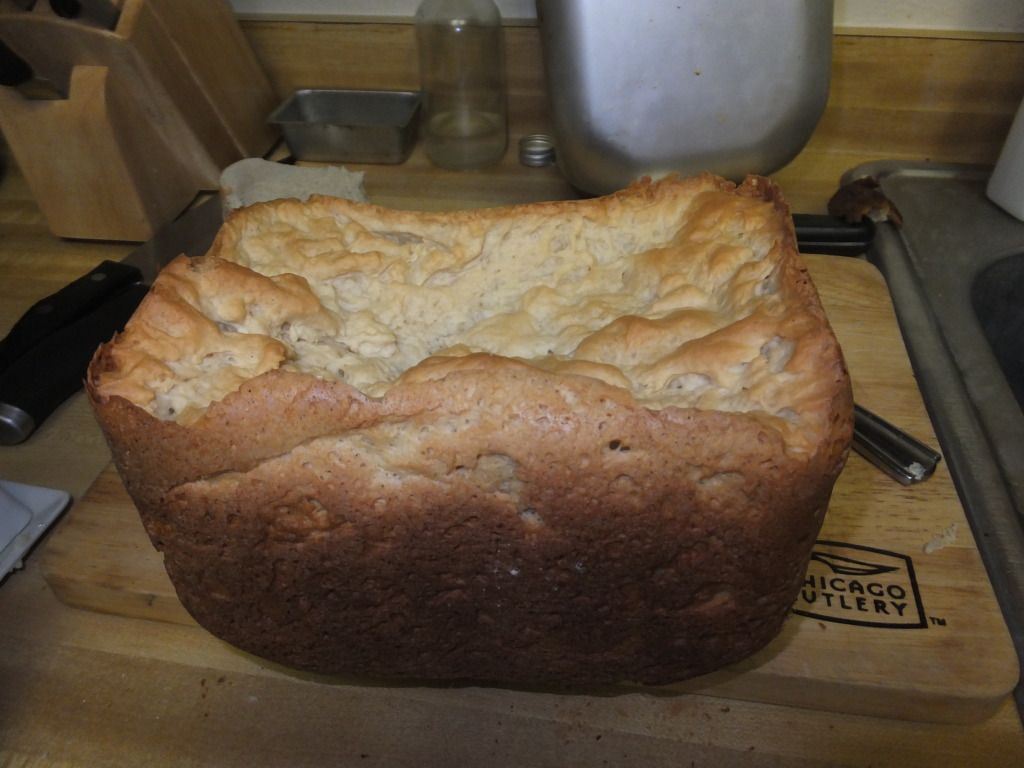 I always leave my loaf upright to cool. I am not sure if it even matters, but it is just my anal way I like the loaf to sit and cool how it cooked. You absolutely do need to let the bread cool, and the extra moisture created during the baking phase evaporate or the bread will taste funny and the texture won't be right.

6:57 PM PT: Paul sprained his knee today, and is laid up, so his video taste tests will have to wait till he is feeling better. I can tell you the Homestyle white bread was wonderful,l the texture was heavily, and it toasted up really nicely. Smothered with butter it was so wonderful I have almost finished the 2 pound loaf of it today. Stayed tuned because tomorrow I am making Shepherd's Bread.