It bothers me when I see editorials like this -- that blame "both sides" of Congress equally.
For their ritual inaction. For not doing their jobs. For hurting average Americans.

Do-nothing Congress doing what it does best
Editorial, democratandchronicle.com -- Sep 15, 2012

No budget. No Farm Bill. No spending appropriations. In short, no progress. That is the record of the current 112th Congress, a body that has bickered much, accomplished little, and continues to ignore its responsibilities to the American people.

Lawmakers will do this week what they do best: Kick another can down the road. The Senate is expected to follow the House in approving a stop-gap spending measure to keep the government running for another six months. That conveniently absolves them from any difficult pre-election budgeting decisions.

It is the latest dereliction of duty from a gridlocked group that, once again, has put its own political considerations ahead of the public good. On issues great and small these past two years, Congress has either fallen down on the job or ignored the job altogether.
[...]
Congress is
supposed to be
a place of compromise -- a grand meeting of the minds.
Only one BIG problem with that American ideal, however -- The Republicans have just said NO to it.

As shown by the 112 Republican filibusters in 2007 and 2008 -- which was a record breaking number then. Not that it made the National News.

In Which Republicans Forget Their Record-Breaking Use Of The Filibuster


link to video
Uploaded by ThinkProgressVideo on Feb 10, 2012

At this weekend's Conservative Political Action Conference, Sens. Mitch McConnell (R-KY) and Marco Rubio (R-FL) suggested that everything that went wrong during the first two years of President Obama's term must be laid at his feet because Obama "got everything he wanted" from Congress while both houses were controlled by Democrats.

As the video also reminds these Republicans, however, there's one giant problem with their talking point -- the Senate GOP's unprecedented abuse of the filibuster. Indeed, the number of votes attempting to break Sen. McConnell's use of this tactic more than doubled the minute he took over as minority leader.
As Rachel Maddow puts it in that clip, the Republicans record-breaking use of the filibuster:
is effectively changing the constitutionally structure of our government -- everything needs a super-majority of 60, instead of 51. This is not normal. It was not like this before.

If only the Record-Breaking Republican Obstruction had stopped in 2008. Once Scott Brown (R) won the special election for US Senate held in Massachusetts on Jan. 19, 2010, to take over the seat of Ted Kennedy
-- well it was Republican Game-on, again. And continue to block progress they DID. Breaking even their own cynical Do-Nothing Record in very short order ...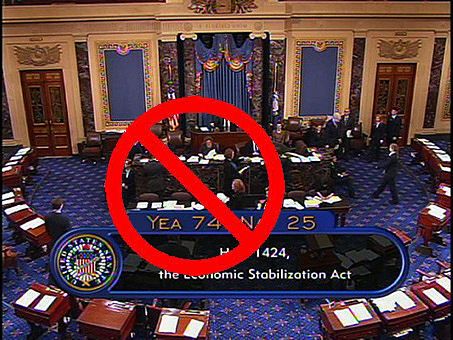 Only one side blocked these the following Bills -- actual forward-looking votes, you know -- evidence of the other side of Congress "actually doing their jobs."

PCTC Blog -- Common Sense Progressive Politics
[...]
Did you know, for example, that a total of 375 bills that passed the Democratic-majority House have been blocked by Republicans in the Senate?

That's THREE HUNDRED SEVENTY-FIVE BILLS!


HR 12 -- Paycheck Fairness Act

H.R. 20 -- Melanie Blocker Stokes Mom's Opportunity to Access Health, Education, Research, and Support for Postpartum Depression Act

H.R. 320 -- CJ's Home Protection Act

H.R. 448 -- Elder Abuse Victims Act

H.R. 466 –- Wounded Veteran Job Security Act

H.R. 515 –- Radioactive Import Deterrence Act

H.R. 549 -- National Bombing Prevention Act

H.R. 577 –- Vision Care for Kids Act

H.R. 626 –- Federal Employees Paid Parental Leave Act

H.R. 780 –- Student Internet Safety Act

H.R. 911 -- Stop Child Abuse in Residential Programs for Teens Act

H.R. 985 -- Free Flow of Information Act

H.R. 1029 -– Alien Smuggling and Terrorism Prevention Act

H.R. 1110 –- PHONE Act and H.R. 1258 – The Truth in Caller ID Act

H.R. 1168 -- Veterans Retraining Act

H.R. 1171 –- Homeless Veterans Reintegration Program Reauthorization

H.R. 1262 -- Water Quality Investment Act

H.R. 1293 -- Disabled Veterans Home Improvement and Structural Alteration Grant Increase Act of 2009

H.R. 1319 –- Informed P2P User Act

H.R. 1380 -- Josh Miller HEARTS Act

H.R. 1429 -- Stop AIDS in Prison Act
[...]
But every single one of these bills is being blocked by every single Republican in the Senate, all of whom are working in lockstep to prevent a vote.


H.R. 1469 –- Child Protection Improvements Act

H.R. 1511 –- Torture Victims Relief Reauthorization Act

H.R. 1514 –- Juvenile Accountability Block Grants Program Reauthorization Act

H.R. 1580 –- Electronic Waste Research and Development Act

H.R. 1585 -- FIT Kids Act

H.R. 1617 –- Department of Homeland Security Component Privacy Officer Act

H.R. 1622 -– Research and Development Programs for Natural Gas Vehicles

H.R. 1675 –- Frank Melville Supportive Housing Investment Act of 2009

H.R. 1709 –- STEM Education Coordination Act

H.R. 1722 -- Telework Improvements Act

H.R. 1727 -- Managing Arson Through Criminal History (MATCH) Act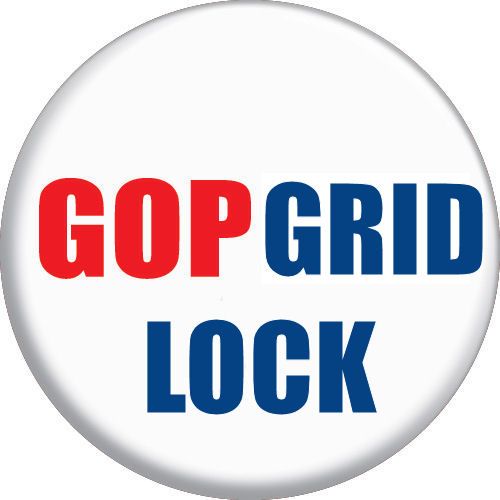 [...]
Put simply, DEMOCRATS are passing bills to make things easier, and REPUBLICANS are refusing to even allow an "up or down vote."

H.R. 1741 -- Witness Security and Protection Grant Program Act

H.R. 1796 –- Carbon Monoxide Poisoning Prevention Act

H.R. 1803 -- Veterans Business Center Act

H.R. 1807 –- Educating Entrepreneurs through Today's Technology Act

H.R. 1834 –- Native American Business Development Enhancement Act

H.R. 1838 –- Amending Small Business Act

H.R. 1824 -- Best Buddies Empowerment for People with Intellectual Disabilities Act

H.R. 1875 -- End the Trade Deficit Act

H.R. 1879 -- National Guard Employment Protection Act

H.R. 1933 –- A Child Is Missing Alert and Recovery Center Act

H.R. 2020 -- Networking and Information Technology Research and Development Act of 2009

H.R. 2093 –- Clean Coastal Environment and Public Health Act

H.R. 2134 -- Western Hemisphere Drug Policy Commission Act
[...]
Once again; Democrats PASSED the following bills, and Senate Republicans prevented these bills from even coming to a vote.

H.R. 2142 – Government Efficiency, Effectiveness, and Performance Improvement Act

H.R. 2187 – 21st Century Green High-Performing Public School Facilities Act

H.R. 2200 – Transportation Security Administration Authorization Act

H.R. 2221 – Data Accountability and Trust Act

H.R. 2352 – Job Creation Through Entrepreneurship Act

H.R. 2454 – American Clean Energy and Security Act of 2009

H.R. 2510 – Absentee Ballot Track, Receive and Confirm Act

H.R. 2529 – Neighborhood Preservation Act

H.R. 2554 – National Association of Registered Agents and Brokers Reform Act

H.R. 2611 – Authorizing the Securing the Cities Initiative of the Department of Homeland Security

H.R. 2664 – Promoting Transparency in Financial Reporting Act

H.R. 2693 – Oil Pollution Research and Development Program Reauthorization Act

H.R. 2749 -- Food Safety Enhancement Act

H.R. 2868 – Chemical Facility Anti-Terrorism Act of 2009, Drinking Water System Security Act of 2009 and Wastewater Treatment Works Security Act of 2009
In other words the Democratic party believes in
actually doing
the People's Business (see the list above);
while the Republicans believe in Blocking just that. ... Whatever our business may be.

It not like all this "ritual" Republican stonewalling is not without consequence. No, their inaction effects millions upon millions of Americans, with every Vote they block.

GOP blocks jobs bill in Senate
upi.com -- Nov. 3, 2011
The Senate voted 51-49 in favor of a procedural motion on the bill, which would spend $60 billion on transportation and infrastructure. However, 60 votes were required to break a GOP filibuster on the bill.

It was the third time in recent weeks Republicans were able to block measures that had been components of the American Jobs Act, initially proposed by the administration as a comprehensive, $447 billion package intended to boost hiring and give money to states to hire teachers and public safety workers.
[...]

"The American people deserve to know why their Republican representatives in Washington refuse to put some of the workers hit hardest by the economic downturn back on the job rebuilding America," Obama said [...]

Many Republicans said they favored transportation and infrastructure projects but objected to a provision that would fund the projects with a new tax on income over $1 million, The Hill.com reported.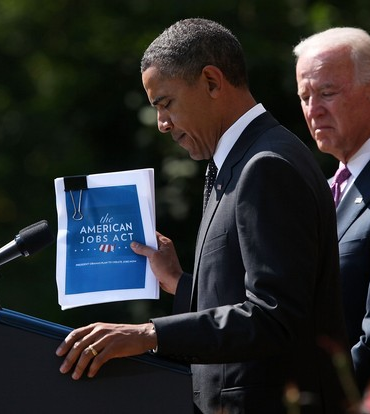 Hopefully you see now, why Editorials blaming both sides for the Do-Nothing Congress -- bothers me.
One side is so much better at Do-Nothing than the other. One side has made it their cause de jour.

One side has DONE 375 things with simple majorities to make them law. It's the Republican side who decided to never even let those 375 things even come to an official vote. Their cynicism for Government knows no bounds.

And our compliant National Media has a very strange "blind spot" to that record-breaking GOP cynicism -- directed at "changing our constitutionally structure of our government" (as one journalist put it.)
I hope the Media Ad Revenue is worth it. Worth the price of their professional integrity. Because their filibuster-topic-taboo, sure is exacting a steep price from average Americans. Most of whom, just want something done by those they send to Congress.