So on my move to Chico, my mostly empty 3 bedroom house, (remember I lived in a Studio apartment in the city), is finally becoming a home. I got the kitchen and the downstairs all setup yesterday, and slept well in my couch turned bed in the livingroom. My roommate and in home caregiver, Paul (http:&xC5;shanaginzwithpaul.us), and I spent the evening watching Warehouse 13 episodes on Netflix. Shortly before going to bed I grabbed my copy of Beth Hensperger THE BREAD LOVER'S BREAD MACHINE COOKBOOK, and started to the kitchen. Paul asked "Isn't it late to be making bread?" "Nope," I replied, I am going to try the delay start feature on my machine and see if we can wake up to fresh bread for breadfast!" It just so happened that today's recipe COUNTRY WHITE BREAD called for nonfat dry milk, so I thought it would keep well in the machine over night. I have also learned that dry milk have an increase in milk sugars and the yeast LOVE it. So into the machine I pour in the following order: (I put the salt in with the wets because I read somewhere that salt inhibits yeast>):
1.5 cups water
1 Tablespoon light olive oil
1 Tablespoon raw sugar
1.5 Teaspoon Salt
3 cups Flour for Bread
3 tablespoons nonfat dry milk
1 tablespoon gluten
Then I made a little volcano in the flour and put in it:
2.5 teaspoons bread machine yeast
Set the machine for Basic mode, 1.5 pound loaf and Med crust and then hit Delay Start and set it for 8 hours later. Then went to bed. This morning I awoke to the wonderful smells of fresh baked bread coursing through the HOME! I got up and went to the bread machine, it had 5 minutes left to bake. So I waited, then immediately took the perfect loaf out opf the machine to cool, while I took my shower, and got ready for the day, still inhaling the wonderful aroma of the bed!
I had the perfect breakfast planned, I shopped at Trader Joe's last night, bought all the makings of a perfect breakfast to to go with my fresh baked bread.
Now the thing about White, as far as I am concerned is that it is like vanilla ice cream. By itself it is OK, but where it shines in with what you pair it with. It is sort of like the perfect blank canvas. And on my way up to Chico I stopped at Ikea and got some very special jam to go on my White bread!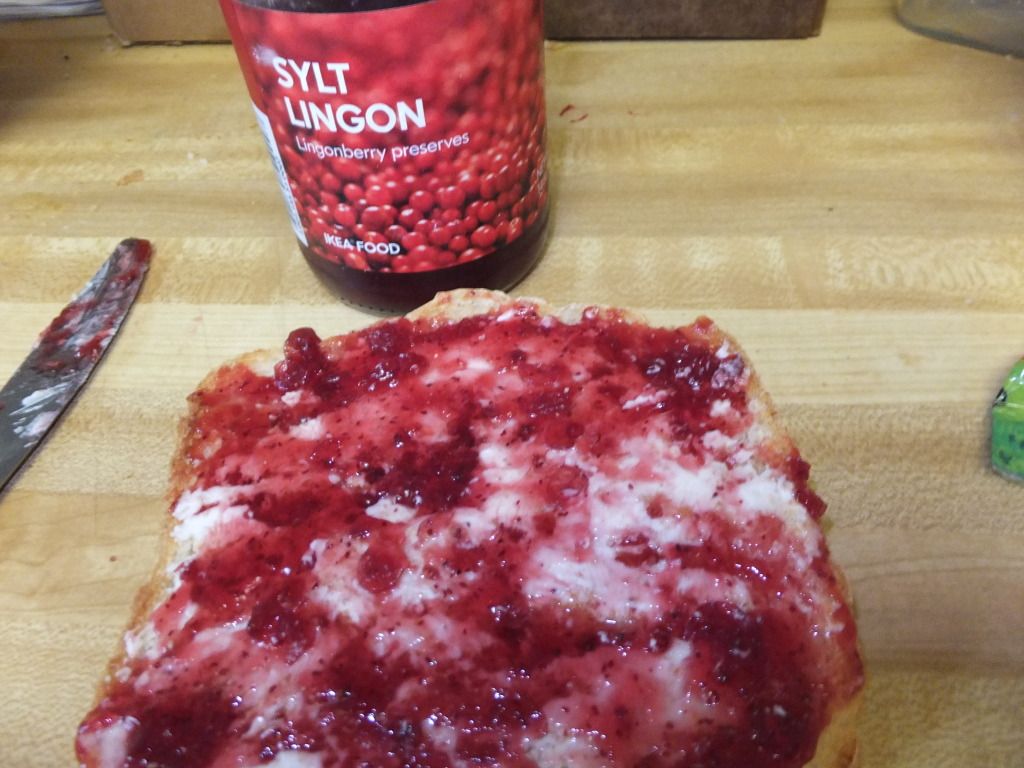 So after I was ready to face the day, I broke out my camera to take pictures of my loaf, and a toasted piece of the bread. I cooked up a wonderful breakfast and sat back to enjoy my Country White Bread, smothered with butter and lathered with Jam!
ABOUT WHITE BREAD
Wikipedia has a lot on white bread (http://en.wikipedia.org/...) but I am going to give you the highlights of what I have learned. First cool fact, the flour for white breads in Europe in 1870's when the process for making white flour came into use was BudaPest. Having been there I never really thought of the city as the hub of white bread production, but there it is,m in 1870 if you wanted flour for white bread, you went to BudaPest! Now I think everyone will agree that the Viennese and the French are created with creating a sophisticated array of breads and pastries. Now I guess we have to credit General Mills with bringing White bread to America in 1879, aqh, and the Wonder of Breads was born, and so was the fattening of America!
The great thing about white breads has to be their versatility. They can be eaten with every meal, and with just about anything! For Toast, last night as buns for our Turkey Burgers, for sandwiches, foe dinner bread, for French Toast, the uses for white bread are pretty much endless!
Well tomorrow is House Bread!
6:13 PM PT: Well House Bread has become a House Corn Flour Bread of my own design! So stay tuned to see how it turned out!