Intrade's Contract Share Price for a Massachusetts Senate race victory for Elizabeth Warren reached $5.93 today, for a $10.00 payout, which according to Intrade corresponds to a her having a 59.3% change of winning her Senate race with incumbent Senator Scott Brown (R). After reversing a year long slide to a low of 35% three weeks ago, Warren and most other Senate Democrats have been riding a surge of Democratic Party enthusiasm following the party conventions that has greatly improved our chances of retaining the Senate, as I reported last night in the much overlooked, Surge in Polls for Democratic Senators Due to Rising Voter Enthusiam
Nate Silver's forecast are even more optimistic giving Elizabeth Warren a 63% to 37% chance.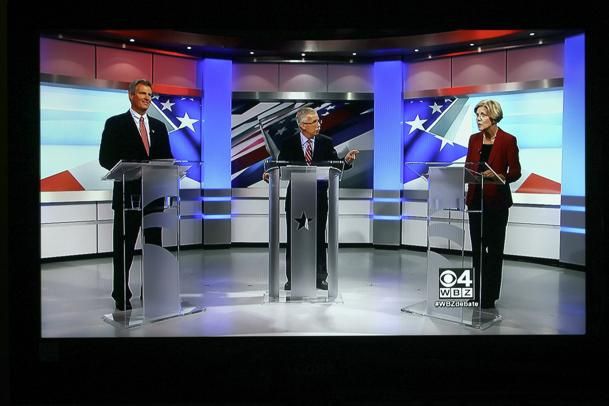 Elizabeth Warren Faces Off With Scott Brown in Last Night's Debate
For a review of the Boston Globe's debate coverage please continue below.
In Scott Brown, Elizabeth Warren use face-to-face debate to amplify themes from Senate trail, Glen Johnson, of the Boston Globe describes last night's debate:
Brown, champing at the bit to get at Warren, pounced on the first question about their respective character to bluntly accuse the Harvard Law School professor of faking her claim to Native American heritage so she could gain an advantage in her career. ... Warren, however, stood there unfazed and defended the family lore upon which she bases her claim.

"I never asked anyone for any documentation, and I don't know any kid who did," she said. For emphasis, Warren added: "Never used it for getting into college, never used it for getting into law school."

This makes sense to me. I've grown up under the impression that I am 1/16 or 1/32 Creek Indian, and may even be included in some database in Alabama or Florida, even though I don't "look" like it. Families have all sort of historical stories, and I could easily imagine checking off this among many other boxes, in one of those many demographic survey boxes in the many forms in college applications.
Analysts seemed to think Elizabeth Warren had more upside as Senator Scott Brown has 100% name recognition.

For Warren, the goal was two-fold: to highlight votes Brown has cast that she believes have broken faith with the Massachusetts electorate, and also to underscore the consequences if he is reelected and helps tip the Senate into a Republican majority.

"Senator Brown can say all he wants. But he has voted," she said at one point, reprising a comment she made throughout the evening. ... Later, noting she wants to see President Obama reelected while Brown wants him replaced by the GOP nominee, former Massachusetts Governor Mitt Romney, Warren added: "This really is about who you want as commander in chief."
MSNBC's Chuck Todd reported that Warren also raised the issue of which party controls the Senate endorsement of Supreme Court appointment.
7:57 AM PT: The Boston Herald tell us the Boston Mayor Menino will endorse Elizabeth Warren today at 4:00 p.m.
Menino's endorsement is slated for today at 4 p.m. in Roslindale Square, officials said. The Warren and Brown campaigns had no immediate comment. A Menino spokeswoman declined to comment.

Bridgewater State University professor George Serra said the nod could give Warren an important boost in Boston.

"I think it will be helpful as far as getting the Menino machine in place to get out the vote in the city," Serra said. "It really is the signal that the Menino machine is available to her."