The kids have spoken! The winner of the Scholastic Student Vote is President Barack Obama, the Democratic nominee, with 51 percent of the vote. The Republican nominee, former Massachusetts Governor Mitt Romney, received 45 percent of the vote, while 4 percent of kids voted for other people.

The Scholastic Student Vote invited young people under the legal voting age of 18 to cast their vote for President in a mock election. They could vote online at www.scholastic.com/vote or by mailing in paper ballots found in Scholastic classroom magazines. Almost a quarter million (250,000) students voted from August 15 until the online poll closed on October 10.

A majority of kids in four of five key swing states—Colorado, Florida, Nevada, and Ohio—chose Obama. A swing state is a state where neither candidate has a strong majority in the polls. Romney won Virginia, the other key swing state, by a small margin. In a close race like this one, the voting outcomes in these states can ultimately determine who wins the general election.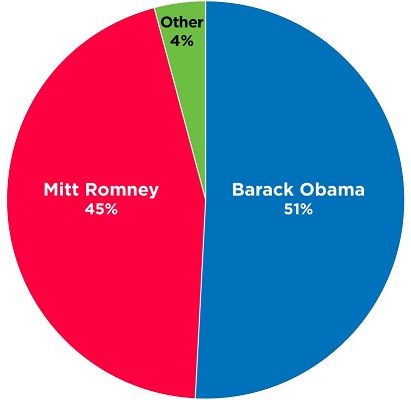 What is surprising is how little parental influence seems to be a factor in the kids' voting.
During an interview on Today of Scholastic News Kids Press Corp reporters, they were asked how much parents influenced the kids' votes.

Well now due to some of the polls from Scholastic News, it's shown that a lot of the kids they either rarely talk to their parents about the election or never do it....They're making their own decisions.
Visit NBCNews.com for breaking news, world news, and news about the economy
Why is the result of some kids voting far more important and valid than the latest skewed Daily Kos/SEIU State of the Nation poll?
First, the fact that the Daily-Kos-SEIU poll was based on 44 percent of respondents who were conservative, compared to 16 percent who were liberal, should be enough to discount any validity the poll might have.
Most importantly - the historic accuracy of the Scholastic Student Presidential Vote leaves the poll in the dust. Since 1940, except for two Presidential elections, the Scholastic Presidential vote has accurately predicted who would be our next President.
The kids have got this one and so do we. We are the ones getting out the vote. We are the ones who are setting the Frame. We are the ones who are going to win this!
The kids said so and they aren't anyone's fools. :)
And they're absolutely right! Reuters/Ipsos latest poll backs them up.

Obama grabs wide lead among those who have already voted: Reuters/Ipsos poll

4Obama leads Romney by 59 percent to 31 percent among early voters, according to Reuters/Ipsos polling data compiled in recent weeks.

The sample size of early voters is relatively small, but the Democrat's margin is still well above the poll's credibility interval - a measurement of polls' accuracy - of 10 percentage points. (full graphic: bit.ly/RmeEen)

With the November 6 election just more than three weeks away, 7 percent of those surveyed said they had already voted either in person or by mail (full graphic: bit.ly/SWm5YR).

The online poll is another sign that early voting is likely to play a bigger role this year than in 2008, when roughly one in three voters cast a ballot before Election Day. Voting is already under way in some form in at least 40 states.
For them, for our beautiful blued world - let's rock this election out! It's never too late to fight to win. Never!
We can donate, make phone calls in our pajamas from home, get out and knock on doors, write letters to the editor in our local paper, talk to friends and neighbors, push back in the comment sections on MSM. What ever we do will make our Victory in November happen.
Never doubt that we DO have the power and it scares Republicans into incoherency, lies and illegalities.
Obama for America site link - http://www.barackobama.com/
To help take back the House so we can finish the work we started -
Together, all across this country of ours, we are the ones making change happen. :)
For the children - let's get it done!
UPDATES:
The Supreme Court will NOT block early voting in Ohio!
The court on Tuesday refused a Republican request to get involved in a dispute over early voting in the state on the three days before Election Day.

The campaign of President Barack Obama and Ohio Democrats sued the state over changes in Ohio law that took away the three days of voting for most people, but made exceptions for military personnel and Ohioans living overseas. Democrats say nearly 100,000 people voted in the three days before the election in 2008.

A federal appeals court ruling reinstated voting on the weekend before the election and Ohio Secretary of State Jon Husted, a Republican, appealed that ruling to the Supreme
10:04 AM PT: President Obama is winning the 7-11 Coffee Cup vote as well. And very nicely!
"According to 7-Eleven's "7-Election" poll, which allows coffee drinkers to pick a blue cup for Obama or a red one for Romney, Obama is leading with 60 percent of "votes." Romney currently has 40 percent.
President Obama has held the lead since the first day the poll opened on September 6, said Margaret Chabris, a 7-Eleven spokeswoman. That day, Obama received 57.2 percent of cups, compared to Romney's 42.8 percent.
Though the poll calls itself "unabashedly unscientific," it has never been wrong in its three-election history. Six million cups were cast for candidates in each of the past polls, according to a press release. (In contrast, the sample size for a typical Gallup poll is 1,000 adults.)"