There are different kinds of terror.
Terror engaged in by a foreign entity against a country's people such as happened on 9/11. Terror engaged in by domestic forces against foreign domination, such as in Algeria in the 1950's. There is terror by a small group aimed at their own government, such as the Okalahoma City Federal Building bombing. There is the random terror engendered by a gunman walking into a workplace, school or theater and slaughtering people willy-nilly, as has happened so many times of late. And further back in history we have examples of terror unleashed by one class against another, such as the Reign of Terror that happened during the French Revolution.
Then there are terror tactics unleashed by a government against its own people.

One year ago to the day, in the wee hours of the morning of October 25th, 2011, armed thugs invaded the newly-named Oscar Grant Plaza in downtown Oakland. Bringing with them tear gas, batons and military style arms, they gassed, beat, dragged and kidnapped people who were doing nothing more or less threatening than sleeping in tents or sitting in the plaza keeping vigil. As one Kossack caught up in the gotterdammerung, Allie123, wrote

At around 4:30 AM the police came from everywhere... A line of police in full riot gear with huge guns pointed their weapons at us... the police tear gassed us... I heard huge explosions... I was the first person taken.
(That's her picture below, taken as the tear gas was diffusing through the camp. At least one other Kossack was arrested that morning and I serendipitously happened to meet her and learn a little of her story a few nights ago at Markos' debate party in Berkeley. It's a reasonable bet there were other Kossacks there too.)
The intent of this action was clear: to strike enough fear into the hearts and minds of the Occupiers that they would vanish into the mist, departing to points unknown, never to bother the good burghers of Oakland again. This was the first attempt at mass violence used by the state against Occupiers. True, there had been kettling and mass arrests in New York, and a few police pepper-spraying a few protesters apparently at random. But there had been as yet no concerted, centrally directed attempt to eradicate by both physical and psychological violence an Occupy site and by projection an entire local movement.
But it didn't work.
By 3:00 PM that day, a large crowd had gathered at the Oakland Public Library, six blocks away from the now-barricaded Plaza. As afternoon turned into evening, more and more people arrived, joining marchers making their way around police, this way and that, sallying forth and then being driven away repeatedly from 14th & Broadway, bordering Oscar Grant Plaza and one of Oakland's main intersections.
After nightfall the crowd had at one point managed to occupy most of the 14th & Broadway intersection. A man in uniform and his buddy held the front line, the seaman waving a flag, the other standing by his side. You've probably seen on video what happened then.
Against all reason, sanity and official(ly ignored) policy an Oakland Police officer shot a bean-bag round directly at one of the young men's heads, wounding him almost fatally. As the crowd retreated amidst explosions and gas, a number of brave men and women appeared out of nowhere, came forward and surrounded him, seeking to help and to get him out of there. At that moment an Oakland Police officer lobbed a flash-bang grenade into the midst of the rescuers (it is still unknown whether it was the same person as had shot the bean-bag round). Shocked and stunned, the rescuers temporarily dispersed, but moments later came out again and got the man lying on the ground out of there, asking him repeatedly "What's your name? What's your name?"
His name, of course, was Scott Olsen.
The police, having succeeded tactically but utterly failing politically in their early morning mission, were once again trying to instill terror into those who would dare to protest on the City streets. More tear gas, more arrests and more beatings ensued. Pictures of 14th & Broadway that looked like Baghdad during Bush I's SHOCK & AWE campaign and of Olsen bleeding from his head made their way into the public consciousness. The message was clear -- protest and risk your life and liberty.
That didn't work either.
In just one week and one day the largest protest Oakland had seen in decades (perhaps even as far back as the 1946 General Strike) was organized and executed by the same people the Oakland Police had sought to violently escort out of the annals of history.

Stopping the flow of capital in protest against the one percent, November 2nd, 2011.

Enraged instead of cowed, perhaps as many as 50,000 people participated in the events of that day. Perhaps as many as 30,000 marched to shut down the Port of Oakland in the late afternoon, some having marched and rallied since as early as 9:00 AM. Many people went to bed that night not with visions of lollipops dancing in their heads but with what they thought were suddenly realizable dreams of a more just and equitable tomorrow.
Then they woke up. To a nightmare. Not to pictures of 20,000 people peacefully marching on the Port of Oakland, but to images of street fires, smashed windows, newspaper-proclaimed random violence and headlines of horrors occuring in the very dark, very scary streets of Oakland.
That worked. Big time.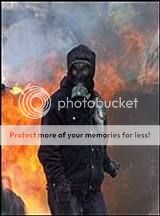 The depiction of Occupiers by the police and the media as black-clad "anarchists", members of the dreaded "Black Bloc", struck the needed chord with the public to allow the state to succeed in its attempts to bring down the full weight of its repression.
Liberals, horrified by refusals to denounce window breaking, found in such non-statements sufficient reason to renounce a movement that had barely begun.
Shrugged off was the fact that many people suffered horribly and some even died because of the greed and stupidity of businessmen who brought us to the brink of another Great Depression.
Forgotten quickly were stories and images of how police had pepper-sprayed, beaten, trampled, shot at and/or nearly killed peaceful protesters while mysteriously failing to grab most of the window breakers.
Ignored was the real violence banks had wrought in throwing families, the sick, the disabled and the mentally ill out into the street, as once-supporters looking on in horror at shattered glass. The fact that vast swaths of bankers across the country were complicit in this economic wreckage while only a miniscule percentage of protesters did anything but chant and put one foot in front of the other was not enough. (Can you name a single person punished or in jail for fraudulently foreclosing on someone's home and ruining their life? I can name a few people punished for ruining a window.)
The main stream media, willing to accept at face value anything the police, local governments and those pulling their strings would feed them, painted the Occupy movement -- in similar fashion to what happend to some Vietnam War protesters and Labor activists of the past -- in the pixels of a few people dressed in black, looking scarily out at them from the front page of a newspaper.
And with that the powers-that-be were able to toast their success with Dom Perignon.
Success to the extent that "anarchist" is now used much like "communist" was used back in the 1950's.
To the extent that warrants have been issued to break into people's houses looking for "anarchist" literature, and people imprisoned thereof.
To the extent that the San Francisco police felt empowered a few weeks ago to trample, beat, and arrest twenty protesters, make totally unwarranted allegations about them (by claiming they were linked to an action that took place a week earlier because of the color of the clothes they were wearing) and then effectively trying them in the press by releasing mugshots printed by an all too cooperative fourth estate.
To the extent that the Alameda Country District Attorney (who has jurisdiction for Oakland) felt secure enough about a typical jury's outlook that yesterday, October 24th, she finally charged people who were arrested a year ago on bogus charges related to the early morning attacks by the police on those same people at the Plaza. (Yesterday being the last day it was legally possible to press charges).
Yes, these tactics have worked their weight in gold.
Raids in the night. Terror in the form of phalanxes of marching cops in full battle armor. Campaigns of slander worthy of the Ministry of Truth. Repression via repeated and nonsensical arrests. Threats of charges held over people's heads like the Sword of Damocles.
Welcome to your police state.
-----
Epilog:
Scott Olsen, largely unnoticed now, has recovered, even before receiving his Daily Kos Community Quilt. He can still be found fighting the good fight against the persecution of Bradley Manning, supporting veterans and opposing the Afghan War, a war our Presidential candidates have identical positions on despite their clear difference of opinion with the American people on the matter.
Alyssa (Allie123) is still the consummate activist and writer, but generally restricts herself to 140 characters these days. She still has no love for the Oakland Police and in fact was arrested again for no reason on January 28th, 2012.
Occupiers, largely dismissed, are still fighting, preventing some of the continuing fraudulant and/or immoral foreclosures and evictions that neither Presidential candidate will even allude to.
Meanwhile, banks are making record profits, and banksters are still running the country.
Oh yeah. No windows were harmed in the writing of this diary.

9:55 AM PT:
Alyssa ‏@alyssa011968
I just called Alameda County DA. Not filing charges on me for 10/25/11&Jan28 still pending. #OO #OccupyOakland OPD commits crime & arrest us