In his diary about Romney losing key backers (link), Markos emphasized the fact that Governor Chris Christie, among other high profile supporters, seems to be fleeing from Romney and toward President Obama. I have circled that part of the picture for emphasis: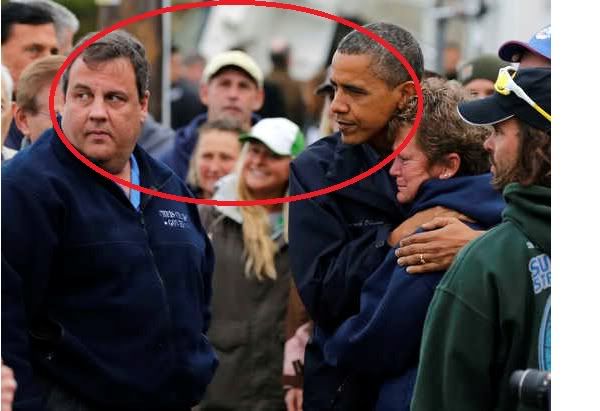 But Markos seems to be missing the more important symbolism in that same picture. The more important symbolism is that President Obama is being the dependable leader, someone we can lean on in a crisis. I have circled that part of the picture for emphasis:
Republican leaders have stirred up their base with an intense hatred and distrust of President Obama. They have played the race card, the blustery "weak on defense" card, the "the Obama economy is terrible" card and the "Obamacare is taking away our freedom" card, just to name a few.
The symbolism in that second circle is stronger than all the lie cards the Wingnuts and their monied interests can play. It says loud and clear that President Obama is the man of our collective house, the one we can all depend on. That part of the picture appeals not only to women but also appeals to all those redneck white boys out there who are thinking to themselves "That could be my mama in that picture." And redneck white boys, among others, love their mamas. This picture is dismantling all those above-mentioned lies not just for the voting groups mentioned here but for others as well. It is indeed a picture worth at least a thousand words.