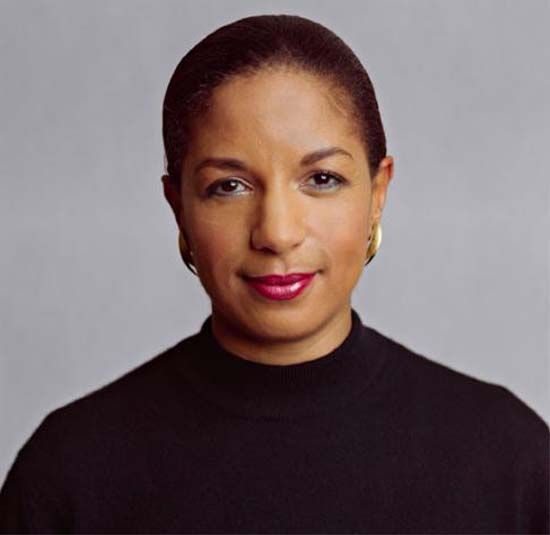 The attacks on Susan Rice aren't just about Benghazi,
Commentary by Black Kos Editor Denise Oliver Velez
She is simply another target in the combined sexist/racist Republican agenda to de-legitimize anyone in the Obama administration, from Barack Obama on down and any constituency that voted for him. Black women are all too frequently in their sights.
How they frame their attacks varies. The end result is the same. Since Rice does not fit into their 47% of takers and Welfare Queens meme, she becomes "not very bright" and "unqualified" in order to fit her into their "affirmative action statistic" category, which they've already tried with the POTUS (i.e. demands for his transcripts/grades).
With Michelle Obama it was her "lack of patriotism" (the "really proud" remark) from jump street.
The Rice attacks tend to make it patently clear that social class is not an issue. She is certainly not from an average working class family.
Here's some interesting background on Rice from a piece published in the Stanford alumni magazine, written by Martha Brant
At Washington's National Cathedral School, the elite prep academy that has educated the daughters of D.C. power brokers for a century (including, most recently, the Gore girls), Rice was a three-sport athlete whose nickname, Spo, was short for Sportin'. She especially loved basketball, where she played point guard and directed the offense. She also called the shots off the court, as president of the student council and class valedictorian.

Young Susan's education started at the family dinner table, where she was fed a steady diet of policy discussions worthy of a Washington think tank. She remembers how, at age 9, she broke the news of President Nixon's resignation to her parents. Among the family's visiting scholars was Albright, with whom Rice's mother served on a school board. The Rice and Albright kids went to school together and shared meals at Hamburger Hamlet. At Rice's swearing-in as assistant secretary, Albright confided to her mother, "I feel like I'm swearing in family."

In her senior year in high school, Rice told her parents she was choosing Stanford over both their alma maters. (Her mother, Lois, the daughter of Jamaican immigrants who worked as a janitor and a seamstress, went to Radcliffe. Her father, Emmett, was a City College graduate who served as governor on the Federal Reserve Board and once taught economics at Cornell.) Her mother broke into tears. Her stepfather, Alfred, exclaimed: "You mean Leland Stanford Junior University?" For Rice, it was a natural decision: "I like an experience that isn't perfectly obvious or comfortable."
As an African-American, Rice always assumed she'd have to work doubly hard to earn her success. In college, she pushed herself to "excel beyond belief," as her mother puts it. She graduated with honors, was elected to Phi Beta Kappa and won a Rhodes scholarship. The day of her graduation, as she shook hands with then-President Donald Kennedy, he said, "I know who you are." But it was her political activism, more than her academic distinction, that had caught his attention. While other college students were building shanty towns out of scrap cardboard to dramatize apartheid, Rice came up with a more pragmatic protest. She created a fund for alumni donations that would hold the gifts until either the University divested from companies doing business in South Africa or the country abolished apartheid.

If your mom went to Radcliffe, and your dad was on the Federal Reserve Board, and you were "like family" to Madeleine Albright, you hardly qualify for being part of the underclass. You become an "uppity".
Is it any wonder that Rice was not only a target of Republicans, Faux News and John McCain but also was razor sliced by The New Times resident female attack columnist Maureen Dowd, who somehow managed to throw Valerie Jarrett into her hit piece. For more on this read Marie Burns piece in the New York Times Examiner:
Black Girls Can't Govern — Maureen Dowd

Dowd writes that Rice should have thrown caution to the wind: Rice should have been more of "a-bull-in-a-china-shop" and "vetted her talking points." And, oh yeah, Rice should not have listened to "her pal Valerie Jarrett and other staffers zealous about casting the president in a more flattering light." What is Dowd's evidence for Jarrett's interference? Nothing.
...
Maybe it's just me. I find it curious and more than a bit disconcerting that Dowd reserves almost all of her criticism for accomplished black women.
No Marie, it isn't just you. I haven't forgotten rightwingers going after
Melody Barnes
either.
Yes, they hate white women who are liberal or progressive. But they reserve a special corner of their slime encrusted brains for Sisters.
This Uppity Negress will continue to call them out on it.
--------------------------------------------------------------------------------
News by dopper0189, Black Kos Managing Editor
--------------------------------------------------------------------------------



--------------------------------------------------------------------------------
His problem isn't that he lost the black vote -- it's that his party doesn't understand black voters. The Root: Romney's Diversity Handicap
-------------------------------------------------------------------------------
Mitt Romney and Paul Ryan have had some interesting takes on the scope and, uh, complexion of their Election Day throttling. The former governor was reportedly shell-shocked by the results. But they're telling on themselves, as the old folks say.
Romney hopped on a conference call with his wealthiest donors Wednesday and told them that Obama spurred turnout among his coalition by offering "gifts" to voters of color and young people, like health care and student-loan forgiveness. "You can imagine for somebody making $25,000 or $30,000 or $35,000 a year, being told you're now going to get free health care, particularly if you don't have it, getting free health care worth, what, $10,000 per family, in perpetuity -- I mean, this is huge," Mr. Romney said, while weirdly mischaracterizing how the Affordable Care Act actually works.
Ryan told a Wisconsin television station the day before that they were surprised by that surge in turnout, especially in "urban" areas. "When we watched Virginia and Ohio coming in, and those ones coming in as tight as they were, and looking like we were going to lose them, that's when it became clear we weren't going to win," he said. (Whatever helps you sleep at night, my dude: Romney lost in lily-white states like New Hampshire and Iowa, too.)
Surprised? That surge in "urban turnout" wasn't some unknowable, unpredictable variable, like a massive Election Day earthquake. For months, it had looked like a very real possibility. The National Urban League published a study this summer about the import African Americans would have in this election -- they expected the black electorate to grow by several percentage points from 2008, found that registered black voters were the group most likely to vote in 2008 (93 percent did so) and that if black turnout dipped to 2004 levels, Obama would struggle in several other swing states. If the Urban League's relatively small research and policy shop knew this, then the number crunchers in Obama's Chicago headquarters certainly did, as well. So why didn't Team Romney? (Those devious Urban Leaguers! Hiding their research by holding open conference calls with the press and then sneakily plastering it all over the country's major news outlets!)
Romney ran on his business acumen and his purported ability to find pragmatic solutions to big problems. But his failed campaign might inadvertently make a great business-school case study on the many ways diversity matters. Yes, there are lots of obvious, compelling moral and ethical reasons for making diversity an organizational goal, but there are practical, functional ones, too: Organizations with narrow fields of vision become institutionally incapable of spotting where the icebergs ahead are located. Romney's campaign apparently didn't even acknowledge that there might be icebergs.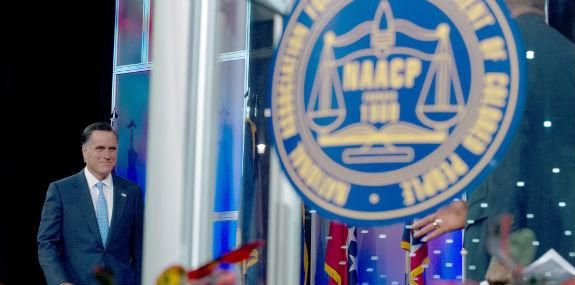 AFP


--------------------------------------------------------------------------------


--------------------------------------------------------------------------------
WHERE do new words come from? On Twitter at least, they often begin life in cities with large African American populations before spreading more widely, according to a study of the language used on the social network. New Scientist: Twitter shows language evolves in cities
--------------------------------------------------------------------------------
Jacob Eisenstein at the Georgia Institute of Technology in Atlanta and colleagues examined 30 million tweets sent from US locations between December 2009 and May 2011. Several new terms spread during this period, including "bruh", an alternative spelling of "bro" or "brother", which first arose in a few south-east cities before eventually hopping to parts of California. Residents of Cleveland, Ohio, were the first to use "ctfu", an abbreviation of "cracking the fuck up", usage that has since spread into Pennsylvania (arxiv.org/abs/1210.5268).
After collecting the data, the team built a mathematical model that captures the large-scale flow of new words between cities. The model revealed that cities with big African American populations tend to lead the way in linguistic innovation. The team is still working on a more detailed analysis and says it is too early to say which cities are the most influential.
Researchers have tracked the diffusion of words like "cool" and "uptight" from black communities to mainstream use in the past. "We have thousands of examples," says Eisenstein. Their data cannot shed light on why the flow is in this direction, but he notes that language is just one cultural area in which traditions have spread outwards from African American communities.
The team also found that cities that are economically and ethnically similar - rather than geographically close to one another - are more likely to share new words. "Their results indicate that birds of a feather tweet together," says John Nerbonne, a linguist at the University of Groningen in the Netherlands.




------------------------------------------------------------------------------------------
Forgotten American history. CNN: America's black cowboys fight for their place in history
------------------------------------------------------------------------------------------
Jason Griffin straps his right arm in bandages, preparing himself to grip the reins a wildly bucking bronco. Tall, broad-shouldered, with a rough beard, he steps into his cowboy boots, fits a Stetson hat and heads out to meet his mount in the rodeo arena.
Griffin is a four-time world champion bareback bucking horse rider -- competing in a sport that began in the 19th century heyday of the Wild West.
With each victory -- he has also won three all-round rodeo championships -- the Texan raises awareness of a strong tradition which is rarely seen in the many novels, films and television series dedicated to the tales of the old West: The historic story of America's black cowboys.
On cinema screens and paperback covers, the cowboys of old were heroic, hard-bitten and -- almost always -- white.
Black cowboys were sometimes expected to do ... more than their white counterpart -- in other words, some of the roughest work
In reality, the American West of the 1800s was traversed by an assortment of black, white, Mexican and Native American cattle hands. Contemporary records are rare but historians now estimate that up to one in four Texan cowboys was African American, while the number of Mexican cowboys was even greater.
John Ferguson and Gregg MacDonald's documentary film -- and multimedia project -- "The Forgotten Cowboys" follows Griffin and other contemporary black cowboys as they gain a following competing at rodeos and go about their working lives.




--------------------------------------------------------------------------------



--------------------------------------------------------------------------------
The African writer's belief in the promise of Kenya flows through his remarkable memoir. LA Times: Ngugi wa Thiong'o soars 'In the House of the Interpreter'
-------------------------------------------------------------------------------
"In the House of the Interpreter," the new memoir by the celebrated African writer Ngugi wa Thiong'o, takes us to the hopeful and turbulent world of 1950s Kenya. And it begins with a startling image.
Ngugi is a teenager, returning home from his prestigious boarding school. He's finished his first term at the top of his class and is still wearing his khaki school uniform and blue tie. Carrying his belongings in a wooden box, he reaches the ridge where his village should come into view. But it's not there.
Instead he sees his family homestead "is a rubble of burnt dry mud, splinters of wood, and grass." All the other homesteads have been reduced to ruins too. "There is not a soul in sight." A wandering friend reveals the village's fate: It's been swallowed up by the British Empire's offensive against Kenya's Mau Mau guerrillas.
"In the House of the Interpreter" is the second volume in Ngugi's series of memoirs. It's a work of understated and heartfelt prose that relates one man's intimate view of the epic cultural and political shifts that created modern Africa.




African writer Ngugi wa Thiong'o. (Mark Boster / Los Angeles Times)


-----------------------------------------------------------------------------------------
Since Bitange Ndemo got Kenya hooked up to high-speed Internet, there has been no stopping his cyber-progress. A 'Silicon Savannah' is now flourishing. LA Times: Kenyan information official leads an IT revolution
----------------------------------------------------------------------------------------
Along Nairobi's dusty Ngong Road, so many start-up incubators and IT labs have popped up that the busy neighborhood has been nicknamed "Silicon Savannah."
Techies, geeks and innovators race one another to come up with the next big thing. They rush from meeting to meeting, work late, skip weekends. Every other day there's a pitch night for tech start-ups, a creative Web workshop, or a meeting of mobile app developers.
The result is a surge in innovative Kenyan apps, most designed to work with the not-so-smart phones most Kenyans can afford.
FOR THE RECORD:
The headline on an earlier online version of this article referred to the subject, Bitange Ndemo, as "Kenyan information minister." In fact, that title is held by another Kenyan official. As the article notes, Ndemo is head of the Ministry of Information and Communications Technology.
There's iCow, a virtual veterinary advice service that coaches small farmers on how to tend their dairy herds, avoid illness and improve production. And mFarm, which helps small farmers determine the right price for their produce, find buyers and sell it. And Huduma, which allows people to report and map government service failures such as water cutoffs and potholes, and track how long it takes to fix the problem.
Why is this happening in Kenya? People here have two words: Bitange Ndemo.
In his youth, Ndemo gave up on his country and went to study in America. Kenya was too corrupt, too undisciplined to make it, he thought. The contrast with America seemed stark. Now Ndemo, the 52-year-old head of the Ministry of Information and Communications Technology, is at the heart of Kenya's startling IT revolution.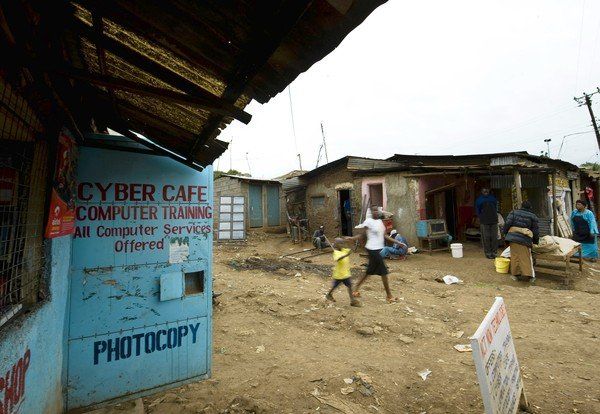 A cyber cafe beckons Kenyans in Nairobi. (Tony Karumba / AFP/Getty Images / June 20, 2012)


--------------------------------------------------------------------------------------
A South African court on Friday sentenced a Thai national to 40 years in prison for his part in a syndicate that smuggled dozens of rhino horns out of the country, the stiffest sentence ever handed down for such a crime in South Africa. LA Times: South African court sentences rhino horn smuggler to 40 years
-------------------------------------------------------------------------------------
Two government ministers praised the court for sending a strong message that rhino horn smuggling would not be tolerated. But critics questioned why Chumlong Lemtongthai was convicted while charges were dropped against a South African farmer accused of involvement in the crime.
South Africa, home to about 90% of Africa's rhinoceroses, has faced an alarming rise in poaching with 488 of the animals illegally killed this year by Oct. 30, compared with 13 in 2007. According to the Department of Environmental Affairs, 2.4% of South Africa's rhinos were poached last year, with the rate increasing this year, posing a serious threat of extinction to rhinos.
The previous harshest sentence, 29 years, was handed down for poaching in August to two foreigners, Gearson Cosa, 35, and Ali Nkuna, 25, convicted of killing a rhino cow and her calf in the Kruger National Park, where around half the incidences of rhino poaching in South Africa occur.
The Laos-based syndicate, Xaysavang, exploited South Africa's laws that allow hunters to kill one rhino a year with a permit to illegally exported dozens of rhino horns. Lemtongthai confessed to organizing the bogus rhino hunts for Xaysavang to obtain horns to trade on the international black market and pleaded guilty to 59 charges of fraud and violations of customs, excise and environmental laws.
The syndicate recruited young Thai women, paid them $625 to take a "holiday" and obtained hunting permits for them. The young women didn't shoot the rhinos in the bogus hunts, but posed for pictures with the carcasses.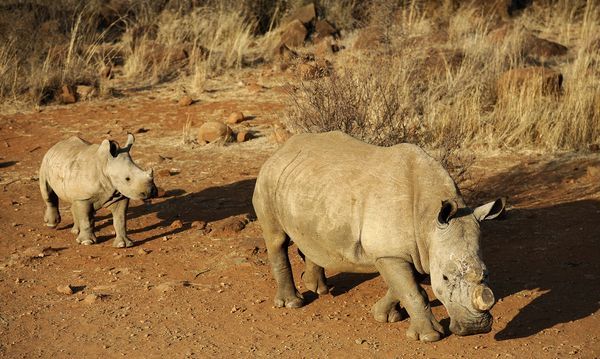 Los Angeles Times


~~~~~~~~~~~~~~~~~~~~~~~~~~~~~~~~~~~~~~~~~~~~~~~~~~~~~~~~~~
Voices and Soul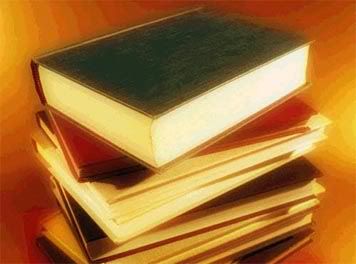 by Justice Putnam
Black Kos Poetry Editor
We live in a world of conflicts, so we made laws and agreements so that conflicts are mediated and minimized.
But what happens when laws come in conflict with themselves? We have laws that establish personal freedom and we have laws that restrict those freedoms. Which "law" takes supremacy?
What happens when law and order is so profound, that to merely stop and smell the roses is a potential criminal enterprise?
Letter to the Local Police

Dear Sirs:

I have been enjoying the law and order of our
community throughout the past three months since
my wife and I, our two cats, and miscellaneous
photographs of the six grandchildren belonging to
our previous neighbors (with whom we were very
close) arrived in Saratoga Springs which is clearly
prospering under your custody

Indeed, until yesterday afternoon and despite my
vigilant casting about, I have been unable to discover
a single instance of reasons for public-spirited concern,
much less complaint

You may easily appreciate, then, how it is that
I write to your office, at this date, with utmost
regret for the lamentable circumstances that force
my hand

Speaking directly to the issue of the moment:

I have encountered a regular profusion of certain
unidentified roses, growing to no discernible purpose,
and according to no perceptible control, approximately
one quarter mile west of the Northway, on the southern
side

To be specific, there are practically thousands of
the aforementioned abiding in perpetual near riot
of wild behavior, indiscriminate coloring, and only
the Good Lord Himself can say what diverse soliciting
of promiscuous cross-fertilization

As I say, these roses, no matter what the apparent
background, training, tropistic tendencies, age,
or color, do not demonstrate the least inclination
toward categorization, specified allegiance, resolute
preference, consideration of the needs of others, or
any other minimal traits of decency

May I point out that I did not assiduously seek out
this colony, as it were, and that these certain
unidentified roses remain open to viewing even by
children, with or without suitable supervision

(My wife asks me to append a note as regards the
seasonal but nevertheless seriously licentious
phenomenon of honeysuckle under the moon that one may
apprehend at the corner of Nelson and Main

However, I have recommended that she undertake direct
correspondence with you, as regards this: yet
another civic disturbance in our midst)

I am confident that you will devise and pursue
appropriate legal response to the roses in question
If I may aid your efforts in this respect, please
do not hesitate to call me into consultation

Respectfully yours,
~~~~~~~~~~~~~~~~~~~~~~~~~~~~~~~~~~~~~~~~~~~~~~~~~~~~~~~~~~
Welcome to the Front Porch