What happens? The severe European downdraft happens ...

Austerity Fails: European Nations See Debt Grow Despite Deep Spending Cuts
by Pat Garofalo, thinkprogress.org -- Jan 23, 2013
Since the onset of the financial crisis, European countries have attempted to deal with their economic malaise by implementing austerity packages, slashing government spending and laying off public workers. However, such measures have proved self-defeating, as the austerity measures blunted economic growth and caused Europe's debt to actually grow:


[...]
The countries' total government debt relative to their annual economic output was barely changed at 90 percent of gross domestic product in the third quarter of 2012 compared with 89.9 percent for three months earlier, the EU's statistics office Eurostat reported. It was up from 86.8 percent of GDP a year earlier.

Austerity has also, among other things, pushed Eurozone unemployment to a record high and threatened Great Britain with a triple-dip recession. Both the International Monetary Fund and the International Labor Organization have warned against further fiscal consolidation, saying that it would quash economic growth even more, thereby doing nothing to reduce debt loads. The National Institute for Economic and Social Research found that European debt loads will be higher, not lower, because of austerity.
[...]
What happens when
planned Austerity Cuts
actually end up cutting economic demand?
Blunted economic growth happens ... just ask the EU.

For an Economy to thrive, someone has to be "demanding" (ie buying) its products and services. When you're "austerely" worried about your own economic future, your job stability -- you're generally not doing that much "demanding" (beyond the essentials).
Which does not, a robust economy make ... just ask Europe.



But economic "belt tightening" at a national level is a good thing, right? People shouldn't spend beyond their means. Credit Cards are for dreamers ... right?

Eurozone debt burden stuck amid low growth
by Juergen Baetz, Associated Press -- BERLIN (AP) -- Jan 23, 2013
[...]
But shrinking economies make it difficult for eurozone countries to get debt levels under control despite pushing through harsh spending cuts and reforms because shrinking output makes the value of a country's debt as a proportion of the size of its economy worse.
[...]

Germany has been the main reason why the eurozone as a whole has not fallen into recession -- technically defined as two quarters of negative growth in a row -- but Europe's biggest economy is showing signs of slowing down as the debt crisis takes its toll on the country's exports.
[...]
Bummer Germany
, sounds like most of your neighbors can no longer afford your high quality stuff.
Uh oh
.
That could be because your neighbors are "austerely" worried about their own economic future, their own job stability -- that they generally not doing that much "demanding" (beyond the essentials).

European Unemployment Hits Record-High While America Contemplates Euro-Style Austerity
by Pat Garofalo, thinkprogress.org -- Jan 8, 2013
Unemployment in the Eurozone hit yet another record in November, clearing 11.8 percent, according to Eurostat. 18.8 million residents of the Eurozone are out of work, the most since the single currency was created in 1999. Across all of Europe, 26 million citizens are jobless.

As the Associated Press noted, "governments across Europe have introduced tough austerity measures, such as slashing spending and raising taxes. However, measures such as cutting wages and pensions hit the labor force in the pocket and reduce demand in the economy." Austerity measures have also driven the U.K. to the brink of a triple-dip recession. And the U.S. is scheduled to enact an austerity package larger than that passed in many European countries, if spending cuts that are on the books actually take effect, as this chart shows: [...]
"Cutting Wages and Pensions" is for weak economic thinkers
... just ask the EU, how well all those belt-tightening policies have worked out for them, lately.
There is another way.
It's called investing in yourself -- at a national level. It's called building the stuff you're going to need in the long run anyways (ie investing in infrastructure).
It's called leveraging your high-demand Treasury Bills (with very low interest rates), into robust economic growth and strong consumer demand. It's called putting your own nation's people back to work.
It's called being productive ... at a national level. It's called nation building, at home.
wisegeek.org
Keynesian economics is an economic theory named after John Maynard Keynes, a British economist who lived from 1883 to 1946. He is most well-known for his simple explanation for the cause of the Great Depression. His economic theory was based on a circular flow of money, which refers to the idea that when spending increases in an economy, earnings also increase, which can lead to even more spending and earnings. Keynes' ideas spawned numerous interventionist economic policies during the Great Depression.

In Keynes' theory, one person's spending goes towards another person's earnings, and when that person spends his or her earnings, he or she is, in effect, supporting another person's earnings. This cycle continues on and helps support a normal, functioning economy. When the Great Depression hit, people's natural reaction was to hoard their money. Under Keynes' theory, this stopped the circular flow of money, keeping the economy at a standstill.

Keynes' solution to this poor economic state was to "prime the pump." He argued that the government should step in to increase spending, either by increasing the money supply or by actually buying things itself. During the Great Depression, however, this was not a popular solution. It is said, however, that the massive defense spending that United States president Franklin Delano Roosevelt initiated helped revive the U.S. economy.
[...]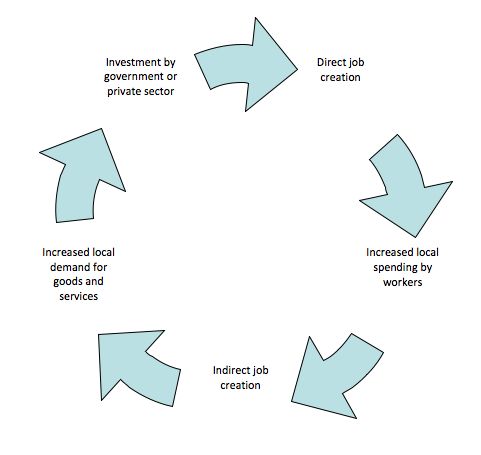 [
source
]

It's called "priming the pump" -- someone, or something, has to be "kick-starting" and "back-fueling" that economic engine, when too many individual workers are too worried about their own economic futures, their own job stability. Someone has to be "the spender of last resort." (or "first resort" if you're investing in the future.)

[source]

Something has to provide the basic Economic Demand, to get the whole Economic Cycle moving again -- and keep it moving! Someone has to give that national boulder a nudge.

And that "something" is NOT "Austerity Cuts" ... just ask Europe.
That's like throwing a wet blanket, on a fledgling camp fire -- when all it really needs a few splashes of gas ... to really catch hold. And get cranking. Rip-roaring.
You know ... to really start to fuel your Economy from the middle class, outwards ... just ask Keynes. Or Krugman; or Reich; or Klein; or Johnston; or Galbraith; or Sanders. ... Or Obama.
It's our engine. It's our pump to prime, or not ... Or it's our fledgling fire, to douse. Just like the EU. Douse it and weep.