This is a late-breaking update to my diary of last night, except that since it's a new diary, it's not an update at all.
I sent a letter to the Boston Herald day before yesterday in response to an article on MA Governor Deval Patrick's interest in buried power lines — a typical infrastructure renewal project given additional impetus from the burgeoning threat of climate change.
It was published this morning.
As of five minutes ago, there were eight comments, all but one representing various points on the stupid spectrum. Drop in if you like and dope-slap some denialists!
The Boston Herald reports that Massachusetts Governor Deval Patrick is arguing in favor of buried power lines. Given that the power lines currently have about 200 kg of ice on them, that's not such a bad idea:

SCITUATE – Gov. Deval Patrick this morning called for a sweeping review of the cost to bury power lines underground as the weekend's storm left 100,000 Bay Staters still without electricity and more than 1,000 still in shelters.



"I am personally very interested in seeing a real analysis done on the cost to bury utilities underground. I know it's expensive, but I have to believe that with the cost of recovery, the disruption to personal and work lives over time and given the increased frequency of storms of this severity," it's worth a review, Patrick said.

Early Monday, an estimated 100,000 Bay Staters were still without power and approximately 1,500 storm-displaced people were still in shelters.

With fiercer weather events predicted, and the state's history of long-lasting power outages, the governor said, "We need to start thinking long term about how we adjust. Meteorologists are telling us that we're going to see more storms like this, and so we are going to have to start thinking, long term, about how we address this," Patrick said from this hard-hit town's high school, where more than 100 residents rode out Superstorm Nemo.
But since climate change isn't real, this is going to cost too much. Sent February 11:
When Governor Patrick, arguing for underground power lines in the Commonwealth, says that "meteorologists are telling us that we're going to see more storms like this," what he's really talking about, of course, is climate change. Rising sea levels and increased atmospheric humidity are going to make the next generation of hurricanes and snowstorms into massive events. The prospect of a Nemo-sized storm once or twice every winter is an excellent argument for putting as many electrical lines underground as possible — as fast as possible.



States on the frontline of the transforming climate will have to work rapidly to avert catastrophic consequences over the coming decades. But there is another strategy which has outlived its usefulness: the attempt by conservative politicians and media to deny the obvious facts of a rapidly transforming climate. Climate-change denialists are on the wrong side of science, and the wrong side of history.

Warren Senders
Published.
"Forward On Climate" Blogathon: February 11 - February 15, 2013
Diary Schedule - All Times Pacific
---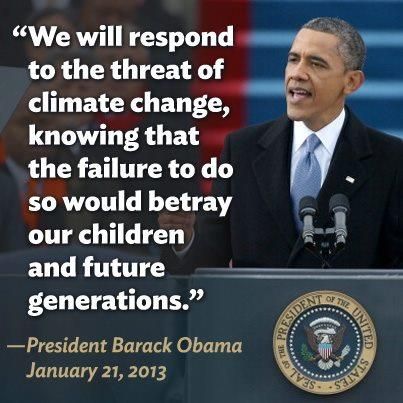 IT IS TIME TO TAKE A STAND
Please join tens of thousands of Americans on the National Mall in Washington, DC on Feb. 17 from 12:00 pm-4:00 pm to urge President Barack Obama to take immediate action on Climate Change.
President Obama has now listed Climate Change as an important part of his second term agenda. Legislative proposals and debate will occur in Congress. President Obama can take executive action to move Forward on Climate now; he can reject the toxic Keystone XL tar sands pipeline. A recent study in Canada has linked tar sands with cancer, something First Nations groups have reported for years - with the result being increased cancer rates, deformed wildlife, and a variety of other negative impacts. President Obama can also direct the Environmental Protection Agency to set carbon standards for power plants.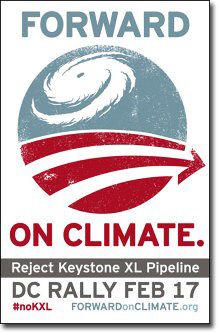 Let your voice be heard.
SIGN UP TO SUPPORT THE "FORWARD ON CLIMATE" RALLY IN WASHINGTON, DC ON FEBRUARY 17TH
Our Daily Kos community organizers (Patriot Daily News Clearinghouse, citisven, boatsie, JekyllnHyde, rb137, and peregrine kate) coordinated this blogathon with Bill McKibben of 350.org to help spread the word.
---
7:30 am: Keystone XL pipeline is not in the U.S. National Interest by A Siegel.
11:00 am: Forward on Climate: Time to Take a Stand! by citisven.
1:00 pm: Keystone XL Would Feed Superstorm Risk by Shaye Wolf, Climate Science Director for Center for Biological Diversity.
3:00 pm: Van Jones, President and Co-Founder of Rebuild the Dream. (will be rescheduled)
4:00 pm: Forward on Climate: 350 Silicon Valley...A Call to Action by Glen the Plumber.
5:00 pm: The Frog in the Boiling Water is Singing Outside My Window - Climate Change in a Microcosm by Kitsap River.
7:00 am: Climate Change SOS: Alberta Tar Sands: Canada dumped its Kyoto targets by Roger Fox.
11:00 am: Why We March by Allison Fisher, Outreach Director for Public Citizen's Energy Program.
1:00 pm: We Did Not Come This Far to Turn Around Now #ForwardOnClimate by Rev. Lennox Yearwood Jr., President of the Hip Hop Caucus.
3:00 pm: The Credibility of the Anti-Climate Change Science Industry by gregladen.
5:00 pm: Don't Date Denialists! — Relationship Advice From The Climate Letter Project (and more!) by WarrenS.
11:00 am: Jeremy Bloom.
1:00 pm: Congressman Ed Markey, Democratic Candidate for 2013 United States Senate MA Special Election.
3:00 pm: FishOutofWater.
5:00 pm: Roger Fox.
11:00 am: Marty Cobenais (Ojibwe), U.S. Pipeline & Heavy Haul Resistance Organizer for Indigenous Environmental Network. Liveblogging with Tom Goldtooth (Dine' and Dakota), Executive Director of IEN and Oglala Sioux Tribal Vice President Tom Poor Bear.
1:00 pm: rb137.
3:00 pm: James Wells.
5:00 pm: jlms qkw.
10:00 am: Phaedra Ellis-Lamkins, Chief Executive Officer of Green For All.
11:00 am: Agathena.
3:00 pm: DWG.
5:00 pm: JekyllnHyde.
---
Please remember to republish these diaries to your Daily Kos Groups. You can also follow all postings by clicking this link for the Climate Change SOS Blogathon Group. Then, click 'Follow' and that will make all postings show up in 'My Stream' of your Daily Kos page.