Last Tuesday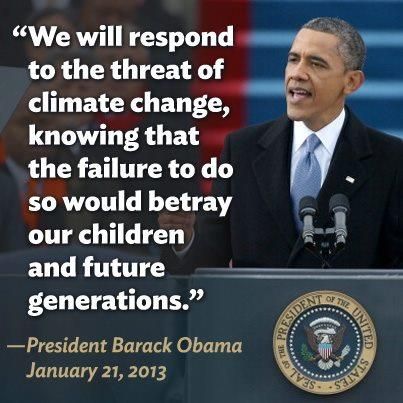 evening, President Obama warned Congress that he would use executive authority to act on climate change is Congress continues to prove itself unwilling and unable to take action.
for the sake of our children and our future, we must do more to combat climate change. ... I urge this Congress to pursue a bipartisan, market-based solution to climate change... But if Congress won't act soon to protect future generations, I will.
There are things that are Executive Branch decisions, arenas where the President can act without asking "Mother, May I" of Representative John Boehner and that too large a cohort of
anti-science syndrome sufferers
in charge of the U.S. House of Representatives.
One arena: determining whether industrial projects that cross international borders are in the national interest. Top of the political agenda right now: Keystone XL pipeline.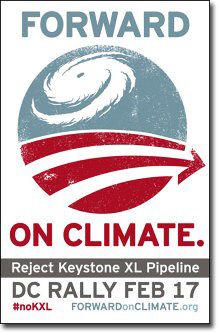 The decision should be simple as the Keystone XL pipeline is not in the U.S. national interest for a range of economic and environmental reasons. Sadly, the reality of Keystone XL has been masked by $10s of millions (if not $100s of millions) of propaganda distorting its economic implications and downplaying its climate change impacts (in the shadow of $billions spent to undermine understanding of and action on climate change). And, sadly, the State Department process has had serious flaws (ethical, technical, analytical) that have surfaced and suggesting that the clarity of how Keystone XL is not in U.S. national interest has been clouded in the Department's review. Those propaganda efforts and inadequacies in review process don't change reality. Fundamentally, Keystone XL will undermine U.S. economic performance while fostering ever mounting climate change pollution.
While Keystone XL, in and of itself, will not guarantee that we have crossed the Rubicon to unstoppable catastrophic climate chaos, the reality is dire and, well, rather terrifying. We now face a simple reality,
Specifically and categorically, we must cease making large, long-term capital investments in new fossil fuel infrastructure that "locks in" dangerous emission levels for many decades. Keystone is a both a conspicuous example of that kind of investment and a powerful symbol for the whole damned category.
To summarize,
The Keystone Principle
is simple:
STOP MAKING IT WORSE!
The afternoon of 17 February 2013, Americans in their thousands, in their 10s of thousands will be
in front of the White House calling on the President to take action in line with his State of the Union declaration that "we must do more to combat climate change."
Mr. President, it is time to stop waffling and draw the line in the sand against fossil foolishness and "cease making large, long-term capital investments in new fossil fuel infrastructure that "locks in" dangerous emission levels for many decades."
Please take the moments to watch the video from last week's civil disobedience action in front of the White House.
And, call on the White House to move #ForwardOnClimate
6:52 AM PT: NOTE that waffle has a meaning. Sadly, however, the RWSM can capture something. Those who made the graphic used in this diary and, by extension, my use of the word "waffling" in the title sadly could be construed in the context of racist attacks on Presidential-candidate Barack Obama in 2008 (see, for example, here: http://thinkprogress.org/...). I do not see it appropriate to change title/remove the graphic, because "waffling" is an appropriate word when looking at occasional strong words (SOTU) and good action (CAFE standards) on climate change 'balanced' by moves that foster / support fossil fuel use.
There is a philosophical challenge/issue, in part: do we abandon all language and metaphors that the RWSM have (ab)used? There is no simple answer to that ...
7:49 AM PT: UPDATE: Live video feed from rally starting at about 11:50 Eastern: http://www.youtube.com/...