Welcome to the 4/26/2013 Post Game Show for Mojo Friday!
Today's Mojo Friday diary is Mojo Friday - BJ - Edition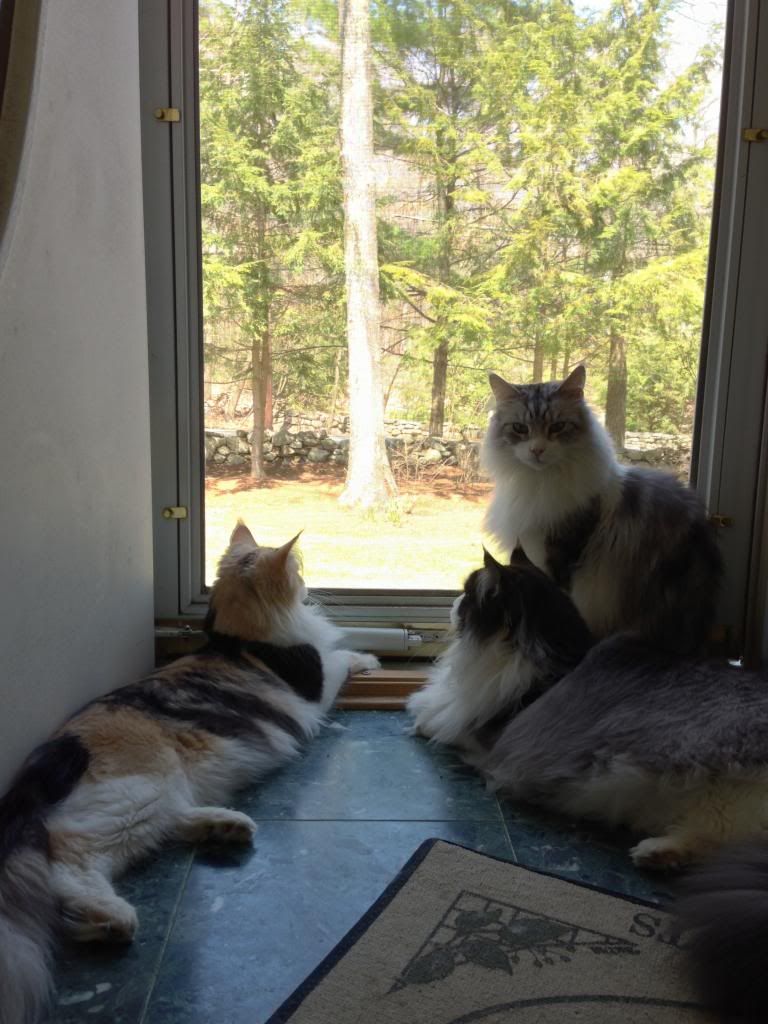 So what can I add to what TexDem wrote? What came to mind when you saw the title of his diary, or this one? So I just want to celebrate one of the nicest days of the year we've had so far in the Boston area, with a forecast of a weekend to match. And 3 of my kitties (Janie, Goliath and Dude in that picture) were wondering why they had to stay indoors! As do I, as I'm taking a break in work to get this ready for posting later!
So, down below, in our poll, tell me what you thought of first when you saw the Mojo Friday diary today! And then celebrate all those who participated today.
The Mojo Friday Postgame is a statistical analysis of the Mojo Friday diary that is posted every Friday morning at 10:30 a.m. ET. For further info please check out Jez's 'Official' "Mojo Friday Snecktionary" MKinTN posted a diary to help everyone achieve greater success called How to Succeed at Mojo Friday Without Really Trying.
Congratulations to:
Participation-est:
bjedward
Chattiest:
chimene
Generous-est:
Ex Con
Snecksiest (2):
Captain C
Thanks to our most excellent host, TexDem!
Stats will be updated Sunday afternoon. Final stats will be published a week later.

First round stats, as of 4:10PM Eastern, are:
53 participants
418 comments
7.9 average comments per participant
9003 total mojo exchanged
42.5% average participation rate
Snecker-tracker:
100 : Texnance
200 : Captain C
300 : Captain C
400 : chimene

| | | | | | | |
| --- | --- | --- | --- | --- | --- | --- |
| username | comments | mojogiven | comments + mojogiven | partic% | mojorecd | recd diary? |
| bjedward | 19 | 399 | 418 | 100.00% | 418 | Yes |
| NoMoJoe | 10 | 407 | 417 | 99.76% | 182 | Yes |
| Spirit of Life | 4 | 412 | 416 | 99.52% | 69 | Yes |
| chimene | 68 | 348 | 416 | 99.52% | 718 | Yes |
| schnecke21 | 7 | 408 | 415 | 99.28% | 124 | Yes |
| 4Freedom | 4 | 411 | 415 | 99.28% | 37 | Yes |
| Ex Con | 1 | 411 | 412 | 98.56% | 31 | Yes |
| Woody | 18 | 393 | 411 | 98.33% | 381 | Yes |
| Eddie L | 1 | 407 | 408 | 97.61% | 31 | Yes |
| anotherdemocrat | 6 | 401 | 407 | 97.37% | 144 | Yes |
| KellyB | 3 | 360 | 363 | 86.84% | 65 | Yes |
| mjbleo | 4 | 359 | 363 | 86.84% | 51 | Yes |
| TexDem | 35 | 317 | 352 | 84.21% | 1090 | Author |
| Debbie in ME | 6 | 346 | 352 | 84.21% | 148 | Yes |
| Allogenes | 14 | 316 | 330 | 78.95% | 198 | Yes |
| phonegery | 15 | 295 | 310 | 74.16% | 276 | Yes |
| Captain C | 58 | 250 | 308 | 73.68% | 1165 | Yes |
| sviscusi | 1 | 275 | 276 | 66.03% | 20 | Yes |
| bsegel | 0 | 275 | 275 | 65.79% | 0 | Yes |
| Mr Robert | 1 | 272 | 273 | 65.31% | 21 | Yes |
| DeathDlr73 | 5 | 247 | 252 | 60.29% | 128 | No |
| jennyp | 40 | 195 | 235 | 56.22% | 1112 | Yes |
| Words In Action | 26 | 202 | 228 | 54.55% | 583 | Yes |
| wdrath | 4 | 146 | 150 | 35.89% | 96 | Yes |
| rlharry | 1 | 137 | 138 | 33.01% | 25 | Yes |
| mungley | 11 | 125 | 136 | 32.54% | 340 | Yes |
| The Marti | 4 | 129 | 133 | 31.82% | 98 | Yes |
| westyny | 2 | 120 | 122 | 29.19% | 53 | Yes |
| Texnance | 14 | 91 | 105 | 25.12% | 408 | Yes |
| randallt | 2 | 88 | 90 | 21.53% | 52 | Yes |
| smileycreek | 3 | 82 | 85 | 20.33% | 91 | Yes |
| Eclectablog | 3 | 78 | 81 | 19.38% | 91 | No |
| Nattiq | 1 | 80 | 81 | 19.38% | 17 | Yes |
| AllanTBG | 1 | 57 | 58 | 13.88% | 33 | Yes |
| sfbob | 1 | 42 | 43 | 10.29% | 20 | Yes |
| sgt sarcasm | 8 | 22 | 30 | 7.18% | 196 | Yes |
| kenwards | 0 | 24 | 24 | 5.74% | 0 | Yes |
| Powered Grace | 2 | 18 | 20 | 4.78% | 67 | Yes |
| gougef | 1 | 13 | 14 | 3.35% | 34 | No |
| Common Sense Mainer | 0 | 11 | 11 | 2.63% | 0 | Yes |
| BlueInARedState | 2 | 8 | 10 | 2.39% | 52 | Yes |
| ER Doc | 1 | 6 | 7 | 1.67% | 30 | Yes |
| BlueJessamine | 0 | 7 | 7 | 1.67% | 0 | Yes |
| Mishima | 2 | 3 | 5 | 1.20% | 65 | Yes |
| MI Sooner | 3 | 2 | 5 | 1.20% | 81 | Yes |
| MT Spaces | 1 | 2 | 3 | 0.72% | 23 | Yes |
| VClib | 3 | 0 | 3 | 0.72% | 97 | Yes |
| politik | 1 | 1 | 2 | 0.48% | 16 | Yes |
| vgranucci | 1 | 1 | 2 | 0.48% | 26 | Yes |
| hnichols | 0 | 1 | 1 | 0.24% | 0 | Yes |
| One Pissed Off Liberal | 0 | 1 | 1 | 0.24% | 0 | Yes |
| vigilant meerkat | 0 | 1 | 1 | 0.24% | 0 | Yes |
| MKinTN | 0 | 1 | 1 | 0.24% | 0 | Yes |