Welcome to the NFTT Edition Mojo Friday Post Game Show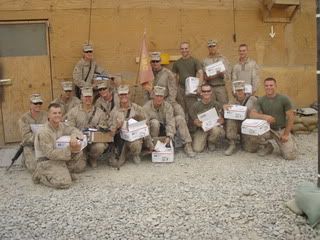 Since 2001, we have sent our troops into harms way ... often for no damn good reason. That isn't their fault. It is our government, which means we own it. And it is our responsibility to help them ... while they are in active service in war zones, while they are in active service anywhere, and after they have returned home. We owe it to them, we owe it to take care of ours. And that's where, with your help, Netroots For The Troops comes in. Please give as you can ... help out where you can ... and then give some more!
Today's Mojo Friday diary is Mojo Friday - NFTT 2013 - Edition
The Mojo Friday Postgame is a statistical analysis of the Mojo Friday diary that is posted every Friday morning at 10:30 a.m. ET. For further info please check out Jez's 'Official' "Mojo Friday Snecktionary" MKinTN posted a diary to help everyone achieve greater success called How to Succeed at Mojo Friday Without Really Trying.
Congratulations to:
Participation-est:
TexDem, Senor Unoball, NoMoJoe, bjedward, chimene
Chattiest:
chimene
Generous-est:
barefoot coyote
Snecksiest (1):
chimene, Captain C, Woody
Thanks to our most excellent host, TexDem!
Stats will be updated Sunday afternoon. Final stats will be published a week later.

First round stats, as of 4:05PM Eastern, are:
48 participants
322 comments
6.7 average comments per participant
6408 total mojo exchanged
43.5% average participation rate
Snecker-tracker:
100 : Captain C
200 : Woody
300 : chimene

| | | | | | | |
| --- | --- | --- | --- | --- | --- | --- |
| username | comments | mojogiven | comments + mojogiven | partic% | mojorecd | recd diary? |
| TexDem | 34 | 288 | 322 | 100.00% | 910 | Author |
| Senor Unoball | 40 | 282 | 322 | 100.00% | 937 | Yes |
| NoMoJoe | 6 | 316 | 322 | 100.00% | 145 | Yes |
| bjedward | 9 | 313 | 322 | 100.00% | 171 | Yes |
| chimene | 65 | 257 | 322 | 100.00% | 559 | Yes |
| barefoot coyote | 1 | 320 | 321 | 99.69% | 24 | Yes |
| VClib | 14 | 304 | 318 | 98.76% | 400 | Yes |
| KellyB | 2 | 314 | 316 | 98.14% | 33 | Yes |
| mjbleo | 11 | 291 | 302 | 93.79% | 172 | Yes |
| Allogenes | 10 | 269 | 279 | 86.65% | 94 | Yes |
| Captain C | 25 | 239 | 264 | 81.99% | 597 | Yes |
| Woody | 23 | 207 | 230 | 71.43% | 481 | Yes |
| humanunit | 5 | 222 | 227 | 70.50% | 73 | Yes |
| Eddie L | 1 | 226 | 227 | 70.50% | 30 | Yes |
| 4Freedom | 6 | 213 | 219 | 68.01% | 104 | No |
| wdrath | 1 | 214 | 215 | 66.77% | 17 | Yes |
| AllanTBG | 1 | 211 | 212 | 65.84% | 31 | Yes |
| phonegery | 12 | 189 | 201 | 62.42% | 226 | Yes |
| FlyingToaster | 1 | 178 | 179 | 55.59% | 19 | Yes |
| mungley | 6 | 172 | 178 | 55.28% | 90 | Yes |
| bsegel | 1 | 166 | 167 | 51.86% | 29 | Yes |
| schnecke21 | 1 | 163 | 164 | 50.93% | 26 | Yes |
| sgt sarcasm | 0 | 161 | 161 | 50.00% | 0 | Yes |
| glendaw271 | 5 | 136 | 141 | 43.79% | 133 | Yes |
| kenwards | 1 | 138 | 139 | 43.17% | 22 | Yes |
| VeloVixen | 4 | 114 | 118 | 36.65% | 100 | Yes |
| Texnance | 5 | 92 | 97 | 30.12% | 127 | Yes |
| smileycreek | 1 | 82 | 83 | 25.78% | 28 | Yes |
| westyny | 4 | 67 | 71 | 22.05% | 90 | Yes |
| Powered Grace | 1 | 67 | 68 | 21.12% | 27 | Yes |
| lina | 10 | 42 | 52 | 16.15% | 274 | Yes |
| ER Doc | 4 | 45 | 49 | 15.22% | 116 | Yes |
| dmhlt 66 | 1 | 29 | 30 | 9.32% | 30 | Yes |
| politik | 2 | 17 | 19 | 5.90% | 62 | Yes |
| BlueInARedState | 1 | 10 | 11 | 3.42% | 17 | Yes |
| Common Sense Mainer | 0 | 11 | 11 | 3.42% | 0 | Yes |
| anotherdemocrat | 1 | 9 | 10 | 3.11% | 26 | Yes |
| Eddie C | 2 | 8 | 10 | 3.11% | 60 | No |
| jennyp | 0 | 9 | 9 | 2.80% | 0 | Yes |
| Donkey Hotey | 1 | 6 | 7 | 2.17% | 20 | Yes |
| Mishima | 2 | 3 | 5 | 1.55% | 61 | Yes |
| MT Spaces | 1 | 2 | 3 | 0.93% | 24 | Yes |
| global citizen | 1 | 1 | 2 | 0.62% | 23 | Yes |
| BCO gal | 0 | 1 | 1 | 0.31% | 0 | Yes |
| vigilant meerkat | 0 | 1 | 1 | 0.31% | 0 | Yes |
| denig | 0 | 1 | 1 | 0.31% | 0 | Yes |
| MKinTN | 0 | 1 | 1 | 0.31% | 0 | Yes |
| jnhobbs | 0 | 1 | 1 | 0.31% | 0 | No |