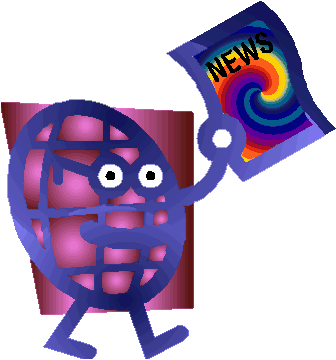 It's time to update some stories which I covered at the time they started. We will be traveling to Hollywood, CA (the assault of Vivian Diego), Albany, NY (the GENDA bill), Dover, DE (the GINA bill), and Johnson County, IA (the arrest of Jodie Jones).
So here is the TransNews…on a roll.
Whether the stories can be classified as positive or negative is in the eye of the beholder...that is, you, the reader. But I'm pretty sure the second stories is bad and the third and fourth are good. The first is dependent on point of view.
There has been an arrest in the beating of transwoman Vivian Diego near Hollywood and Vine in Los Angeles. Nicol Shakhnazaryan, 21, was arrested on a charge of felony battery. He is being held on $1,050,000 bail.
Police announced that the FBI is assisting them in the search for the other three attackers, who kicked her as she lay on the ground.
Diego, a barista at Eva Longoria's Beso restaurant, was hospitalized for a week while being treated for her injuries. She is still recovering.
The New York Senate adjourned without voting on the Gender Expression Non-Discrimination Act (GENDA), thereby assuring people the right to discriminate against transfolk in the state for at least one more year. The bill has passed the Assembly six times, but has never received a floor vote from the cowards in the Senate.

The Gender Expression Non-Discrimination Act (GENDA) made historic progress during the legislative session that just concluded. A broad, deep and diverse statewide coalition of law enforcement, labor, faith, civil rights, LGBT, progressive and women's organizations stood shoulder-to-shoulder and called for GENDA. The community was united behind language that offered strong protections, particularly in the areas of housing and employment.

We are confident that we had a bi-partisan majority of the Senate to pass the legislation and send it to the governor for his signature. GENDA, like many other key pieces of progressive legislation was defeated – not on its merits, but by the adamant refusal of the Senate leadership to bring the measure to the floor for an up-or-down vote. What were they afraid of? The Empire State Pride Agenda, on behalf of tens of thousands of transgender people and their families and others who wish to live their lives without fear or discrimination because of who they are, is angry and disappointed. Frankly, New York State deserves better. Today, the fight for GENDA continues. We are convinced that the passage of GENDA in New York State is inevitable, and the Pride Agenda will not rest until all New Yorkers are afforded equal civil rights statewide.

--Nathan M. Schaefer, Empire State Pride Agenda
The bill was favored by 78% of the citizens of New York.
I updated a diary last week to note the passage of Delaware's Gender Identity Nondiscrimination Act (GINA). Governor Jack Markell fittingly signed that bill on Juneteenth. Since the House had amended the bill (making life more difficult for the newly transitioning), a vote was required by the Senate to affirm the amended bill, which it did 11-9 with one not voting. The events made Delaware the 17th state, along with the District of Columbia and Puerto Rico, which protects transgender people from discrimination.
The new law prohibits discrimination on the basis of gender identity in matters of employment, housing, public accommodations, public works, contracting and insurance. Additionally, crimes committed against transgender victims are added to the Hate Crimes statute.

Our mission to build a welcoming and accepting state that can compete in the global economy requires laws that reflect our values. Today, we guarantee that our transgender relatives and neighbors can work hard, participate in our communities and live their lives with dignity and in safety.
We are extending the same basic protections against discrimination and hate crimes that all our other citizens enjoy to a group that has been discriminated against for a long time.

--Bill sponsor Sen. Margaret Rose Henry (D-Wilmington)
The Delaware Legislature sent a clear message today that transgender residents deserve to be treated equally and protected under the law. Delaware advocates and lawmakers are standing up and ensuring that the First State is one which welcomes all people, and provides the same protections and opportunities.

--Human Rights Campaign President Chad Griffin
Nicole Theis of the Delaware Family Policy Council
was, of course, livid.
What the bill does is create an environment where a man can simply express that he's a woman and have legal protection to be in all of the facilities that are designated for women, like locker rooms, showers, ladies rooms - and those are areas that are very sacred to women because they're private.

This bill is not a remedy for injustice. It creates more injustices than it purports to address. We expect legislators to make policies for the common good and find solutions for the exceptions without rejecting and redefining the foundations of social order.

--Theis
The behavior she mentions is precisely what is prohibited by the amendment.
Theis continues her rant about the combination of transgender rights and homosexual marriage. She warned people in other states:

And this is what can easily happen when people who know what the truth is, and know what life-giving principles are, do not engage and do not get involved in this very important arena that shapes our culture and impacts all of our lives, that being the arena of government.

--Nicole Theis
In Johnson County, Iowa Jodie J. Jones, 56, a transgender woman,
has reached an agreement
with the sheriff's department over her civil rights complaint after she was ejected by a deputy from a women's restroom in a county courthouse. The settlement requires the county to pay her $7000 and pass a resolution stating that restrooms in county buildings are open to people based on their gender identity, regardless of the gender they are assigned at birth. It also requires the sheriff's office staff to undergo training in regards to the respectful treatment of transgender people.
But Iowa and Johnson County have legal protections for transpeople on the basis of gender identity that include the right to equal usage of public accommodations.

Jones, however, said she told Henderson she had a legal right to use the women's bathroom and Henderson said that didn't matter. Jones said if not for that attitude, she probably would not have filed a complaint.
Sheriff Lonny Pulkrabeck defended his deputy, Sue Henderson, who made the arrest. Henderson has since retired.
Sue had no ill intent. Sue was a solid, good employee.
Jones said it was Henderson's attitude which caused her to file the complaint.
I understand it (being transgender) confuses people. But when I tell an officer of the law what the law says, and they say 'I don't care,' that's what got me upset.

--Jodie Jones
Civil rights for anyone doesn't happen all at one time. We feel like we've moved the ball down the field a yard or two, so we feel like we've really made a difference. This is a pretty important county in the state, and I think other counties will take note and what the policy is. Hopefully some kind of goodness will come out of it beyond Johnson County.

--Jodie Jones
The most awkward time when someone is transitioning their gender assignment can occur in restrooms, and the state's civil rights code couldn't be clearer on how we're supposed to deal with restrooms. Having said that, this was just an unfortunate circumstance of someone who had previously been in the courthouse as a male, was known as a male, and there was a complaint there was a male in the women's bathroom.

--Janelle Rettig, local LGBT activist