Seriously what is this guy's problem? In a TIME cover story on service Joe Klein writes about the Oklahoma tornadoes and disaster relief volunteers. He singled out Church groups and Team Rubicon (a veterans' group, and veterans were a focus of his story) for volunteering their help in disaster relief efforts.
But there was an occupying army of relief workers, led by local first responders, exhausted but still humping it a week after the storm, church groups from all over the country — funny how you don't see organized groups of secular humanists giving out hot meals — and there in the middle of it all, with a purposeful military swagger, were the volunteers from Team Rubicon. They looked tough, megatatted, in camouflage pants, gray T-shirts and white hard hats. They moved with purpose and spirit and were equipped by Home Depot — which has done brilliant work locating and funding the very best veterans service groups — with an impressive array of chain saws, power tools, wheelbarrows, tarps and wood.
Why this dig at "secular humanists"? Why did he feel the need to single out one particular group of people for their absence? Furthermore it turns out he was wrong about that.
As Hemant Mehta notes on his blog:
Wow. My jaw dropped while reading that because it's absolutely not true.
Klein took a cheap shot at atheists for not doing the relief work that churches — with all the personnel and financial advantages they have at their disposal — were doing even though we were often working right alongside them! He made the same mistake that Minister David Brassfield did (though at least Brassfield eventually offered a semi-apology).

Klein is simply lying out of his ass. A simple Google search would've turned up a number of ways atheists helped in the wake of the Oklahoma tornadoes. But since Klein was too lazy to do it, I'll do it for him:

More than 4,300 people donated more than $120,000 for the family of Rebecca Vitsmun (she promised to donate to charity whatever money she doesn't need).
Foundation Beyond Belief raised over $45,000 for Operation USA and the Regional Food Bank of Oklahoma.
Atheists Giving Aid raised over $18,000 that will be given to local relief groups in Moore, Oklahoma and directly to families that need help.
Members of the FreeOK atheist group helped families who needed wreckage removed from their property
He goes on to give Kai Tancredi's account from
Red Dirt Report
telling how atheist volunteers teamed up with Panera and Kripsy Kreme to provide hot meals to clean up volunteers.
And provides yet more examples:

Local atheist groups such as the Oklahoma Atheists, Atheist Community of Tulsa, the Lawton Area Secular Society, Norman Naturalism Group, and the Oklahoma State Secular Organization have organized volunteers, resources, and blood drives.
Organizers of the FreeOK conference going on this weekend held a literacy drive yesterday to "benefit the schools affected" by the tornadoes.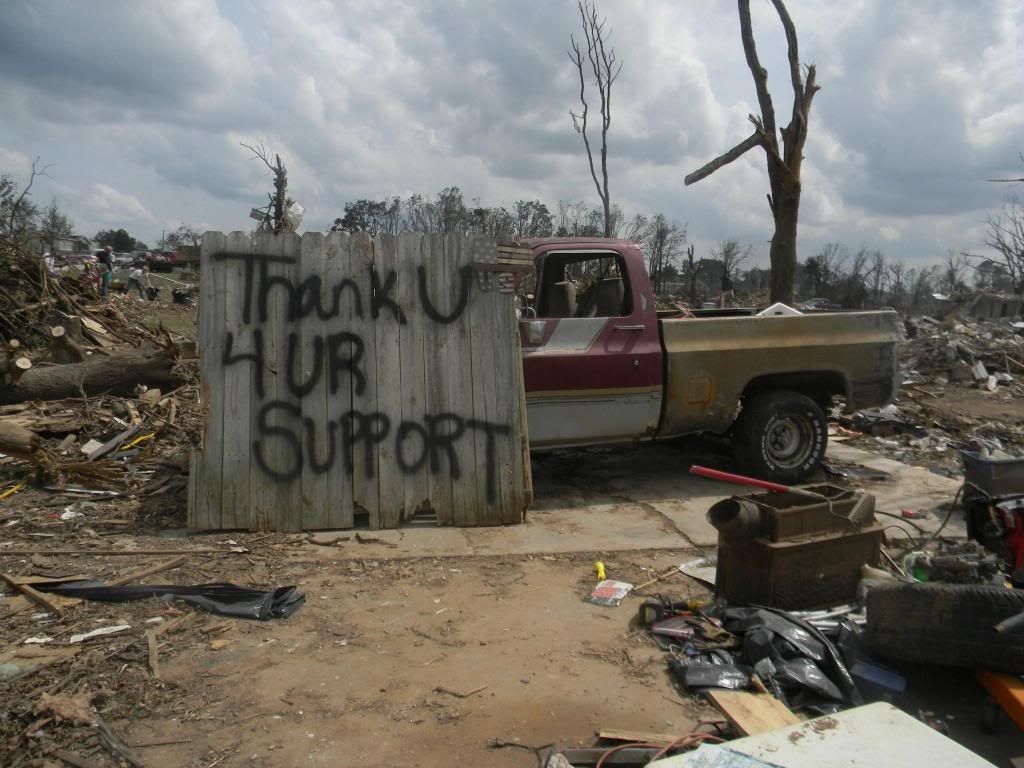 And anyone reading Daily Kos knows about the $100,000 raised for Rebecca Vitsmun.
Why take this cheap shot at atheists? Does Klein have something personal with an atheist that he needs to do this in a national forum? The author of Reddirtreport speculates it is because atheists do not have tax-exempt 501(c)3 status so they can't afford the Tshirts that would advertise their efforts. And he considers this slander. As he says, if you substituted any other group in that sentence for 'secular humanists' there would be a huge outcry and he suggests if you feel this is wrong to let Time Magazine know.
And furthermore, I'd bet lying is frowned upon in Joe Klein's religion.
8:00 PM PT: Thank you for the trip to the Rec List and giving this issue visibility